Transmissible Venereal Tumor Associated with Cutaneous Metastasis and Leishmaniasis in a Bitch
Abstract
Background: The Transmissible Venereal Tumor (TVT) is a round cell neoplasia, of contagious nature, common in the canine species, which mainly affects external genitalia. Despite metastasis being uncommon, the extragenital involvement can occur via the lymphatic or hematogenous route to regional lymph nodes, skin, subcutaneous tissue, nasal and oral mucosa, as well as the central nervous system. When the location of the tumor is genital the clinical diagnosis can be conclusive, however if it presents extragenital forms, cytological or histopathological studies are necessary for the confirmation. This work describes a case of TVT with cutaneous metastasis in a female dog with leishmaniasis.
Case: A 3-year old crossbred female dog was attended at the Small Animal Medical Clinic (CMPA) of the University Veterinary Hospital (HVU) of the Federal University of  West Bahia  (UFOB), Barra Multidisciplinary Center.  This neutered bitch dewormed, never vaccinated, rescued from the streets at the age of two and a half, had a prior history of ehrlichiosis and  pyometra. The owner reported apathy, anorexia, cachexia, depression and sternal decubitus of the animal, as well as episodes of vomiting and recurrent fever. During the physical examination were observed respiratory and heart rates within normality ranges, with predominance of slightly pale mucous membranes, reactive left prescapular lymph node and subcutaneous nodular mass, not adhered to the musculature, located in the medial portion of the thirteenth left rib. Were also evidenced onychogryphosis, opaque, shineless and brittle fur, with pruritic and lichenified exfoliative dermatitis in the left scapular region, ear tips and snout, presence of a discreet quantity of brownish-colored vulvar discharge with a putrid odor. In the cytological examination, was verified the presence of cells with characteristics of TVT located in the genital mucosa, developing atypical metastasis in the cutaneous tissue in the region of the thirteenth rib, and by means of the cytomorphometric analysis of the extracellular matrix of the left popliteal lymph node, confirmed positivity for leishmaniasis. The symptomatic treatment was started aiming to restore the patient for subsequent treatment of the TVT and leishmaniasis, however, due to the non-responsiveness and worsening of the clinical picture, the owner opted for the euthanasia of the animal.
Discussion: It is possible to conclude that the TVT can affect extragenital locations, although it is considered to be rare. Emphasizing that the canine species is regarded as an important reservoir of  Leishmania sp., with a prominent role in the maintenance and interaction between the cycle of the disease, attention is drawn in this case for the risk to One Health, as the contact of this dog with phlebotomines, may have enabled, whilst alive, the perpetuation and transmission of the disease to other susceptible animals and human beings. As they are distinct diseases, but with pronounced rates of immunosuppression, when TVT and leishmaniasis occur in association, they generate a concerning state of debility which hinders the adoption of efficient therapeutic measures for both illnesses. Cytology is a diagnostic technique, which should whenever possible be routinely associated to the clinical examination in the veterinary practice, as it is of easy performance, low cost and great value in the determination of the diagnosis of neoplasia, identification of parasites and several other affections.
Downloads
Download data is not yet available.
References
Amaral A.S., Gaspar L.F.J., Silva S.B. & Rocha N.S. 2004. Diagnóstico citológico do Tumor Venéreo Transmissível na região de Botucatu, Brasil (estudo descritivo: 1994-2003). Revista Portuguesa de Ciências Veterinárias. 99(551): 167-171.
Batista J.S., Soares H.S., Pereira R.H.M.A., Petri A.A., Sousa F.D.N. & Nunes F.C.R. 2007. Tumor Venéreo Transmissível canino com localização intra-ocular e metástase no baço. Acta Veterinária Brasílica. 1(1): 45-48.
Brasil. 2006. Ministério da Saúde. Manual de vigilância e controle da Leishmaniose Visceral. Brasília, DF: Editora do Ministério da Saúde. Disponível em: <http://bvsms.saude.gov.br/bvs/publicacoes/manual_vigilancia_controle_leishmaniose_visceral.pdf>.
Calderon C., Oliveira R.R., Marquez E.S. & Cruz M.F.R. 2016. Aspectos anatomopatológicos do Tumor Venéreo Transmissível canino. Scientific Electronic Archives. 9(4): 101-113.
Camolese L.C., Bergano T.M., Barros V.T.M., Voorwald F.A., Toniollo G.H. & Friolani M. 2016. Tumor Venéreo Transmissível com metástase cutânea e ocular em cão: relato de caso. Unimar Ciências. 25(1-2): 28-31.
Carneiro M.E. 2017. Protozoários flagelados. In: Monteiro S.G. (Ed). Parasitologia na Medicina Veterinária. 2.ed. Rio de Janeiro: Roca, pp.139-141.
Chikweto A., Kumthekar S., Larkin H., Deallie C., Tiwari K.P., Sharma R.N. & Bhaiyat M.I. 2013. Genital and extragenital canine Transmissible Venereal Tumor in dogs in Grenada, West Indies. Open Journal of Veterinary Medicine. 3(2): 111-114.
Cordeiro A.K.P., Fagundes A.I.S., Silva C.M.A., Silva M.B., Conceição M.S. & Magalhães Junior J.T. 2018. Ocorrência de flebotomíneos na zona urbana do município de Barra, Bahia. In: 54º Congresso da Sociedade Brasileira de Medicina Tropical (Olinda, Brazil).
Fabiano C., Frangueli J.S., Marques V. & Torres A.P.C. 2017. Tumor Venéreo Transmissível. Revista Conexão Eletrônica. 14(1): 1904-1911.
Fernandes C.P.M., Gaspar L.F.J., Meinerz, A.R.M., Grecco F.B., Nobre M.O. & Cleff M.B. 2013. Tumor Venéreo Transmissível canino com metástase encefálica. Semina: Ciências Agrárias. 34(6 Suppl 2): 3929-3934.
Ferreira M.A.Q.B., Teixeira M.N., Carvalho C.C.D., Paiva B.H.A., Silva V.C.L., Fukahori, F.L.P., Rêgo M.S.A., Dias M.B.M.C. & Lima E.R. 2017. Aspectos clínicos, hematológicos, bioquímicos e citopatológicos do Tumor Venéreo Transmissível em cães tratados com sulfato de vincristina. Medicina Veterinária (UFRPE). 11(1): 8-17.
Filgueira K.D. 2010. Tumor Venéreo Transmissível canino com localização primária e única em cavidade oral. Acta Scientiae Veterinariae. 38(1): 91-94.
Fry M.M. & McGavin M.D. 2013. Medula óssea, células sanguíneas e sistema linfático. In: Zachary J.F. & Mc Gavin M.D. (Eds). Bases da Patologia em Veterinária. 5.ed. Rio de Janeiro: Elsevier, pp.740-764.
Lopes S.T.A., Biondo A.W. & Santos A.P. 2007. Manual de Patologia Clínica Veterinária. 3.ed. Universidade Federal de Santa Maria / Departamento de Clínica de Pequenos Animais. Santa Maria, Rio Grande do Sul, 107p.
Moreira M.L. 2013. Duração da imunidade vacinal na Leishmaniose visceral canina: Perfil fenotípico e funcional da atividade fagocítica anti-Leishmania chagasi. 131f. Belo Horizonte, MG. Dissertação (Mestrado em Ciências) - Programa de Pós-Graduação em Ciências da Saúde do Centro de Pesquisas René Rachou, Fundação Oswaldo Cruz.
Mota L.A.A & Miranda R.R. 2011. Manifestações dermatológicas e otorrinolaringológicas na Leishmaniose. Arquivos Internacionais Otorrinolaringologia. 15(3): 376-381.
Moura A.L., Jorge S.M., Alencar E.C., Silva Júnior J.A. & Silva I.N.G. 2018. Abordagem clínica e laboratorial de Tumor Venéreo Transmissível (TVT) em uma cadela prenhe. Ciência Animal. 28(2): 104-112.
Moutinho F.Q., Sampaio G.R., Teixeira C.R, Sequeira J.L. & Laufer R. 1995. Tumor Venéreo Transmissível com metástases em um cão. Ciência Rural. 25(3): 469-471.
Rogers K.S., Walker M.A. & Dillon H.B. 1998. Transmissible Venereal Tumor: a retrospective study of 29 cases. Journal of the American Animal Hospital Association. 34(6): 463-470.
Silva M.C.V., Barbosa R.R., Santos R.C., Chagas R.S.N. & Costa W.P. 2007. Avaliação epidemiológica, diagnóstica e terapêutica do Tumor Venéreo Transmissível (TVT) na população canina atendida no Hospital Veterinário da UFERSA. Acta Veterinária Brasílica. 1(1): 28-32.
Solano-Gallego L. 2012. Sistema reprodutivo. In: Raskin R.E. & Meyer D.J. (Eds). Citologia Clínica de Cães e Gatos: Atlas Colorido e Guia de Interpretação. 2.ed. Rio de Janeiro: Elsevier, pp. 547-622.
Thrall M.A. 2015. Classificação e abordagem diagnóstica da anemia. In: Thrall M.A., Weiser G., Allison R.W. & Campbell T.W. (Eds). Hematologia e Bioquímica Clínica Veterinária. 2.ed. Rio de Janeiro: Editora Roca, pp.171-179.
Woods J.P. 2013. Miscellaneous Tumors. In: Withrow S.J., Vail D.M. & Page R.L. Small Animal Clinical Oncology. 5th edn. St. Louis: Elsevier, pp.692-696.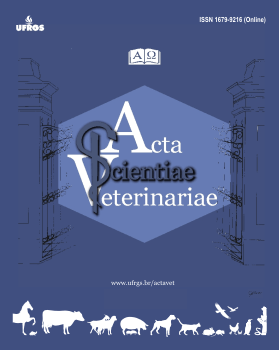 How to Cite
Diamantino, L. U. S., Oliveira, A. P. de, Andrade, K. dos S., Santos, M. W. da C., Pereira, Z. S., Mendonça, F. L. de M., & Alves da Silva Vieira, L. C. (2021). Transmissible Venereal Tumor Associated with Cutaneous Metastasis and Leishmaniasis in a Bitch. Acta Scientiae Veterinariae, 49. https://doi.org/10.22456/1679-9216.108475
License
This journal provides open access to all of its content on the principle that making research freely available to the public supports a greater global exchange of knowledge. Such access is associated with increased readership and increased citation of an author's work. For more information on this approach, see the Public Knowledge Project and Directory of Open Access Journals.
We define open access journals as journals that use a funding model that does not charge readers or their institutions for access. From the BOAI definition of "open access" we take the right of users to "read, download, copy, distribute, print, search, or link to the full texts of these articles" as mandatory for a journal to be included in the directory.
La Red y Portal Iberoamericano de Revistas Científicas de Veterinaria de Libre Acceso reúne a las principales publicaciones científicas editadas en España, Portugal, Latino América y otros países del ámbito latino