Braquial Plexus Block and Lumbosacral Epidural in a South American Coati (Nasua nasua)
Abstract
Background: The South American coatis (Nasua nasua) are capable of adapting to different habitats, which allowed them to exchange between domestic and wild areas, increasing the occurrence of traumas. Procedures performed in this species demand anesthetic protocols that take comorbidities into account and cause minimal cardiorespiratory depression as well as rapid recovery. It is in such context that locoregional anesthesia has become an essential tool. Thus, we aim to report the use of two techniques of locoreginal block: brachial plexus block and lumbosacral epidural block, in a Nasua nasua submitted to osteosynthesis of the radius and caudectomy due to trauma.
Case: A adult male coati weighing 2.3 kg was referred to the Veterinary Medical Teaching Hospital of the Universidade Federal do Paraná (UFPR) - Setor Palotina with a history of trauma. Physical examination showed crackling in the radius and ulnar region, and also abnormal angulation in the distal portion of the tail. After taking x-rays, fractures were confirmed in the distal radius and in the distal portion of the tail. The patient was referred for surgery. After 8 h of water and food withdrawal, the animal was premedicated with a combination of ketamine (10 mg/kg), midazolam (0.3 mg/kg) and methadone (0.2 mg/kg), intramuscularly (IM). Induction of anesthesia was performed with propofol titrated to effect (total dose 4 mg/kg) and anesthesia was maintained with isoflurane in spontaneous ventilation using a non-rebreathing circuit (Baraka). It was evaluated heart rate (HR), respiratory rate (RF), end-tidal CO2 (EtCO2), expired isoflurane fraction (FE´Iso), oxyhemoglobin saturation (SpO2), electrocardiography (ECG), systolic blood pressure (SBP) and core temperature (CT) using a multiparametric monitor. After the stabilization period, the animal was positioned in lateral recumbence. A subscapular brachial plexus block was performed with bupivacaine (0.2 mL/kg) using a peripheral nerve stimulator to ensure the correct perineural deposition of the local anesthetic. During anesthesia, rescue analgesia was administered when there was a 20% increase in HR, RR or SBP compared to baseline values. Thus, in this case, two rescues with fentanyl (2 µg/kg) were necessary. The animal remained stable and, at the end of the first procedure, he was placed in ventral recumbence, with the hindlimbs pulled cranially in order to locate the lumbosacral space. Epidural injection was performed with lidocaine (0.18 mL/kg). Rescue analgesia was not necessary during the caudectomy procedure. The procedure had a total duration of 3 h and extubation occurred 3 min after inhalation anesthesia withdrawal. At the end of the surgery, the animal was medicated with meloxicam (0.1 mg/kg) and methadone (0.2 mg/kg). Two h after the end of the surgery, the animal was able to feed again.
Discussion: The literature is scarce regarding anesthetic techniques in the Nasua nasua species, especially in the context of locoregional anesthesia. In this report, the protocol used as pre-anesthetic medication was considered satisfactory. Brachial plexus block is a safe technique for desensitizing the forelimb for surgical procedures distal to the scapulohumeral joint. Despite some morphological differences in the spinal anatomy of coatis, there was no difficulty in identifying the epidural space or inserting the needle. The absence of complications, and the hemodynamic stability during the anesthesia period, combined with the satisfactory recovery of the patient points to the success of the techniques used in the present report.
Downloads
Download data is not yet available.
References
Beisiegel B.M. 2001. Notes on the coati, Nasua nasua (carnivora: procyonidae) in an atlantic forest área. Brazilian Journal of Biology. 61(4): 689-692. DOI:10.1590/S1519-69842001000400020
Campoy L. & Read M.R. 2013. The Thoracic Limb. In: Campoy L. & Read M.R. (Eds). Small Animal Regional Anesthesia and Analgesia. Ames: Wiley-Blackwell, pp. 141-167.
Fonseca A.M., Martins S.B., Bárisson J.D., Muehlbauer E., Borges N.C. & Moreno J.C.D. 2017. Anestesia Inalatória e Anestesia Total Intravenosa em quatis - estudo comparativo. Archives of Veterinary Science. 22(4): 20-30. DOI: 10.5380/avs.v22i4.56823
Fowler E.M. & Miller R.E. 2003. In: Zoo and Wild Animal Medicine. 5th edn. Philadelphia: W.B. Saunders, 782p.
Gregores G.B. 2006. Topografia vértebro-medular e Anestesia espinhal em Quati (Nasua nasua). 70f. São Paulo, SP. Dissertação (Mestrado em Ciências) - Programa de Pós-Graduação em Anatomia dos Animais Domésticos e Silvestres da Faculdade de Medicina Veterinária e Zootecnia da Universidade de São Paulo.
Lemos V.C.C., Vieira J.V.R., Gusmão I.M., Gondim L.S.Q., Barbosa V.F. & Nunes T.L. 2019. Bloqueios dos nervos ciático e femoral guiado por neuroestimulador em Chinchila lanígera submetida a osteossíntese de tíbia. Acta Scientiae Veterinariae. 47(1): 468. DOI: 10.22456/1679-9216.97587
Minto B.W., Nagatsuyu C.E., Teixeira C.R., Zanusso F.S., Candido T.D., Diogo L.M.I. & Macedo A.S. 2017. Minimally invasive hysterectomy in Coatis (Nasua nasua). Pesquisa Veterinária Brasileira. 37(6): 627-629. DOI:10.1590/s0100-736x2017000600016
Nascimento F.M., Nunes T.L., Souza T.B.S., Andrade M.A.C. & Barbosa V.F. 2019. Bloqueio do plexo braquial com uso de neuroestimulador em coruja-orelhuda (Asio clamator) submetida à amputação de asa. Acta Scientiae Veterinariae. 47(1): 361. DOI:10.22456/1679-9216.79176.89521
Otero P.E. & Campoy L. 2013. Epidural and Spinal Anesthesia. In: Otero P.E. & Campoy L. (Eds). Small Animal Regional Anesthesia and Analgesia. Ames: Wiley-Blackwell, pp.227-261.
Santos E.R., Barni B.S., Colombi L.A.F., Braga C.S., Mombach V.S., Muccillo M.S., Alievi M.M. & Contesini E.A. 2017. Bloqueio de plexo braquial em um bugio-ruivo (Alouatta guariba): relato de caso. Arquivo Brasileiro de Medicina Veterinária e Zootecnia. 69(5): 1186-1190. DOI:10.1590/1678-4162-9303
Sheldon W.B & Savage N.L. 1971. Salmonellosis in a kinkajou. Journal of the American Veterinary Medical Association. 159(5): 624-625. PMID:5106381
Silva A.M., Silva K.F., Santos L.M., Azuaga L.B.S., Jardim P.H.A., Albuquerque V.B. & Frazilio F.O. 2018. Bloqueio do plexo braquial em um tamanduá-mirim (Tamandua tetradactyla) utilizando estimulador de nervos periféricos: relato de caso. Arquivo Brasileiro de Medicina Veterinária e Zootecnia. 70(2): 479-485. DOI:10.1590/1678-4162-9812
Souza Jr. P., Carvalho N.C., Mattos K. & Santos A.L.Q. 2014. Origens e ramificações do plexo braquial no cachorro-do-mato Cerdocyon thous (Linnaeus, 1766). Pesquisa Veterinária Brasileira. 34(10): 1011-1023. DOI:10.1590/S0100-736X2014001000015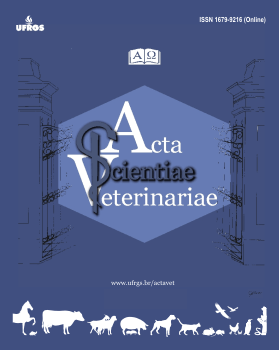 How to Cite
Demczuk Thomas, L., Piccoli, R. J., Quintana Bernardi, P. E., Sinotti, J. F., Andrade Silva, V., Fucks de Souza, C., & Bono Fukushima, F. (2021). Braquial Plexus Block and Lumbosacral Epidural in a South American Coati (Nasua nasua). Acta Scientiae Veterinariae, 49. https://doi.org/10.22456/1679-9216.107664
License
This journal provides open access to all of its content on the principle that making research freely available to the public supports a greater global exchange of knowledge. Such access is associated with increased readership and increased citation of an author's work. For more information on this approach, see the Public Knowledge Project and Directory of Open Access Journals.
We define open access journals as journals that use a funding model that does not charge readers or their institutions for access. From the BOAI definition of "open access" we take the right of users to "read, download, copy, distribute, print, search, or link to the full texts of these articles" as mandatory for a journal to be included in the directory.
La Red y Portal Iberoamericano de Revistas Científicas de Veterinaria de Libre Acceso reúne a las principales publicaciones científicas editadas en España, Portugal, Latino América y otros países del ámbito latino