Non-Epitheliotropic Cutaneous Lymphoma with Systemic Dissemination in a Dog
Abstract
Background: Cutaneous lymphoma is a highly malignant neoplasm, which can originate in the epidermis or dermis, as well as be disseminated to other organs such as lung, heart, arm, liver and bone marrow. It comes in the form of nodes of various sizes, erythematous and alopecic, itching may or may not occur. The diagnosis is made by cytological and histopathological examination of the compromised tissue. However, it is important to perform complementary tests for clinical staging and prognostic characterization. The objective is to report a case of non-epitheliotropic cutaneous lymphoma with systemic dissemination in a dog.
Case: A female mixed bred adult canine was attended at the Veterinary Hospital of the Federal University of Mato Grosso do Sul with a history of progressive weight loss and the presence of alopecic and non-pruritic subcutaneous nodules in the torso, nasal plane and pelvic limbs, starting 4 months ago. After approximately 20 days, the presence of rapidly evolving ulcerated nodules was noted. On physical examination, generalized lymphadenomegaly was observed and among the dermatological findings were multiple nodules of varying sizes with the presence of ulceration in the center of the lesions, alopecia, erythema and raised edges, in the region of the nasal sinus, pelvic and thoracic limbs, tail, thoracolumbar and abdominal region. The animal also presented right pelvic limb edema with painful sensibility to manipulation CBC and biochemical tests (albumin, alanine aminotransferase, creatinine, urea, alkaline phosphatase, globulins, total proteins and fractions) were performed, being observed as normocytic normochromic type anemia alteration (erythrocytes: 2.78 106/µL; hemoglobin: 6.8 g/µL; globular volume: 18.8%), leukopenia (4,000/mm³) with presence of metamyelocytes (120/mm³) and rods (1,080/mm³) and lymphopenia (80/mm³). Three samples of the nodules were collected for histopathological examination and a definitive diagnosis of cutaneous lymphoma was obtained. The material was then submitted to immunohistochemical examination, which showed that it was a non-epitheliotropic cutaneous lymphoma of T immunophenotype. Due to the compromised quality of life and unfavorable prognosis, the owner opted for euthanasia of the animal. In the necropsy examination, lymph nodes, subcutaneous tissue, skeletal muscle, heart, pericardial sac, tongue and multifocal infiltrate of neoplastic cells were observed, findings suggestive of multicentric lymphoma or infiltrations by dissemination of cutaneous lymphoma.
Discussion: Non-epitheliotropic skin lymphomas exhibit rapid progression and infiltration into lymph nodes and subsequent systemic involvement. The diagnosis is based on clinical-dermatological signs, fine needle cytology, histopathological and immunohistochemical examination. Normocytic normochromic anemia is the most observed alteration in patients with lymphoma, followed by leukocytosis, leukopenia, thrombocytopenia, neutrophilia and leukoerythroblastic reactions.  Dogs with T-cell lymphoma have a worse prognosis for life span and disease-free intervals than those with B-cell lymphoma, so immunophenotyping is critical to determine prognosis. In the present report, histopathological and immunohistochemical examinations were decisive for the diagnosis of the present report, because the expression CD3 and the negativity for CD79a proved that the neoplasm is of T lymphocyte lineage. The definitive diagnosis was obtained by histopathology, however, immunohistochemistry determined the immunophenotype of the neoplasia as non-epitheliotropic T lymphocyte. 
Downloads
Download data is not yet available.
References
Araújo C.M.T.D. 2017. Epitheliotropic lymphoma with heart and kidney metastasis in a dog: case report. Arquivo Brasileiro de Medicina Veterinária e Zootecnia. 69(6): 1461-1465. DOI: 10.1590/1678-4162-9291
Bosschere H. & Declercq J. 2008. Cutaneous nonepitheliotropic B-cell lymphoma in a Golden retriever. Vlaams Diergeneeskundig Tijdschrift. 77: 315-318.
Bhang D.H., Choi U.S., Kim M.K., Choi E.H., Kang M.S., Hwang C.Y., Kim D.Y., Youn Y.H. & Lee C.L. 2006. Epitheliotropic cutaneous lymphoma (Mycosis fungoides) in a dog. Journal Veterinary Science. 7(1): 97-99. DOI: 10.4142/jvs.2006.7.1.97
Cápua M.L.B., Coleta F.E.D., Canesin A.P.M.N., Godoy A.V., Calazans S.G., Miotto M.R., Daleck C.R & Santana A.E. 2011. Canine lymphoma: clinic, hematology and treatment with the Madison-Wisconsin protocol. Ciência Rural. 41(7): 1245-1251. DOI: 10.1590/S0103-84782011005000090
Cardoso M.J.L., Torres Neto R., Amorim R.L. & Fabris V.E. 2006. Mycosis fungoides in a dog. Veterinária e Zootecnia. 13(20): 137-143. DOI: 10.35172/rvz.2006.v13.255
Daleck C.R., Nardi A.B. & Calazans S.G. 2017. Lymphomas. In: Daleck C.R. & Nardi A.B. (Eds). Oncologia em Cães e Gatos. 2.ed. Rio de Janeiro: Roca, pp.634-645.
Duarte A.R. 2013. Lomustin skin lymphoma response - Clinical, immunohistochemical and MDR1 expression findings. 82f. Botucatu, SP. Dissertation (Masters in Veterinary Medicine) - Post-Graduate Program in Veterinary Medicine, State University Paulista Júlio Mesquita Filho.
Fontaine J., Bovens C. & Bettenay S. 2009. Canine cutaneous epitheliotropic T-cell lymphoma: a review. Veterinary and Comparative Oncology. 7(1): 1-14. DOI: 10.1111/j.1476-5829.2008.00176
Mineshige M., Kawarai S., Yauchi T., Segawa K., Neo S., Sugahara G., Kamiie J., Hisasue M. & Shirota K. 2016. Cutaneous epitheliotropic T-cell lymphoma with systemic dissemination in a dog. Journal of Veterinary Diagnostic Investigation. 28(3): 327-31. DOI: 10.1177/1040638716637642
Moreno K. 2008. Epidemiological, morphological and therapeutic aspects of cutaneous lymphoma and cell proliferation indices (PCNA E Ki-67) in multicenter lymphoma in dogs. 93f. Londrina, PR. Thesis (PhD in Veterinary Medicine) - Post-Graduate Program in Animal Science, State University of Londrina.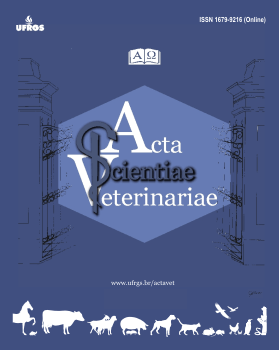 How to Cite
Rosseto, L. G., Pitol, B. C. A., Andreussi, P. A. T., Palumbo, M. I. P., Ventura, A., & Babo-Terra, V. J. (2021). Non-Epitheliotropic Cutaneous Lymphoma with Systemic Dissemination in a Dog. Acta Scientiae Veterinariae, 49. https://doi.org/10.22456/1679-9216.107597
License
This journal provides open access to all of its content on the principle that making research freely available to the public supports a greater global exchange of knowledge. Such access is associated with increased readership and increased citation of an author's work. For more information on this approach, see the Public Knowledge Project and Directory of Open Access Journals.
We define open access journals as journals that use a funding model that does not charge readers or their institutions for access. From the BOAI definition of "open access" we take the right of users to "read, download, copy, distribute, print, search, or link to the full texts of these articles" as mandatory for a journal to be included in the directory.
La Red y Portal Iberoamericano de Revistas Científicas de Veterinaria de Libre Acceso reúne a las principales publicaciones científicas editadas en España, Portugal, Latino América y otros países del ámbito latino