Focal Peripheral Neuropathy Associated with Lymphoma in Dogs
Abstract
Background: Peripheral neuropathies result in sensory, motor or autonomic dysfunctions due to impairment of peripheral spinal or cranial nerves. Neoplasms such as lymphoma are cited as one of the many aetiological causes and it may affect the nerve directly, by compression, or indirectly, or paraneoplastic, by remote action of the neoplasm located in an extra-neural site. This study aimed to report two cases of cranial nerve neuropathy (trigeminal and facial) associated with canine lymphoma, contributing to a better understanding of its paraneoplastic effects on the nervous system, as well as the diagnosis and treatment of these conditions.
Cases: Two cases of canine lymphoma associated with possible signs of paraneoplastic peripheral neuropathy were attended at the Veterinary Hospital from the Universidade Federal de Minas Gerais (HV UFMG). Case 1. A spayed mixed breed bitch, with lethargy and unilateral exophthalmos. Brain computed tomography revealed a retrobulbar mass and cytology was diagnostic for extranodal lymphoma. Subsequent to computed tomography, the dog was presented with hypotrophy of the facial musculature and difficulty in grasping food, consistent with trigeminal nerve palsy, which resolved after institution of the 19-week chemotherapy protocol from the University of Wisconsin. Nevertheless, disease reccurred and a rescue protocol was initiated. Case 2. A female Dalmatian, spayed, was diagnosed with multicentric lymphoma, after cytology of the left mandibular lymph node. Chemotherapy was initiated with the same protocol of the previous case. However, the disease progressed and it was observed facial asymmetry with ptosis of the left eyelid, pina and lips, in addition to difficulty in grasping food, suggesting facial and trigeminal cranial nerve palsy. Clinical signs resolved after institution of a rescue chemotherapy protocol. However, in both cases, disease progression and poor clinical condition resulted in decision of euthanasia and necropsy was not authorized.
Discussion: Canine lymphoma is often associated with paraneoplastic syndromes, with neuropathy being one of its possible clinical manifestations. In spite of that its pathogenesis remains unclear, with little information in the veterinary literature. Diagnosis is challenging and must be initially based on recognition of neurological clinical signs and lesion localization, as in the reported cases with lesions located on the fifth and seventh cranial nerves. In the patient from the first case, the absence of clinical signs and laboratory abnormalities suggestive of endocrinopathies, associated with neurological signs restricted to the trigeminal nerve, bilaterally, before starting chemotherapy and without the identification of brain lesions in computed tomography, suggested paraneoplastic involvement as the cause of neuropathy. In the second case described, the absence of clinical signs and laboratory abnormalitiess suggestive of endocrinopathies or nutritional deficiencies, associated with neurological signs restricted to the facial and trigeminal cranial nerves, suggested direct or indirect tumour involvement. Both cases showed improvement of neurological clinical signs after chemotherapy which favored the therapeutic diagnosis. Nevertheless, failure to authorize necropsy of patients made it impossible to confirm that peripheral neuropathy is secondary to the remote effect of lymphoma.
Downloads
Download data is not yet available.
References
Antoine J.C. & Camdessanché J.P. 2017. Paraneoplastic neuropathies. Current Opinion in Neurology. 30(5): 513-520.
Beasley M.J., Hiebert E.C., Daw D.N., Alexander K.J. & Gambino J.M. 2019. Neurolymphomatosis caused by T-cell lymphosarcoma in a cat: imaging description and treatment review. Journal of Feline Medicine and Surgery Open Reports. 5(1):1-5.
Braund K.G., McGuire J.Á., Amling K.A. & Henderson R.A. 1987. Peripheral Neuropathy Associated with Malignant Neoplasms in Dogs. Veterinary Pathology. 24(1): 16-21.
Braund K.G. 1990. Remote effects of cancer on the nervous system. Seminars in Veterinary Medicine and Surgery (Small Animal). 5(4): 262-270.
Cápua M.L.B., Coleta F.E.D., Canesin A.P.M.N., Godoy A.V., Calazans S.G., Miotto M.R., Daleck C.R. & Santana A.E. 2011. Linfoma canino: clínica, hematologia e tratamento com o protocolo de Madison-Wisconsin. Ciência Rural. 41(7): 1245-1251.
Cavana P., Sammartano F., Capucchio M.T., Catalano D., Valazza A. & Farca A.M. 2009. Peripheral neuropathy in a cat with renal lymphoma. Journal Feline Medicine Surgical. 11(10): 869-872.
Couto C.G. 1985. Canine lymphomas: something old, something new. Compendium of Continuing Education. 7(1): 291-302.
Cuddon P.A. 2002. Acquired canine peripheral neuropathies. Veterinary Clinics North America Small Animal Practice. 32(1): 207-249.
Darnell R.B. & Posner J.B. 2003. Paraneoplastic syndromes involving the nervous system. The New England Journal of Medicine. 349(16): 1543-1554.
Dewey C.W. & Talarico L.R. 2015. Disorders of the Peripheral Nervous System: Mononeuropathies and Polineuropathies. In: Dewey C.W. & Costa R.C. (Eds). Practical Guide to Canine and Feline Neurology. 3rd edn. Hoboken: Wiley-Blackwell, pp.445-480.
Dobson J.M. & Gorman N.T. 1993. Canine multicentric lymphoma 1: Clinico-pathological presentation of the disease. Journal Small Animal Practice. 34(12): 594-598.
Elliott J. & Baines S.A. 2019. Retrospective Study of Multi-agent Chemotherapy including either Cyclophosphamide or Lomustine as Initial Therapy for Canine High-grade T-cell Lymphoma (2011-2017). Australian Veterinary Journal. 97(9): 308-315.
Evans H.E. & de Lahunta A. 2013. Cranial Nerves. In: Miller's Anatomy of the Dog. St Louis: Elsevier, pp.708-730.
Falah M., Schiff D. & Burns T.M. 2005. Neuromuscular complications of cancer diagnosis and treatment. The journal of supportive oncology. 3(4): 271‐282.
Félix E.P.V. & Oliveira A.S.B. 2001. Diretrizes para abordagem diagnóstica das neuropatias em serviço de referência em doenças neuromusculares. Revista Neurociências. 18(1): 74-80.
Formenton M.R. 2018. Physiotherapy for Pain Control in Dogs and Cats. Journal of Yoga Physiotherapy. 4(5): 71-74.
Godinho H.P. & Getty R. 1986. Sistema Nervoso Periférico. In: Grossman, James Sisson, Septimus (Eds). Anatomia dos Animais Domésticos. 5.ed. Rio de Janeiro: Guanabara Koogan., pp.1853-1617.
Higgins M.A., Rossmeisl J.H., Saunders G.K., Hayes S. & Kiupel M. 2008. B-Cell Lymphoma in the Peripheral Nerves of a Cat. Veterinary Pathology. 45(1): 54-57.
Hobbs S.L. & Cobb M.A. 1990. A cranial neuropathy associated with multicentric lymphosarcoma in a dog. Veterinary Record. 127(21): 525-526.
Hsueh C.S., Tai C.Y., Lee J.C., Kao C.L., Wang F.I., Jeng C.S., Chang H.W., Pang V.F. & Liu C.H. 2019. CD56+ B-cell Neurolymphomatosis in a Cat. Journal of Comparative Pathology. 169: 25-29.
Intile J.L., Rassnick K.M., Al-Sarraf R. & Chretin J.D. 2019. Evaluation of the Tolerability of Combination Chemotherapy with Mitoxantrone and Dacarbazine in Dogs with Lymphoma. Journal American Animal Hospital Association. 55(2): 101-109.
Inzana K.D. 2004. Paraneoplastic neuromuscular disorders. Veterinary Clinics North America Small Animal Practice. 34(6): 1453-1467.
Jark P.C., Fracacio C.P., Anai L.A., Silva M.C.L., Calazans S.G., Senhorello I.L.S., Costa M.T., Sequeira J.L. & Sueiro F.A.R. 2020. Histopathological and immunophenotypical characterization of canine multicentric lymphoma in Brazil: a study of 203 cases. Arquivo Brasileiro de Medicina Veterinária e Zootecnia. 72(3): 787-793.
Linzmann H., Brunnberg L., Gruber A.D. & Klopfleisch R. 2009. A neurotropic lymphoma in the brachial plexus of a cat. Journal of Feline Medicine Surgery. 11(6): 522-524.
Mandrioli L., Morini M., Biserni R., Gentilini F. & Turba M.E. 2012. A case of feline neurolymphomatosis: pathological and molecular investigations. Journal Veterinary Diagnosis Investigation. 24(6): 1083-1086.
Muppidi S. & Vernino S. 2014. Paraneoplastic neuropathies. Continuum: Lifelong Learn in Neurology. 20(5): 1359-1372.
Oliveira K.M., Horta R.S., Silva C.M.O. & Lavor M.S.L. 2013. Principais síndromes paraneoplásicas em cães e gatos. Enciclopédia Biosfera, Centro Científico Conhecer. 9(17): 2073-2078.
Omi T., Kinoshita M., Nishikawa A., Tomioka T., Ohmori K., Fukada K. & Matsunaga H. 2018. Clinical Relapse of Anti-AMPAR Encephalitis Associated with Recurrence of Thymoma. Internal Medicine. 57(7): 1011‐1013.
Osinchuk S.C., Zwueste D.M. & Grahn B.H. 2019. Peripheral cranial neuropathies consistent with cavernous sinus syndrome caused by extracranial nasopharyngeal lymphoma in a cat. The Canadian Veterinary Journal. 60(11): 1156-1160.
Pfaff A.M., March P.A. & Fishman C. 2000. Acute bilateral trigeminal neuropathy associated with nervous system lymphosarcoma in a dog. Journal American Animal Hospital Association. 36(1): 57-61.
Porto F.H.G., Porto G.C.L.M. & Brotto M.W.L. 2016. Exames complementares na investigação da dor neuropática. O valor da eletroneuromiografia na dor neuropática. Revista Dor. 17(Suppl 1): 23-26.
Popławska-Domaszewicz K., Florczak-Wyspiańska J., Kozubski W. & Michalak S. 2018. Paraneoplastic movement disorders. Reviews in the Neuroscience. 29(7): 745-755.
Presthus J. & Teige Jr. J. 1986. Peripheral neuropathy associated with lymphosarcoma in a dog. Journal of Small Animal Practice. 27(7): 463-469.
Rison R.A. & Beydoun S.R. 2016. Paraproteinemic neuropathy: a practical review. BMC Neurology.16(13): 1-14.
Rodigheri S.M., Daleck C.R., Calazans S.G., Fernandes S.C., De Nardi A.B., Cesar J.R.F. & Castro J.H.T. 2008. Neuropatia paraneoplásica associada ao mastocitoma canino. Ciência Rural. 38(3): 819-822.
Rudnicki S.A. & Dalmau J. 2005. Paraneoplastic syndromes of the peripheral nerves. Current Opinion in Neurology. 18(5): 598-603.
Saba C.F., Thamm D.H. & Vail D.M. 2007. Combination chemotherapy with L-asparaginase, lomustine, and prednisone for relapsed or refractory canine lymphoma. Journal of Veterinary Internal Medicine. 21(1): 127-132.
Sakurai M., Azuma K., Nagai A., Fujioka T., Sunden Y., Shimada A. & Morita T. 2016. Neurolymphomatosis in a cat. Journal Veterinary Medicine Science. 78(6): 1063-1066.
Salm L.P., Van der Hiel B., Stokkel M.P.M. 2012. Increasing importance of 18F-FDG PET in the diagnosis of neurolymphomatosis. Nuclear Medicine Communications. 33(9): 907-916.
Schaffer P.A., Charles J.B., Tzipory L., Ficociello J.E., Marvel S.J., Barrera J., Spraker T.R. & Ehrhart E.J. 2012. Neurolymphomatosis in a dog with B-cell lymphoma. Veterinary Pathology. 49(5): 771-774.
Suraniti A.P., Gilardoni L.R., Mira G., Guerrero J. & Pereira M.E. 2012. Signos neurológicos asociados a pacientes caninos con linfoma. Revista de Medicina Veterinária 3(23): 33-37.
Swift K.E., McGrath S., Nolan M.W., Young M., Reese M., Rao S., Randall E., Leary D. & LaRue S. 2017. Clinical and imaging findings, treatments, and outcomes in 27 dogs with imaging diagnosed trigeminal nerve sheath tumors: A multi-center study. Veterinary Radiology &Ultrasound. 58(6): 679-689.
Tomita M., Koike H., Kawagashira Y., Iijima M., Adachi H., Taguchi J., Abe t., Sako K., Tsuji Y., Nakagawa M., Kanda F., Takeda F., Sugawara M., Toyoshima I., Asano M. & Sobue G. 2013. Clinicopathological features of neuropathy associated with lymphoma. Brain A Journal of Neurology. 136(8): 2563-2578.
Ueno H., Miyoshi K., Fukui S., Kondo Y., Matsuda K. & Uchide T. 2014. Extranodal Lymphoma with Peripheral Nervous System Involvement in a Dog. Journal Veterinary Medicine Science. 76(5): 723-727.
Vail D.M., Pinkerton M. & Young K.M. 2019. Hematopoietic Tumors. In: Vail D.M. Thamm D.H. & Liptak J.M. (Eds). Withrow and MacEwen's Small Animal Clinical Oncology. 6th edn. St Louis: Elsevier, pp.688-772.
Valli V.E., Kass P.H., San Myint M. & Scott F. 2013. Canine lymphomas: association of classification type, disease stage, tumor subtype, mitotic rate, and treatment with survival. Veterinary Pathology. 50(5): 738-748.
Van Ham L., Braund K.G., Roels S. & Putcuyps I. 1997. Treatment of a dog with an insulinoma-related peripheral polyneuropathy with corticosteroids. Veterinary Record. 141(4): 98-100.
Vincent A. 2005. Antibodies associated with paraneoplastic neurological disorders. Neurological Sciences. 26(Suppl 1): s3-s4.
Viviano K.R. 2013. Update on Immununosuppressive Therapies for Dogs and Cats. Veterinary Clinics North America Small Animal Practice. 43(5): 1149-1170.
.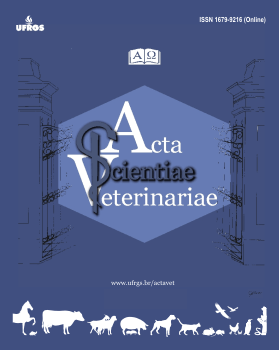 How to Cite
da Silva, P. H. S., Lavalle, G. E., Martins, B. de C., de Sena, B. V., Ferreira, A. L. F., & Horta, R. dos S. (2021). Focal Peripheral Neuropathy Associated with Lymphoma in Dogs. Acta Scientiae Veterinariae, 49. https://doi.org/10.22456/1679-9216.107461
License
This journal provides open access to all of its content on the principle that making research freely available to the public supports a greater global exchange of knowledge. Such access is associated with increased readership and increased citation of an author's work. For more information on this approach, see the Public Knowledge Project and Directory of Open Access Journals.
We define open access journals as journals that use a funding model that does not charge readers or their institutions for access. From the BOAI definition of "open access" we take the right of users to "read, download, copy, distribute, print, search, or link to the full texts of these articles" as mandatory for a journal to be included in the directory.
La Red y Portal Iberoamericano de Revistas Científicas de Veterinaria de Libre Acceso reúne a las principales publicaciones científicas editadas en España, Portugal, Latino América y otros países del ámbito latino