Chemodectoma in a Dog
Abstract
Background: The chemodectoma is a rare neoplasm that originates from chemoreceptors located mainly in the aortic body, and carotid body and sinus, and responsible for detecting variations in blood pH, oxygen pressure and carbon dioxide. Dogs of brachiocephalic breeds and aged between 7 and 15 years have greater propensity. A neoplasm involves infiltrative growth in the vessels at the heart base, which leads to Congestive Heart Failure (CHF). The definitive diagnosis is performed by histopathological and/or immunohistochemical examination. The aim was to report a case of chemiodectoma in a dog, showed the disease clinical characteristics.
Case: A 13-year-old male undefined breed dog was examinated in the medical clinic of small animal of Veterinary Hospital, Federal Rural University of Pernambuco (UFRPE) with respiratory effort, hyporexia, and edema in face, cervical, ventral thorax and thoracic limbs, with thirty days evoluted. About physical examination, we observed cachexia, orthopneic position, cyanosis and edema with a positive Godet sign, as well as 8% dehydration degree. Thoracic auscultation presented mixed dyspnea and muffled heart sounds. Chest radiography detected an radiopacity increase in pulmonary section and metastatic neoplastic process associated with pleural and pericardial effusion. Fluid therapy with lactated ringer and posterior thoracentesis in the right hemithorax region was performed for greater respiratory comfort for the patient. Hematological count and biochemical profiles stated normochromic normocytic anemia, relative and absolute lymphopenia, thrombocytopenia, as well as increased alanine aminotransferase (ALT) and aspartate aminotransferase (AST). The patient died after 12 hours when was submitted to necroscopic examination and histopathological evaluation. An infiltrative tumor of cardiac base was observed invading the light of the right atrium, obstructing the venous return, as well as a large thrombus located in the left ventricle and diffuse nodules in the lungs. Hydrothorax and hydroperitoneum were observed with serous fluid, with hepatic, renal and brain congestion, and duodenum hemorrhage. Histologically, the tumor was characterized as a chemodectoma with pulmonary metastasis.
Discussion: Cardiac tumors are uncommon for canine population. A study sampled 729,265 dogs with observed incidence reaching 0.19%. The most common type is hemangiosarcoma with 69%, followed by chemiodectoma and lymphoma. Authors describe predisposed brachycephalic breeds such as Boxer, Boston Terrier and French Bulldog. In our case, the patient had elongated snout and undefined breed. Deregulation of chemoreceptors, which detect changes in pH and partial oxygen and carbon dioxide pressures, can result in hyperpnea and dyspnoea. Edema represents a deficit in venous return from the cranial and cervical regions, with consequent increase in hydrostatic pressure and liquid leakage into the thoracic cavity and subcutaneous tissue, thus inferring the Caudal Vena Cava Syndrome (CVCS). Tumors from the cardiac base, integrated with the large arteries insertion and adjacent to the atria, can cause pericardial effusion observed in this case. Chemodectomas are described as essentially benign tumors with low metastatic potential. In this case, pulmonary metastasis was detected. Surgical treatment is recommended when feasible. In this case, the patient had late veterinary care, in addition to the contraindication for surgery by the lung metastasis presence.
Downloads
Download data is not yet available.
References
Aupperle H., Buschatz S., Ellenberger C., Marz I., Reischauer A. & Schoon H.A. 2007. Primary and secondary heart tumours in dogs and cats. Journal of Comparative Pathology. 136(1): 18-26. DOI: 10.1016/j.jcpa.2006.10.002
Balaguer L., Romano J., Nieto J.M., Vidal S. & Alvarez C. 1990. Incidental finding of a chemodectoma in a dog: Differential diagnosis. Journal of Veterinary Diagnostic Investigation. 2(4): 339-341. DOI: 10.1177/104063879000200417
Bergman P.J. 2007. Paraneoplastic syndromes. In: Withrow S.J. & MacEwen E.G. (Eds). Small Animal Clinical Oncology. 4th edn. St. Louis: WB Saunders Co., pp.77-94.
Bertolo P.H.L., Aguirra L.R.V.M., Monger S.D.G.B., Cardoso A.M., Vasconcelos R. & Pereira W.L.A. 2017. Paraganglioma de corpo aórtico em cão. Acta Scientiae Veterinariae. 45(Suppl 1): 214. DOI: 10.22456/1679-9216.85916
Capen C.C. 1991. Patologia de los Animales Domésticos. In: Jubb K.V.F., Kennedy P.C. & Palmer N. (Eds). 3.ed. Montevideo: Agropecuária Hemisfério Sur, pp.331-333.
Cho K.O., Park N.Y., Park I.C., Kang B.K. & Onuma M. 1998. Metastatic intracavitary cardiac aortic body tumor in a dog. The Journal of Veterinary Medical Science. 60(11): 1251-1253. DOI: 10.1292/jvms.60.1251
Kimura K.C. & Teixeira T.F. 2015. Epidemiologia dos tumores. In: Jericó M.M., Kogica M.M. & Andrade Neto J.P. (Eds). Tratado de Medicina Interna de Cães e Gatos. Rio de Janeiro: Roca, pp.496-99.
Kisseberth W. 2013. Neoplasia of the heart. In: Withrow S.J. & Vail D.M. (Eds). Small Animal Clinical Oncology. 5th edn. St. Louis: Elsevier Saunders, pp.700-706.
Mesquita L.P., Abreu C.C., Nogueira C.I., Wouters A.T.B., Wouters F., Bezzerra Junior P.S., Muzzi R.A.L. & Varaschin M.S. 2012. Prevalência e aspectos anatomopatológicos das neoplasias primárias do coração, de tecidos da base do coração e metastáticas, em cães do Sul de Minas Gerais (1994-2009). Pesquisa Veterinária Brasileira. 32(11): 1155-1163. DOI: 10.1590/S0100-736X2012001100014.
Meutein D.J. & Rosol T.J. 2017. Tumors of the endocrine glands. In: Meuten D.J. (Ed). Tumors in domestic animals. 5th edn. Hoboken: John Wiley & Sons, pp.766-833.
Moura V.M.B.D., Goiozo P.F.I., Thomé H.E., Caldeira C.P. & Bandarra E.P. 2006. Quimiodectoma como causa de morte súbita em cão. Veterinária Notícias. 12(1): 95-99.
Noszczyk-nowak A., Nowak M., Paslawska U., Atamaniuk W. & Nicpon J. 2010. Cases with manifestation of chemodectoma diagnosed in dogs in Department of Internal Diseases with Horses, Dogs and Cats Clinic, Veterinary Medicine Faculty, University of Environmental and Life Sciences, Wroclaw, Poland. Acta Veterinaria Scandinavica. 52(1): 35. DOI: 10.1186/1751-0147-52-35
Pereira G.G. & Larson M.H.M.A. 2015. Afecções Pericárdicas e Neoplasias Cardíacas. In: Jericó M.M., Kogica M.M. & Andrade Neto J.P. (Eds). Tratado de Medicina Interna de Cães e Gatos. Rio de Janeiro: Roca, pp.1206-1214.
Rohn D.A. & Kienle R.D. 2007. Neoplasias do coração e do pericárdio. In: Slatter D. (Ed). Manual de Cirurgia de Pequenos Animais. 3.ed. São Paulo: Manole, pp.2382-2394.
Strickland K.N. 1998. Canine and Feline Caval Syndrome. Clinical Techniques in Small Animal Practice. 13(2): 88-95. DOI:10.1016/S1096-2867(98)80012-1.
Treggiari E., Pedro B., Dukes-McEwan J., Gelzer A.R. & Blackwood L. 2017. A descriptive review of cardiac tumours in dogs and cats. Veterinary and Comparative Oncology. 15(2): 273-288. DOI: 10.1111/vco.12167
Ware W.A. & Hopper D.L. 1999. Cardiac tumors in dogs: 1982-1995. Journal of Veterinary Internal Medicine. 13(2): 95-103. DOI: 10.1892/0891-6640(1999)013<0095;ctid<2.3.co;2
Wiele C.M.V., Hogan D.F, Green H.W. & Parnell N.K. 2008. Cranial vena caval syndrome secondary to transvenous pacemaker implantation in two dogs. Journal of Veterinary Cardiology. 10(2): 155-161. DOI: 10.1016/j.jvc.2008.09.001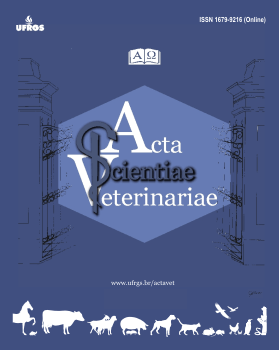 How to Cite
Feitosa, R. O., Gonçalves, S. R. F., Nascimento, J. D. O., De Sena, D. G. F., Santos, E. M. D. S., Pereira, M. de F., & Junior, V. A. da S. (2021). Chemodectoma in a Dog. Acta Scientiae Veterinariae, 49. https://doi.org/10.22456/1679-9216.107402
License
This journal provides open access to all of its content on the principle that making research freely available to the public supports a greater global exchange of knowledge. Such access is associated with increased readership and increased citation of an author's work. For more information on this approach, see the Public Knowledge Project and Directory of Open Access Journals.
We define open access journals as journals that use a funding model that does not charge readers or their institutions for access. From the BOAI definition of "open access" we take the right of users to "read, download, copy, distribute, print, search, or link to the full texts of these articles" as mandatory for a journal to be included in the directory.
La Red y Portal Iberoamericano de Revistas Científicas de Veterinaria de Libre Acceso reúne a las principales publicaciones científicas editadas en España, Portugal, Latino América y otros países del ámbito latino