LOPH and D-MHC in the Treatment of FeLV Associated Acute Leukemia in a Cat
Abstract
Background: Bone marrow primary malignancies are denominated leukemias, classified as myeloid or lymphoid, according to the cell lineage, and acute or chronic, according to the cell´s state of maturation. In cats, acute lymphoid leukemia is the most common form, especially in regions endemic for feline leukemia virus and / or feline immunodeficiency virus. A new treatment protocol for lymphomas, called LOPH, has been described for animals with FeLV persistent viremia. This study aimed to report a case of a cat presenting with FeLV associated acute leukemia and treated with the LOPH protocol, and, in the rescue phase, a modification of the D-MAC protocol, denominated D-MHC.
Case: A 4-year-old mixed breed intact queen was attended due to lethargy and inappetence. The patient did not present any relevant abnormalities in the clinical exam and complementary exams were performed including complete blood count, biochemical profile, SNAP Feline Triple Test, chest radiographs and abdominal ultrasound. Imaging tests and biochemical values were unremarkable, but the patient presented a reagent result for FeLV and severe leukocytosis due to lymphocytosis. The morphological evaluation of the blood smear revealed the presence of blasts, in a concentration greater than 20% of the nucleated cells, which allowed the characterization of a leukemic state, probably lymphoid. First-line treatment was based on the LOPH protocol, including Lomustine, Vincristine, Prednisoloneand Doxorubicin, in four-week cycles. Nevertheless, during the third cycle, 66 days after the institution of this protocol, the patient presented a febrile condition along with marked leukocytosis due to lymphocytosis, confirming leukemia recurrence. A rescue attempt was performed with a modification of the D-MAC protocol, originally consisting of the combination of dexamethasone, melphalan, actinomycin-D and cytarabine, but with replacement of actinomycin-D by doxorubicin, and therefore nominated D-MHC. After the three cycles there was a return of the febrile condition associated with severe pancytopenia and euthanasia was elected due to poor clinical condition, resulting in a survival time of 124 days. The hematological toxicity of the induction protocol included anemia and neutropenia, with mainly grade I events, but with the occurrence of a grade IV event. The adverse effects of the rescue protocol were similar, but with a greater number of grade IV events.
Discussion: FeLV is considered the most lethal retrovirus of the domestic cat, with a major impact on health and life expectancy. Persistent FeLV antigenemia increases the risk of hematopoietic neoplasms in 62.1 times due to a direct insertional mutagenesis. In endemic regions, approximately 70% of cats with acute leukemia have persistent FeLV antigenemia, as the patient in this report. The diagnosis was made through association of retroviral status and the identification of more than 20% of blasts, possibly lymphoblasts, in the blood stream, sparing the need for a myelogram. Considering the poor prognosis for acute lymphoid leukemias and the patient's retroviral status, treatment was initiated with the LOPH protocol, including lomustine, as a potent agent to induce remission, and doxorubicin, which can result in longer remission intervals. After 66 days free of the disease, the patient presented recurrence of the leukemic condition, starting the rescue protocol D-MHC. Remission was again obtained with duration similar to the first protocol, however, on the occasion of a new leukemia recurrence, euthanasia was elected. The treatment adopted for the patient in this report resulted in a longer survival time than reported in other studies. Despite the aggressiveness of the protocols, especially the D-MHC, it was possible to perform it using the monocyte and granulocyte stimulation factor to reverse neutropenia.
Downloads
Download data is not yet available.
References
Almeida N., Danelli M., Silva L., Hagiwara M. & Mazur C. 2012. Prevalence of feline leukemia virus infection in domestic cats in Rio de Janeiro. Journal of Feline Medicine and Surgery. 14(8): 583-586. DOI: 10.1177/1098612X12444693.
Almeida N., Soares L. & Wardini A. 2016. Alterações clínicas e hematológicas em gatos domésticos naturalmente infectados pelo Vírus da Leucemia Felina (FeLV). Revista De Saúde, 7(1): 27-32. DOI: 10.21727/rs.v7i1.85.
Arber D., Orazi A., Hasserjian R., Thiele J., Borowitz M., Le Beau M., Bloomfield C., Cazzola M. & Vardiman J. 2016. The 2016 revision to the World Health Organization classification of myeloid neoplasms and acute leukemia. Blood. 127(20): 2391-2405. DOI: 10.1182/blood-2016-03-643544.
Avery A. & Avery P. 2007. Determining the Significance of Persistent Lymphocytosis. Veterinary Clinics: Small Animal Practice. 37(2): 267-282. DOI: 10.1016/j.cvsm.2006.11.001.
Barbosa F., Christianine M. & Waldemarin K. 2001. Prevalência de Leucemia Felina em Gatos Doméstico de Uberlândia – MG. Arquivos de Ciências Veterinárias e Zoologia. 5(2): 207-211.
Bennett A., Williams L., Ferguson M., Hauck M., Suter S., Lanier C. & Hess P. 2017. Canine acute leukaemia: 50 cases (1989-2014). Veterinary and Comparative Oncology. 15(3): 1101-1114. DOI: 10.1111/vco.12251.
Collette S., Allstadt S., Chon E., Vernau W., Smith A., Garret L., Choy K., Rebhun R., Rodriguez Jr. C. & Skorupski K. 2016. Treatment of feline intermediate to high-grade lymphoma with a modified university of Wisconsin-Madison protocol: 119 cases (2004-2012). Veterinary and Comparative Oncology. 14(1): 136-146. DOI: 10.1111/vco.12158.
Cotter S. 1983. Treatment of lymphoma and leukemia with cyclophosphamide, vincristine, and prednisone: II. Treatment of cats. The Journal of the American Animal Hospital Association. 19(2): 166-172.
Dobson J., Villiers E. & Morris J. 2006. Diagnosis and management of leukaemia in dogs and cats. In Practice. 28(1): 22-31. DOI: 10.1136/inpract.28.1.22.
Dutelle A., Bulman-Fleming J., Lewis C. & Rosenberg M. 2012. Evaluation of lomustine as a rescue agent for cats with resistant lymphoma. Journal of Feline Medicine Surgery. 14(10): 694-700. DOI: 10.1177/1098612X12448017.
Elliot J. & Finotello R. 2018. A dexamethasone, melphalan, actinomycin-D and cytarabine chemotherapy protocol as a rescue treatment for feline lymphoma. Veterinary and comparative oncology. 16(1): 11-151. DOI: 10.1111/vco.12360.
Essex M. 1982. Feline leukemia: a naturally occurring cancer of infectious origin. Epidemiologic Reviews. 4: 189-203. DOI: 10.1093/oxfordjournals.epirev.a036246
Fry M. & McGavin M. 2013. Medula Óssea, Células Sanguíneas e Sistema Linfático. In: Zachary J. & McGavin M. (Eds). Bases da Patologia em Veterinária. 6.ed. Rio de Janeiro: Elsevier, pp.1831-2026.
Hagiwara M., Reche Júnior A. & Lucas S. 1997. Estudo clínico da infecção de felinos pelo vírus da leucemia felina em São Paulo. Revista Brasileira de Ciência Veterinária. 4(1): 35-38.
Hartmann K. 2012. Clinical Aspects of Feline Retroviruses: A Review. Viruses. 4(11): 2684-2710. DOI: 10.4322/rbcv.2015.065.
Harvey J.W. 2001. Atlas of Veterinary Hematology: Blood and Bone Marrow of Domestic Animals. St. Louis: Saunders, 240p.
Horta R., Souza L., Sena B., Oliveira I., Jaretta T., Pimenta M. & Reche Júnior A. 2020. LOPH: a novel chemotherapeutic protocol for feline high-grade multicentric or mediastinal lymphoma, developed in an area endemic for feline leukemia vírus. Journal of Feline Medicine and Surgery. 23(2): 86-97. DOI: 10.1177/1098612X20926893.
Klaassen J. 1999. Reference Values in Veterinary Medicine. Laboratory medicine. 30(3): 194-197.
Levy J., Scoot H., Lachtara J., Crawford P. 2006. Seroprevalence of feline leukemia virus and feline immunodeficiency virus infection among cats in North America and risk factors for seropositivity. Journal of the American Veterinary Medical Association. 228(3): 371-376.
Lutz H., Addie D., Belák S., Boucraut-Baralon C., Egberink H., Frymus T., Gruffydd-Jones T., Hartmann K., Hosie M., Lioret A., Marsilio F., Pennisi M., Radford A., Thiry E. Truyen U. & Horzinek M. 2000. Feline Leukaemia ABCD guidelines on prevention and management. Journal of Feline Medicine and Surgery. 11(7): 565-574. DOI: 10.1016/j.fms.2009.05.005.
Milner R., Peyton J., Cooke K., Fox L., Gallangher A., Gordon P. & Hester & J. 2005. Response rates and survival times for cats with lymhpoma treated with the University of Wisconsin - Madison chemotherapy protocol: 38 cases (1996–2003). Journal of the American Veterinary Medical Association. 227(7): 1118-1122. DOI: 10.2460/javma.2005.227.1118.
Moore A., Cotter S., Frimberger A., Wood C., Rand W. & L'Heureux D. 1996. A comparison of Doxorubicin and COP for Maintenance of Remission in Cats with Lymphoma. Journal of Veterinary Internal Medicine. 10(6): 372-375.
Ramirez C., Minch J., Gay J., Lahmers S., Guerra D., Haldorson G., Schneider T. & Mealey K. 2011. Molecular genetic basis for fluoroquinolone-induced retinal degeneration in cats. Pharmacogennet Genomics. 21(2): 66-75. DOI: 10.1097/FPC.0b013e3283425f44.
Reche Júnior A., Hagiwara M. & Lucas S. 1997. Clinical study of acquired immunodeficiency syndrome in domestic cats in São Paulo. Brazilian Journal of Veterinary Research and Animal Science. 24(3): 152-155.
Reinacher M. 1989. Diseases Associated with Spontaneous Feline Leukemia Virus (FeLV) Infection in Cats. Veterinary Immunology and Immunopathology. 21(1): 85-95. DOI: 10.1016/0165-2427(89)90132-3.
Shelton G., Grant C., Cotter S., Gardner M., Hardy W. & DiGiacomo R. 1990. Feline Immunodeficiency Virus and Feline Leukemia Virus Infections and their Relationships to Lymphoid Malignancies in Cats: A Retrospective Study (1968-1988). Journal of Acquired Immune Deficiency Syndromes. 3(6): 623-630.
Simon D., Eberle N., Laacke-Singer L. & Nolte I. 2008. Combination chemotherapy in feline lymphoma: treatment outcome, tolerability, and duration in 23 cats. Journal of Veterinary Internal Medicine. 22(2): 394-400. DOI: 10.1111/j.1939-1676.2008.0057.x.
Stokol T., Schaefer D., Shuman M., Belcher N. & Dong L. 2015. Alkaline phosphatase is a useful cytochemical marker for the diagnosis of acute myelomonocytic and monocytic leukemia in the dog. Veterinary Clinical Pathology. 44(1): 79-93. doi:10.1111/vcp.12227
Teixeira B., Rajão D., Haddad R., Leite R. & Reis J. 2007. Ocorrência do vírus da imunodeficiência felina e do vírus da leucemia felina em gatos domésticos mantidos em abrigos no município de Belo Horizonte. Arquivo Brasileiro de Medicina Veterinária e Zootecnia. 59(4): 939-942. DOI: 10.1590/S0102-09352007000400019.
Teske E., Straten G., Noort R. & Rutterman G. 2002. Chemotherapy with cyclophophamide, vincristine, and prednisolone (COP) in cats with malignant lymphoma: new results with an old protocol. Journal of Veterinary Internal Medicine. 16(2): 179-186. DOI: 10.1892/0891-6640(2002)016<0179:cwcvap>2.3.co;2.
Tomiyasu H., Doi A., Chambers J., Goto-Koshino Y., Ohmi A., Ohno K. & Tsujimoto H. 2018. Clinical and clinicopathological characteristics of acute lymphoblastic leukaemia in six cats. Journal of Small Animal Practice. 59(12): 742-746. DOI: 10.1111/jsap.12917.
Vail D., Moore A., Ogilvie G. & Volk L. 1998. Feline Lymphoma (145 Cases): Proliferation Indices, Cluster of Differentiation 3 Immunoreactivity, and Their Association with Prognosis in 90 Cats. Journal of Veterinary Internal Medicine. 12(5): 349-354. DOI: 10.1111/j.1939-1676.1998.tb02134.x.
Veterinary Cooperative Oncology Group. 2016. Common terminology criteria for adverse events (VCOG-CTCAE) following chemotherapy or biological antineoplastic therapy in dogs and cats v1.1. Veterinary Comparative Oncology. 14(4): 417-446. DOI: 10.1111/vco.283.
Weijer K. & Daams J. 1976. The presence of leukaemia (lymphosarcoma) and feline leukaemia virus (FeLV) in cats in The Netherlands. Journal Small Animal Practice. 17(10): 649-659. DOI: 10.1111/j.1748-5827.1976.tb06925.x.
Yamamoto A., Fujino M., Tsuchiya T. & Iwata A. 2011. Recombinant canine granulocyte colony-stimulating factor accelerates recovery from cyclophosphamide-induced neutropenia in dogs. Veterinary immunology and immunopathology. 142(3-4): 271-275. DOI: 10.1016/j.vetimm.2011.05.021.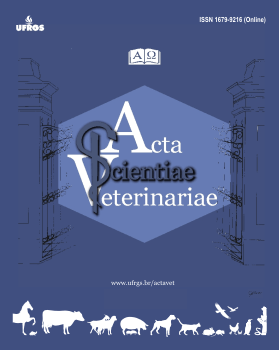 How to Cite
Horta, R. dos S., Ferreira, A. L. F., Costa, M. de P., Frossard, L. S., Nimrichter, J. C., de Carli, M. D., & de Oliveira Paes, P. R. (2021). LOPH and D-MHC in the Treatment of FeLV Associated Acute Leukemia in a Cat. Acta Scientiae Veterinariae, 49. https://doi.org/10.22456/1679-9216.106950
License
This journal provides open access to all of its content on the principle that making research freely available to the public supports a greater global exchange of knowledge. Such access is associated with increased readership and increased citation of an author's work. For more information on this approach, see the Public Knowledge Project and Directory of Open Access Journals.
We define open access journals as journals that use a funding model that does not charge readers or their institutions for access. From the BOAI definition of "open access" we take the right of users to "read, download, copy, distribute, print, search, or link to the full texts of these articles" as mandatory for a journal to be included in the directory.
La Red y Portal Iberoamericano de Revistas Científicas de Veterinaria de Libre Acceso reúne a las principales publicaciones científicas editadas en España, Portugal, Latino América y otros países del ámbito latino