Gastrointestinal Syndrome in a Rabbit (Oryctolagus cuniculus)
Abstract
Background: The term "rabbit gastrointestinal syndrome" (RGIS) refers to a decrease in peristaltic movements, which in some cases can progress to absolute inactivity of the digestive apparatus. This condition is mostly secondary to others that promote changes in gastrointestinal motility, such as dehydration, fiber deficiency, excess carbohydrates in diets, stress, and acute or chronic painful processes. Clinical manifestations are mostly nonspecific. Thus, a case of RGIS resulting from environmental change in a domestic rabbit (Oryctolagus cuniculus) is reported.
Case: A 4-month-old male domestic rabbit weighing 0.962 kg was referred to a university veterinary hospital. The patient had a history of absence of defecation and anorexia for the past two days. The owner reported that the patient was apathetic but became aggressive when manipulated. The changes started after a move of residence. On physical evaluation, an increase in abdominal volume and a painful response to touch on the abdomen were observed. Complementary examinations were performed, such as a blood count and an ultrasound study. The blood tests showed no alterations, but the ultrasound evaluation showed the presence of free abdominal fluid, dilated intestinal loops due to fluid content, reduced gastrointestinal motility, and a hyperechoic structure associated with acoustic shading in the small intestine, all findings suggestive of obstruction. Given the failure of clinical management, the patient was referred for an exploratory laparotomy procedure followed by enterotomy. The obstruction point was located near the ileocecal junction. After surgery, analgesics, antibiotics, fluid therapy, anti-inflammatory drugs, intestinal motility inducers, and probiotics were prescribed. One week after the surgical procedure, the patient showed improvement in the clinical condition, with normal appetite, defecation, and docility.
Discussion: RGIS is diagnosed based on the clinical history, clinical manifestations, and complementary examinations. In the reported case, the patient presented apathy, anorexia, absence of defecation, and aggressiveness on manipulation, which were associated with abdominal pain. In cases of RGIS, hematological changes may or may not be present, which matches the findings in this report. Imaging exams provide important information, such as the patient's condition and evolution. Ultrasound evaluation showed the presence of free abdominal fluid, dilated intestinal loops due to fluid content, reduced gastrointestinal motility, and a hyperechoic, immobile acoustic shading structure in the small intestine. Ultrasound findings were compatible with those found in cases of foreign-body obstructions, a common complication in RGIS. Initially, a clinical approach was taken, but in view of the unfavorable evolution of the case, with worsening motility and alterations in the imaging examination, a surgical approach was instituted. Intestinal obstructions in rabbits are usually found either in the proximal duodenum or near the ileocecal junction. In the presently reported patient, an obstruction was identified in the ileocecal junction region and the content found was composed of hair and dehydrated food. There are several conditions that can alter intestinal peristalsis in rabbits; in the present case, it was considered that the distress caused by moving to a new household led to a condition of RGIS. Despite the reserved prognosis associated with surgical interventions in the gastrointestinal system of rabbits, as described in the literature, in the present case this approach made it possible to preserve the patient's life, which returned to its normal activities and behavior.
Downloads
Download data is not yet available.
References
Ager L. 2017. Ileus in rabbits - current thinking in treatment, nursing and prevention. Veterinary Nursing Journal. 32: 201-205.
Brezina T., Fehr M., Neumüller M. & Thöle M. 2020. Acid-base-balance status and blood gas analysis in rabbits with gastric stasis and gastric dilation. Journal of Exotic Pet Medicine. 32: 18-26.
Harcourt-Brown F.M. & Harcourt-Brown S. 2012. Clinical value of blood glucose measurement in pet rabbits. Veterinary Record. 170: 674.
Huynh M. & Pignon C. 2013. Gastrointestinal disease in exotic small mammals. Journal of Exotic Pet Medicine. 22: 118-131.
Krempels D., Cotter M. & Stanzione G. 2000. Ileus in domestic rabbits. Exotic DVM. 2: 19-21.
Oglesbee B.L. & Jenkins J.R. 2011. Gastrointestinal Diseases. In: Quesenberry K. & Carpenter J.W. (Eds). Ferrets, Rabbits and Rodents: Clinical Medicine and Surgery. 3rd edn. St. Louis: Elsevier, pp.193-197.
Oglesbee B.L. 2011. Gastrointestinal Hypomotility and Gastrointestinal Stasis. In: Oglesbee B.L. (Ed). Blackwell's Five-Minute Veterinary. Consult: Small Mammal. 2nd edn. Ohio: Wiley-Blackwell, pp.425-428.
Riedesel E.A. 2010. O intestino delgado. In: Thrall D.E. (Ed). Diagnóstico de Radiologia Veterinária. 5.ed. Rio de Janeiro: Elsevier, pp.770-791.
Ritzman T.K. 2014. Diagnosis and Clinical Management of Gastrointestinal Conditions in Exotic Companion Mammals (Rabbits, Guinea Pigs, and Chinchillas). The veterinary clinics of North America: Exotic animal practice. 17: 179-194.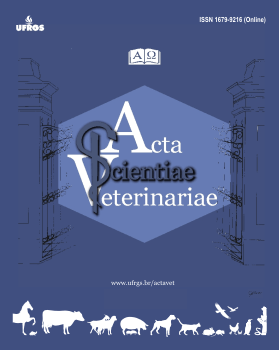 How to Cite
da Silva, G. C. R., Piccoli, R. J., Wu, S., Endo, V. T., Thomas, L. D., da Cunha, O., & de Carvalho, A. L. (2021). Gastrointestinal Syndrome in a Rabbit (Oryctolagus cuniculus). Acta Scientiae Veterinariae, 49. https://doi.org/10.22456/1679-9216.106905
License
This journal provides open access to all of its content on the principle that making research freely available to the public supports a greater global exchange of knowledge. Such access is associated with increased readership and increased citation of an author's work. For more information on this approach, see the Public Knowledge Project and Directory of Open Access Journals.
We define open access journals as journals that use a funding model that does not charge readers or their institutions for access. From the BOAI definition of "open access" we take the right of users to "read, download, copy, distribute, print, search, or link to the full texts of these articles" as mandatory for a journal to be included in the directory.
La Red y Portal Iberoamericano de Revistas Científicas de Veterinaria de Libre Acceso reúne a las principales publicaciones científicas editadas en España, Portugal, Latino América y otros países del ámbito latino