Bullous Pemphigoid in a Dog
Abstract
Background: In dogs, bullous pemphigoid (BP) is a subepithelial autoimmune disease, a rare dermatopathy in the clinical routine. BP is characterized by formation of vesicles and subepidermal blisters that result from dissolution of the dermal-epithelial junction. Clinical signs of BP usually include severe dermatological alterations with a variable prognosis. The aim of this work is to report a case of BP in a dog to contribute information for diagnosis, and to present clinical and pathological aspects that emerge during development of BP.

Case: An adult male mongrel dog exhibited hyperemic, exudative, crusty lesions on the lip commissure and periocular areas. Results from laboratory tests were normal. Results from parasitological and mycological tests on skin scrapings were negative. Imprint cytology of the crusts revealed presence of gram-positive cocci bacteria. In the histopathological analysis of punch biopsy material, the epidermis was detached from the dermis, leading to formation of vesicles. There were inflammatory infiltrates containing neutrophils, eosinophils, and high amounts of fibrin, and areas of multifocal orthokeratotic hyperkeratosis. Multifocal infiltrates containing lymphocytes, histiocytes, and plasma cells were observed on the superficial portions of the dermis, which indicated a diagnosis of BP. After the definitive clinical diagnosis, the animal was treated with enrofloxacin (Baytril Flavour®; 5 mg/kg once a day for 10 days), and prednisolone (Prediderm®; 2 mg/kg once a day until further instructions). On the follow-up visit, 15 days later, the clinical picture had improved, and the lesions had decreased. Continuity of the treatment was prescribed, along with a gradual decrease in the corticoid dose. The dose of prednisolone was initially reduced to 1 mg/kg once a day, and later to 0.5 mg/kg until improvement of the clinical status of the patient. Remission of the lesions was observed 13 weeks later.

Discussion: The diagnosis of BP was established after identification of the clinical cutaneous lesions and observation of microscopic findings on punch biopsy material obtained from the ocular and lip regions. BP does not exhibit breed or sex predisposition, and affects adult dogs. The clinical signs of BP are characteristic of autoimmune diseases that affect the dermoepidermal junction, and consist of erythematous, ulcerated, crusty, and painful lesions on the nose, dorsal area of the muzzle, and periorbital region. However, these lesions must be differentiated, by histological analysis, from several other conditions with a similar clinical presentation. Diseases that must be considered in the differential diagnosis comprise other variants of the pemphigus complex, lupus erythematosus, drug eruption, erythema multiforme, toxic epidermal necrolysis, epitheliotropic lymphoma, inherited bullous epidermolysis, mucous membrane pemphigoid, and lymphoreticular neoplasia. The clinicopathological findings indicated that the lesions were compatible with BP. The occurrence of necrotic and erythematous lesions is due to production of antibodies accompanied by a strong response of neutrophils, which results in loss of cell adhesion and epidermal necrosis. The presence of detachment of the epidermis from the dermis, inflammation in the superficial portion of the dermis, and infiltrates containing lymphocytes, histiocytes and plasma cells observed at the histopathological examination indicated the occurrence of BP. The skin histopathological examination warranted establishment of a diagnosis and therapeutic success. The lack of recurrence of clinical manifestations 43 weeks after the end of the glucocorticoid treatment demonstrated that the therapeutic approach and the cooperation of the owner are essential for success of the treatment.
Downloads
Download data is not yet available.
References
Alguire P.C. & Mathes B.M. 1998. Skin biopsy techniques for the internist. Journal of Complementary and Integrative Medicine. 13: 46-54.
Baum S., Sakka N., Artsi O., Trau H. & Barzilai A. 2014. Diagnosis and classification of autoimmune blistering diseases. Autoimmunity Reviews. 13: 4-5.
Breathnach R. 2008. Autoimmune skin diseases: the old and the new. In: 33th Congress of the World Small Animal Veterinary and 14th FECAVA (Dublin, Irlanda).
Cardoso M.J.L., Machado L.H.A., Melussi M., Zamarian T.P., Carnielli C.M. & Ferreira Júnior J.C.M. 2011. Dermatopatias em cães: revisão de 257 casos. Archives of Veterinary Science. 16(2): 66-74.
Heinrich N.A., Eisenschen M., Harvey R.G. & Nuttall T. 2019. Ulcerative Dermatoses. In: Gross T.L., Ihrke P.J., Walder E.J. & Affolter V.K. (Eds). Skin Diseases of the Dog and Cat. 3rd edn. Boca Raton: Taylor & Francis Group, pp.163-164.
Kruse H., Hofshagen M., Thoresen S.I., Bredal W.P., Vollset I. & Soli N.E. 1996. The antimicrobial susceptibility of Staphylococcus species isolated from canine dermatitis. Veterinary Research Communication. 20(3): 205-214.
Marçal W.S. 1993. O efeito antibacteriano das quinolonas: uma revisão. A Hora Veterinária. 74: 17-20.
Medleau L. & HniJica K.A. 2003. Dermatites Auto-imunes. In: Dermatologia de Pequenos Animais: Atlas Colorido e Guia Terapêutico. São Paulo: Roca, pp.137-140.
Muller W.H., Griffin C.E. & Campbell K.L. 2013. Autoimmune and Immune-Mediated Dermatoses In: Small Animal Dermatology. 7th edn. St. Louis: Elsevier, pp.449-450.
Nishizawa Y., Uematsu J. & Owaribe K. 1993. HD4, a 180 kDa bullous pemphigoid antigen, is a major transmembrane glycoprotein of the hemidesmosome. Biochemical Journal. 113(4): 493-501.
Nousari H.C. & Anhalt G.J. 1999. Pemphigus and bullous pemphigoid. The Lancet. 354: 667-672.
Olivry T. 2014. An autoimmune subepidermal blistering skin disease in a dog? The odds are that it is not bullous pemphigoid. Veterinary Dermatology. 25: 316-318.
Olivry T. & Chan L.S. 2001. Autoimmune blistering dermatoses in domestic animals. Clinics in Dermatology. 19: 750-760.
Olivry T. & Jackson H.A. 2001. Diagnosing new autoimmune blistering skin diseases of dogs and cats. Clinical Techniques in Small Animal Practice. 16: 225-229.
Patel A. & Forsythe P.J. 2010. Piodermite Estafilococica In: Dermatologia em Pequenos Animais. Rio de Janeiro: Elsevier Editora Ltda., pp.161-168.
Patel A. & Forsythe P.J. 2010. Lupus eritematoso cutâneo (discóide) In: Dermatologia em Pequenos Animais. Rio de Janeiro: Elsevier Editora Ltda., pp.306-307.
Pena S.B. 2009. Frequência de dermatopatias infecciosas, parasitárias e neoplásicas em cães na região de Graça. 12f. São Paulo, SP. Tese (Mestrado em Medicina Veterinária) - Programa de Pós-Graduação em Ciências Veterinárias, Universidade Estadual Paulista.
Werner A.H. 2014. Complexo do Pênfigo e Penfigoide Bolhoso. In: Rhodes K.H. & Werner A.H. (Eds). Dermatologia em Pequenos Animais. 2.ed. São Paulo: Editora Roca Ltda. pp. 222-236.
Rosenkrantz W.S. 2004. Pemphigus: current therapy. Veterinary Dermatology. 1590-98.
Schmidt E., Della Torre R. & Borradori L. 2012. Clinical features and practical diagnosis of bullous pemphigoid. Immunology and Allergy Clinics of North America. 32: 217-32.
Scope A. & Halpern A.C. 2007. Diagnostic procedures and devices. In: Wolff K., Goldsmith L.A., Katz S.I., Gilchrest B.A., Paller A.S. & Leffell D.J. (Eds). Fitzpatrick's Dermatology in General Medicine. 8th edn. New York: McGraw-Hill, p.42.
Stanley J.R., Hawley-Nelson P., Yuspa S.H., Shevach E.M. & Katz S.I. 1981. Characterization of bullous pemphigoid antigen: A unique basement membrane protein of stratified squamous epithelia. Cell Press. 24(3): 897-903.
Tóth G.G. & Jonkman M.F. 2001. Therapy of pemphigus. Clinics in Dermatology. 19(6): 761-767.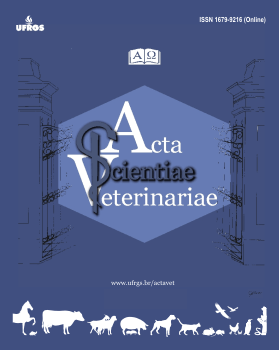 How to Cite
Dalegrave, S., Fiorin, D. F. T., Mansour, E. G., de Matos, M. R., Erdmann, R. H., Flecke, L. R., de Azevedo, L. B., & de Oliveira, E. C. (2021). Bullous Pemphigoid in a Dog. Acta Scientiae Veterinariae, 49. https://doi.org/10.22456/1679-9216.106575
License
This journal provides open access to all of its content on the principle that making research freely available to the public supports a greater global exchange of knowledge. Such access is associated with increased readership and increased citation of an author's work. For more information on this approach, see the Public Knowledge Project and Directory of Open Access Journals.
We define open access journals as journals that use a funding model that does not charge readers or their institutions for access. From the BOAI definition of "open access" we take the right of users to "read, download, copy, distribute, print, search, or link to the full texts of these articles" as mandatory for a journal to be included in the directory.
La Red y Portal Iberoamericano de Revistas Científicas de Veterinaria de Libre Acceso reúne a las principales publicaciones científicas editadas en España, Portugal, Latino América y otros países del ámbito latino