Systemic Infection by Methicillin-resistant Staphylococcus pseudintermedius in a Bitch
Abstract
Background: Staphylococcus pseudintermedius is an opportunistic pathogen, belonging to the genus Staphylococcus. The methicillin-resistant Staphylococci have the mecA-gene, which confers them with the ability of becoming resistant to methicillin and multiple classes of antimicrobials, which makes the treatment of the affections caused by these specimens difficult. This work describes a case of systemic infection and death by methicillin-resistant S. pseudintermediusin a bitch.

Case: A crossbred bitch (Canis lupus familiaris), was admitted to the University Veterinary Hospital of the Federal University of Western Bahia (HVU-UFOB). The main complaint reported by the owner was the presence of mammary nodules and constant nasal secretion. During the clinical examination was observed reactivity in the popliteal and left submandibular lymph nodes, pale mucous membranes, stomatitis, bilateral mucopurulent nasal secretion, abdominal pustules, serous secretion in the inguinal mammary gland and focal alopecia on the dorsum. On auscultation, was identified only arrhythmia and the other physiological parameters of the animal were within normality for the species. Samples of the nasal secretion and of the secretion from the abdominal pustules were collected, and sent to the Veterinary Microbiology Laboratory of the same institution. The samples collected were sown in 5% Blood Agar (BA), Sabouraud Agar (SAB) and MacConkey Agar (MCK), after 24 h was observed in BA the growth of macroscopically white colonies, with a humid aspect, creamy consistency, with presence of catalase and α-hemolysis. Microscopically, was observed the presence of Gram-positive cocci, suggestive of Staphylococcus sp.  Microscopically, was observed the presence of Gram-positive cocci, suggestive of Staphylococcus sp. In the MALDI-TOF mass spectrometry, was identified S. pseudintermedius. Enrofloxacin [Enrotrat tab® 25 mg, 5 mg/kg, SID, PO, 5 days] was prescribed and a follow-up consultation was requested. Two weeks after leaving the University Veterinary Hospital, the animal was admitted in emergency and was submitted to the support protocol and died during the procedure. After the owner's authorization, the anatomopathological examination was carried out, and fragments of the liver, lung and kidney were collected, in addition to sample of the liquid of the abdominal cavity for microbiological examination, and was evidenced the growth of S. pseudintermedius in all the specimens. The bacterium's susceptibility to 19 antibiotics was tested, and a high degree of resistance was found, with sensitivity only to amoxicillin+ clavulanate (20-10 μg), chloramphenicol (30 μg) and vancomycin (30 μg). Given the detection of MRSP in Chromogenic Agar and in cefoxitin disks, all the specimens were MRSP positive.

Discussion: The diagnosis based on the bacteriological culture and anatopathological findings were essential for the confirmation of the clinical presentation of septicemia. The isolation of S. pseudintermedius in all the analyzed samples, associated to the identification by MALDI-TOF Mass Spectrometry confirmed the clinical suspicion of systemic infection. Based on the result of the antibiogram and phenotypic tests, it was evidenced that all the isolates were MRSP positive, presenting multiple resistance to antibiotics, which may have interfered in the efficiency of the treatment. The results obtained in this report are worrying and signal the need for the implementation of phenotypical researches associated to anti-microbial susceptibility tests in bacteria isolated from animals attended in veterinary clinics and hospitals, in order to monitor and avoid the dissemination of pathogens with a multi-resistant profile.
Downloads
Download data is not yet available.
References
Arias M.V.B & Carrilho C.M.D.M. 2012. Resistência antimicrobiana nos animais e no ser humano. Há motivo para preocupação? Semina: Ciências Agrárias. 33(2): 775-790.
Barbosa C.B., Alves F.S., Beier L.S., Faleiros R.R. & Freitas P.M.C. 2016. Fisiopatologia e terapia do cão com sepse: revisão. PUBVET. 10(1): 13-20.
Barcelos M.M., Martins L., Grenfell R.C., Juliano L., Anderson K. L., Santos M.V & Gonçalves J.L. 2019. Comparison of standard and on-plate extraction protocols for identification of mastitis-causing bacteria by MALDI-TOF MS. Brazilian Journal of Microbiology. 50: 849-857.
Basso P.C., Müller D.C.M. & Serafini G.M.C. 2012. Pathophysiology and management of sepsis and systemic inflammatory response syndrome -literature review Medvep - Revista Científica de Medicina Veterinária - Pequenos Animais e Animais de Estimação. 10(34): 430-436.
Botoni L.S., Scherer C.B., Silva R.O., Coura F.M., Heinemann M.B., Paes Leme F.O. & Costa Val A.P. 2016. Prevalência e suscetibilidade in vitro de Staphylococcus pseudintermedius resistente à meticilina (MRSP) oriundos de pele e narinas de cães com piodermite superficial. Pesquisa Veterinária Brasileira. 36(12): 1178-1180.
Bourguignon E., Viçosa G.N., Corsini C.M.M., Moreira M.A.S., Nero L.A. & Conceição L.G. 2016. Description of Methicillin-resistant Staphylococcus pseudintermedius from canine pyoderma in Minas Gerais state, Brazil. Arquivo Brasileiro de Medicina Veterinária e Zootecnia. 68(2): 299-306.
Cerqueira E.S & Almeida R.C.C. 2013. Methicillin-resistant Staphylococcus aureus (MRSA) in foods of animal origin: A systematic review. Revista do Instituto Adolfo Lutz. 72(4): 268-281.
Cuny C., Wieler L.H. & Witte W. 2015. Livestock-Associated MRSA: The Impact on Humans. Antibiotics. 4(4): 521-543.
Clinical Laboratory Standards Institute. 2009. Performance Standards for Antimicrobial Disk Susceptibility Tests. 10th edn. CLSI supplement M2 A10, PA: Clinical Laboratory Standards Institute., 76p.
Da Silva A.P., Schmidt C., Vargas A.C., Maboni G., Rampelotto C., Schwab M.L., Escobar T.P. & Amaral A.S. 2014. Antimicrobial susceptibility of Staphylococcus spp. isolated from canine superficial pyoderma. Pesquisa Veterinária Brasileira. 34(4): 355-361.
Duijkeren E.V., Kamphuis M., VanderMije I.C., Laarhoven L.M., Duim B., Wagenaar J.A. & Houwers D.J. 2011. Transmission of methicillin-resistant Staphylococcus pseudintermedius between infected dogs and cats and contact pets, humans and the environment in households and veterinary clinics. Veterinary Microbiology. 150(3-4): 338‐343.
Grönthal T., Eklund M., Thomson K., Piiparinen H., Sironen T. & Rantala M. 2017. Antimicrobial resistance in Staphylococcus pseudintermedius and the molecular epidemiology of methicillin-resistant S. pseudintermedius in small animals in Finland. Journal of Antimicrobial Chemotherapy. 72(4): 1021-1030.
Harrison E.M., Weinert L.A., Holden M.T.G., Welch J.J., Wilson K., Morgan F.J.E., Harris S.R., Loeffler A., Boag A.K., Peacock S.J., Paterson G.K., Waller A.S., Parkhill J. & Holmes M A. 2014. A Shared Population of Epidemic Methicillin-Resistant Staphylococcus aureus 15 Circulates in Humans and Companion Animals. American Society for Microbiology. 5(3): DOI: 10.1128/mBio.00985-13
Ishihara K., Shimokubo N., Sakagami A., Ueno H., Muramatsu Y., Kadosawa T., Yanagisawa C., Hanaki H., Nakajima C., Suzuki Y. & Tamura Y. 2010. Occurrence and molecular characteristics of methicillin-resistant Staphylococcus aureus and methicillin-resistant Staphylococcus pseudintermedius in an Academic Veterinary Hospital. Applied and environmental microbiology. 76: 5165-5174.
Mcgavin M.D. & Zachary J.F. 2013. Bases da Patologia em Veterinária. 5.ed. Rio de Janeiro: Elsevier, 196p.
Pipan M.Z., Švara T., Zdovc I., Papić B., Avberšek J., Kušar D. & Mrkun J. 2019. Staphylococcus pseudintermedius septicemia in puppies after elective cesarean section: confirmed transmission via dam's milk. BMC Veterinary Research. 15: 41.
Stegmann R., Burnens A., Maranta C.A & Perreten V. 2010. Human infection associated with methicillin-resistant Staphylococcus pseudintermedius ST71. Journal of Antimicrobial Chemotherapy. 65(9): 2047-2048.
Ventura F.V.C & Oliveira S.T. 2011. Etiologia e terapia das endocardites bacterianas em cães - revisão. Arquivos de Ciências Veterinárias e Zoologia da UNIPAR. 14(2): 145-150.
Wan J. 2014. A case of methicillin-resistant Staphylococcus pseudintermedius (MRSP) pyoderma in a Labrador retriever dog. Journal of Internal Veterinary Medicine. 55(11): 1100-1101.
Weese J.S. & van Duijkeren E. 2010. Methicillin resistant Staphylococcus aureus and Staphylococcus pseudintermedius in veterinary medicine. Veterinary Microbiology. 140(3): 418-429.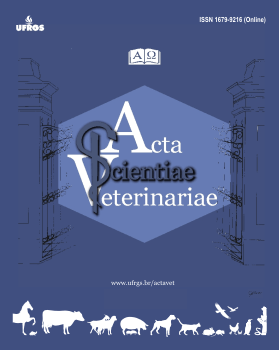 How to Cite
dos Santos, J. P., Machado de Souza, V. F., Pereira, Z. S., Carneiro, I. de O., Soares Frade, M. T., & Alves da Silva Vieira, L. C. (2021). Systemic Infection by Methicillin-resistant Staphylococcus pseudintermedius in a Bitch. Acta Scientiae Veterinariae, 49. https://doi.org/10.22456/1679-9216.106554
License
This journal provides open access to all of its content on the principle that making research freely available to the public supports a greater global exchange of knowledge. Such access is associated with increased readership and increased citation of an author's work. For more information on this approach, see the Public Knowledge Project and Directory of Open Access Journals.
We define open access journals as journals that use a funding model that does not charge readers or their institutions for access. From the BOAI definition of "open access" we take the right of users to "read, download, copy, distribute, print, search, or link to the full texts of these articles" as mandatory for a journal to be included in the directory.
La Red y Portal Iberoamericano de Revistas Científicas de Veterinaria de Libre Acceso reúne a las principales publicaciones científicas editadas en España, Portugal, Latino América y otros países del ámbito latino