Intestinal Caseous Lymphadenitis in Sheep
Abstract
Background: Caseous Lymphadenitis (CL) is a chronic infectious disease caused by the bacterium Corynebacterium pseudotuberculosis, which is considered the main agent responsible for abscess lesions. In the visceral form it can affect the internal organs of sheep and goats, which could negatively affect animal health and cause large economic losses for producers.
Case: This study aims to report a case of intestinal CL in sheep, with suspected diagnosis during physical examination and identification during the performance of the oophorectomy procedure, adopted as a management approach. It is a mixed breed sheep, aged over 5 years; weight 28 kg; emaciated on physical examination; with pale pink and moist eyelid mucosa; heart and respiratory rate: 81 beats/min and 22 movements/min, respectively; body temperature 39.2°C; ruminal movements at 1 movement/min; without identification of lymphadenomegaly on palpation, however, it was observed that the right submandibular lymph node presented tissue retraction compatible with the healing process. For the surgical procedure, an 18-h fast was used and pre-anesthetic medication with 2% xylazine (0.1 mg/kg), 10% ketamine (5 mg/kg) and 50 mg/mL tramadol (2 mg/kg) administrated intramuscularly. The animal was placed in the left lateral decubitus position, then was performed trichotomy and epidural administration of 2% lidocaine (4 mg/kg) and maintenance with propofol 10 mg/mL intravenous dose-effect and oxygen mask 3 liters/min, antibiotic prophylaxis was performed with 10% enrofloxacin (2.5 mg/kg). Flank oophorectomy was performed according to the classic technique and during abdominal inspection, abscess lesions were found in the mesentery and intestinal loops. Incisional biopsy was performed to collect samples in the jejunal segment. At the end of the procedure, 50 mg/mL (2.2 mg/kg) of flunixin meglumine was administered intravenously. A 0.6 cm x 0.2 cm sample, was submitted to histological analysis, which showed the presence of central necrosis areas formed by concentric lamellae, with the presence of large bacterial colonies and foci of mineralization, surrounded by a strip of inflammatory infiltrate with epithelial macrophages and few neutrophils. In the adjacent layer, lymphocytes and plasmocytes were found and the entire lesion was delimited by fibrous conjunctive tissue, compatible with lesions caused by Corynebacterium pseudotuberculosis, the causative agent of CL. During the whole postoperative period the animal was kept isolated from the herd. Due to the unfavorable prognosis and histological confirmation of visceral CL, euthanasia was indicated. The animal was sent for necropsy and no lesions compatible with CL were found in other organs or tissues besides the anatomical structures where the lesions were previously described (intestine and mesentery).
Discussion: As it is an infectious disease, isolation and euthanasia should be indicated in cases of CL, in order to not compromise the health of the herd. Thus, justifying the orientation of euthanasia after histological confirmation. The case did not have other possibilities of diagnostic aid, however, histological lesions of CL are characteristic but not pathognomonic, as it could be confused with lesions caused by other pyogenic pathogens. In this way, clinical considerations and complementary exams are relevant to support the diagnostic. To conclude, the observation and physical examination of the herd were fundamental tools for raising the diagnostic hypothesis ante mortem. Complementary tests allowed the confirmation of the disease and prevented the spread in the herd, which could lead to large economic losses for producers and negatively affect animal health.
Downloads
Download data is not yet available.
References
Alves J.R.A., De Farias A.E.M., Dos Anjos D.M., Lima A.M.C., Faccioli-Martins P.Y., Souza C.J.H., Pinheiro R.R., Alves S.F.S., Azevedo S.S. & Alves C.J. 2020. Seroepidemiological study of Caseous lymphadenitis in sheep from the Northeast region of Brazil using an indirect ELISA. Tropical Animal Health and Production. 52: 1945-1952.
Brasil. Ministério da Ciência, Tecnologia, Inovações e Comunicações. Resolução Normativa Nº 37, de 15 de Fevereiro de 2018. Diretriz da Prática de Eutanásia do Concea. Diário Oficial da União, Poder Executivo, Brasília, DF, 15 fevereiro. Disponível [http://www.mctic.gov.br/mctic/export/sites/institucional/institu].
Dorella F.A., Pacheco L.G.C. & S.C. Oliveira. 2006. Corynebacterium pseudotuberculosis: microbiology, biochemical properties, pathogenesis and molecular studies of virulence. Veterinary Research. 37: 201- 218.
Faccioli-Martins P.Y., Alves F.S.F. & Pinheiro R.R. 2014. Linfadenite caseosa: perspectivas no diagnóstico, tratamento e controle. Sobral: Embrapa Caprinos e Ovinos, 71p. Disponível [http://www.cnpc.embrapa.br/publicacoes/].
Guerreiro J.A.V., Jimenéz M.R.O., Dibarrat J.A., Léon F.H., Moreles-Erasto A. & Salazar H.G.M. 2018. First report of isolation and molecular characterization of the pathogenic Corynebacterium pseudotuberculosis from of sheep and goats in México. Microbial Pathogenesis. 117: 304-309.
Prado B.G., Ávila S.A., Amorin A.A.S., Silva M.C., Ataíde J.F. & Queiroz P.J.B. 2019. Ovariectomia. In: Queiroz A.K.L., Queiroz P.J.B., Silva L.A.F & Rabelo R.E. (Eds). Principais intervenções cirúrgicas do aparelho reprodutor de fêmeas bovinas. Goiânia: Editora Espaço Acadêmico, 60p.
Radostits O.M., Gay C.C., Hinchcliff K.W. & Constable P.D. 2007. Veterinary Medicine. 10th edn. Edinburgh: W.B. Saunders, pp.795-798.
Sá M.C.A., Rocha Filho J.T.R., Sales Rosa D.S., Oliveira S.A.S., Freira D.P., Alcantara M.E., Costa M.M. & Meyer R. 2018. Linfadenite caseosa em caprinos e ovinos: Revisão. Publicações em Medicina Veterinária e Zootecnia. 12(11): 1- 13.
Silva R.M.M., Cerqueira R.B., Vieira V.P., Ribas J.R.L., Nascimento K.A., Pimentel L.A., Pedroso P.M.O. & Macêdo J.T.S.A. 2018. Nem todo abscesso em pequenos ruminantes é causado por Corynebacterium pseudotuberculosis. Pesquisa Veterinária. Brasileira. 38(10): 1902-1908.
Souza M.F., Carvalho A.Q., Garino Jr. F. & Riet-Correa F. 2011. Linfadenite caseosa em ovinos deslanados abatidos em um frigorífico da Paraíba. Pesquisa. Veterinária Brasileira. 31(3): 224- 230.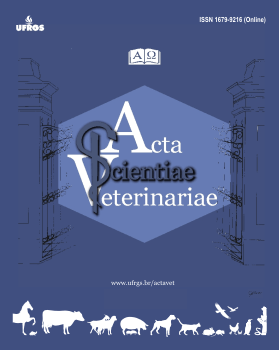 How to Cite
Martins, A. M., Carneiro, A. S., Diniz, L. G., Dall'Acqua, P. C., Bezzerril, J. E., de Souza, F. E., de Paula, E. M. N., & Martini, A. de C. (2021). Intestinal Caseous Lymphadenitis in Sheep. Acta Scientiae Veterinariae, 49. https://doi.org/10.22456/1679-9216.105839
License
This journal provides open access to all of its content on the principle that making research freely available to the public supports a greater global exchange of knowledge. Such access is associated with increased readership and increased citation of an author's work. For more information on this approach, see the Public Knowledge Project and Directory of Open Access Journals.
We define open access journals as journals that use a funding model that does not charge readers or their institutions for access. From the BOAI definition of "open access" we take the right of users to "read, download, copy, distribute, print, search, or link to the full texts of these articles" as mandatory for a journal to be included in the directory.
La Red y Portal Iberoamericano de Revistas Científicas de Veterinaria de Libre Acceso reúne a las principales publicaciones científicas editadas en España, Portugal, Latino América y otros países del ámbito latino