Clitoridectomy and Urethrostomy in a Pseudohermaphrodite Dog
Abstract
Background: Hermaphroditism is a rare congenital disease that causes ambiguous sexual features. True hermaphrodites have testicular and ovarian tissue, whereas pseudohermaphrodites have only one type of gonadal tissue, genitalia, but secondary characteristics of the opposite sex. Pseudohermaphrodites are classified as male or female according to their gonads. Treatment of pseudohermaphroditism consists of surgical removal of the gonads including reconstruction of abnormal genitalia, especially if the urethra is involved. Therefore, the objective of this report is to describe a case of a male pseudohermaphrodite in a dog treated with clitoridectomy with urethrostomy.
Case: A 7-month-old, mixed-breed dog was referred due to the presence of a flaccid structure similar to a small penis, containing an os clitoris, bulbourethral glands, and urethra protruding from the vulva. Physical examination, complete blood count and serum biochemistry were within normal ranges. Hormonal levels of estradiol, testosterone, and progesterone were 56.39 pg/mL, 127.9 ng/mL, and 0.892 ng/mL, respectively. The abdominal ultrasound and posteriorly the exploratory celiotomy found a normal size prostate and two round organs resembling testicles connected to a uterus-like tubular structure. The patient underwent surgical abdominal exploration that confirmed the ultrasonographic findings and led to gonadohysterectomy. Also, clitoridectomy and urethrostomy were performed to excise the protruded structure and maintain normal urethral patency. The histopathological examination of the clitoris and penis confirmed it was a male genital organ, however, the abdominal structures were compatible with the testicles, epididymis, uterus, and even a broad ligament. These organs are normally found in cases of male pseudohermaphroditism. The testicles were histologically composed of regular seminiferous tubules, single layer Sertoli cells but there were no spermatogenic cells. After ten months of follow-up, the patient was alive, without urination impairment or any other clinical signs.
Discussion: The animal presented the protrusion of the penile structure as the sole clinical sign. The reproductive system had a female origin, been possible its masculinization due to high testosterone concentration that induced the development of Wolff ducts, resulting in the formation of the epididymis, deferent ducts, and seminal vesicles. In these cases, it led to an enlarged clitoris. The patient described had hormonal levels compatible with a neutered male/female or a female in anestrus. The clinical signs become evident as the clitoris gets hypertrophied increasing the sensibility, resulting in constant licking of the mucosa, chronic inflammation, and mucopurulent discharge. This patient was diagnosed with male pseudohermaphroditism as it had cryptorchid male gonads along with the uterus and external genitalia of a female dog but containing traces of male genitals such as the os clitoris. Surgery is indicated when there are clinical signs or when the clitoris had an os clitoris or urethra due to an intersex abnormality. The surgical resection of the external male genitalia associated with the excision of the internal reproductive tract treated while preserving the urethra in this animal. Clitorectomy is a simple technique and creates a normal female anatomy ending the clinical signs of the exposed clitoris and improving the quality of life.
Clitoridectomy and Urethrostomy in a Pseudohermaphrodite Dog
Downloads
Download data is not yet available.
References
Alves I., Mateus M. & Costa L.L. 2002. Monitorização do ciclo éstrico da cadela para inseminação artificial ou cruzamento. In: Proceedings of the Congresso de Ciências Veterinárias. (Lisboa, Portugal). pp.177-182.
Amarpal D.N., Sivanarayanan T.B., Aithal H.P., Kinjavdekar P. & Pawde A.M. 2013. Clitorectomy for the management of os clitoris in a dog. Indian Journal Canine Practice. 5(2): 139-140.
Benetti A.H., Toniollo G.H. & Oliveira J.A. 2004. Concentrações séricas de progesterona, 17 b-estradiol e cortisol durante o final do próestro, estro e diestro gestacional em cadelas. Ciência Rural. 34(2): 471-478.
Buijtels J.J.C.W.M., De Gier J., Van Haeften T., Kooistra H.S., Spee B., Veldhuis Kroeze E. & Okkens A.C. 2009. Minimal External Masculinization in a SRY‐negative XX Male Podenco Dog. Reproduction in Domestic Animals. 44(5): 751-756.
Corcini C.D., Leon P.M.M., Rambo G., Santos E.C.D.S., Varela Junior A.S., Moreira F. & Lucia Junior T. 2009. Um caso de pseudo-hermafrodita masculino em um suíno. Acta Veterinaria Brasilica. 3(3): 163-165.
Costa P.P.C., Braga Filho C.T., Freitas L.A., Santos M.H., Cabral L.A.R., Morais Silveira J.A. & Araújo A.A. 2017. Hermafroditismo verdadeiro na espécie canina. Acta Scientiae Veterinariae. 45: 1-5.
Del Amo A.N., Luca J.D., Zufriategui L., Armocida A., Barbeito C.G. & Gobello C. 2001. Male pseudohermaphroditism in a dog: a case report. Communications in Theriogenology. 1: 1-11.
Delfini A., Toniollo G.H., Canola J.C., Alessi A.C., Lui J.F., Martins Filho L.P. & Rodrigues V. 2007. Pseudo-hermafroditismo masculino em cão da raça American Pit-Bull Terrier. Ciência Animal Brasileira. 8(2): 333-338.
Fantoni M.S., Silva B.C., Ferreira L.F.L., Valle G.R. & Rachid M.A. 2012. Male pseudohermaphroditism in bitch. Arquivo Brasileiro de Medicina Veterinária e Zootecnia. 64(3): 763-765.
Feldman E.C. & Nelson R.W. 2004. Vaginal defects, vaginitis, and vaginal infection. In: Feldman E.C. & Nelson R.W. (Eds). Canine and Feline Endocrinology and Reproduction. 3rd edn. Philadelphia: W.B. Saunders, pp.901-918.
Fossum T.W. 2008. Cirurgia da Bexiga e Uretra. In: Fossum T.W. (Ed). Cirurgia de Pequenos Animais. 3.ed. Rio de Janeiro: Elsevier, pp.663-701.
Lopes M.D. & Volpato R. 2015. Principais Doenças do Trato Reprodutivo de Cães. In: Jericó M.M., Kogika M.M. & Andrade Neto J.P. (Eds). Tratado de Medicina Interna de Cães e Gatos. Rio de Janeiro: Roca, pp.4765-4807.
Max A., Grabiec A., Sacharczuk M., Sysa P., Jurka P. & Krzyżewska A. 2012. 78, XX testicular DSD syndrome in a mongrel dog. Reproduction in Domestic Animal. 47(1): 7-11.
Meyers-Wallen V.N. 2000. CVT Update: Inherited Disorders of the Reproductive Tract in Dogs and Cats. In: Kirk R.W. & Bonagura J.D. (Eds). Current Veterinary Therapy. 13th edn. Philadelphia: W.B. Saunders, pp.904-908.
Paz G.M., Coelho N.D.G.D., Torres R.C.S., Alves F.S., Vieira R., Okano B.S. & Veado J.C.C. 2017. Piometra associada a criptorquidismo em cão pseudo-hermafrodita masculino com síndrome da persistência dos ductos de Müller. Revista Brasileira de Reprodução Animal. 41(4): 727-731.
Ponglowhapan S., Glaewketgarn N. & Lohachit C. 2011. Hermaphroditism with Bilateral Ovotestes in a Dog: A Case Report. The Thai Journal of Veterinary Medicine. 41: 180.
Schlafer D.H. & Miller R.B. 2007. Pathology of the genital system of the nongravid female. In: Jubb K.V.F., Kennedy P.C. & Palmer N. (Eds). Pathology of Domestic Animals. 5th edn. Edinburgh: Saunders Elsevier, pp.431-444.
Silversides D.W., Benoit J.M., Collard F. & Gilson C. 2011. Disorder of sex development (XX male, SRY negative) in a French bulldog. Canadian Veterinary Journal. 52(6): 670.
Smeak D.D. & Turner H. 2014. Treatment of clitoral hypertrophy containing an os clitoris and urethra in a young greyhound dog: A detailed surgical description. Canadian Veterinary Journal. 55(9): 836.
Souza R.H.F.A. 2015. Avaliação sérica de estrógeno e progesterona por método de imunoensaio multianalito em cadelas durante o ciclo estral. 57f. São Paulo, SP. Tese (Mestrado em Reprodução Animal) - Programa de Pós-Graduação da Faculdade de Medicina Veterinária e Zootecnia, Universidade de São Paulo.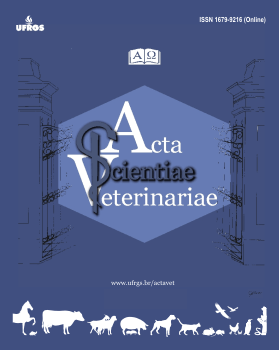 How to Cite
Roman, J. L., Ferreira, A. A., Rossa, A. P., Dos Santos, W. I. M., Sousa, R. S. D., Castro, J. L. C., Albernaz, V. G. P., & Dornbusch, P. T. (2021). Clitoridectomy and Urethrostomy in a Pseudohermaphrodite Dog. Acta Scientiae Veterinariae, 49. https://doi.org/10.22456/1679-9216.105237
License
This journal provides open access to all of its content on the principle that making research freely available to the public supports a greater global exchange of knowledge. Such access is associated with increased readership and increased citation of an author's work. For more information on this approach, see the Public Knowledge Project and Directory of Open Access Journals.
We define open access journals as journals that use a funding model that does not charge readers or their institutions for access. From the BOAI definition of "open access" we take the right of users to "read, download, copy, distribute, print, search, or link to the full texts of these articles" as mandatory for a journal to be included in the directory.
La Red y Portal Iberoamericano de Revistas Científicas de Veterinaria de Libre Acceso reúne a las principales publicaciones científicas editadas en España, Portugal, Latino América y otros países del ámbito latino