Pemphigus Foliaceous in a Dog - Clinical and Laboratorial Assessment
Abstract
Background: The pemphigus complex is defined as a group of blistering autoimmune diseases that affects skin and mucous membrane. Pemphigus foliaceous is the most common disease in this group, being characterized by the production of autoantibodies against keratinocyte adhesion molecules. The treatment is based on the use of immunosuppressive drugs and requires constant monitoring to assess inflammatory control as well as side effects of therapy. Based on that, the aim of this study was to report the clinical and laboratorial follow-up of a canine with pemphigus foliaceous.
Case: An 11-year-old male neutered mongrel dog, weighing 9.8 kg, was presented with a main complaint related to disseminated pruritus and lesions in face, trunk and limbs. Dermatological examination revealed meliceric crusts, epidermal collars and diffuse pustules in inguinal, abdominal, face, limbs, ears and thoraco-lumbar regions. Cytological examination was performed, revealing inflammatory and acantholytic cells and absence of bacterial cells. Biopsy procedure revealed subcorneal pustule with presence of epithelial acantholytic cells and neutrophils, compatible with canine pemphigus foliaceous. Hemoto-biochemical analysis revealed a leukocytosis due to increased neutrophil count. Systemic treatment with high dose of prednisolone (2.0 mg/kg) and azathioprine (2.5 mg/kg) was proposed, while topical therapy with a 3% chlorhexidine shampoo was used to prevent secondary bacterial infections. The patient improved the dermatological clinical signs, being possible to observe a reduction of systemic and tissue inflammatory process. After 90 days of therapy, there was a partial loss of hair body coverage, associated with follicular lesions, and after 180 days of therapy it was possible to notice a new hair mantle, without visible areas of inflammation.
Discussion: The described clinical case demonstrates the clinical and laboratorial follow-up of a patient with naturally occurring canine pemphigus foliaceus. The main clinical characteristic of this disease is the formation of generalized pustular lesions, affecting regions such as the head, ear pinnae and limbs, which induced the diagnostic suspicion in the reported patient, in addition to the clinical history associated with complementary exams. In tissue evaluation, a pyogranulomatous inflammatory process was observed, with a marked presence of neutrophils and macrophages, which migrate from the dermis towards the epidermis. In systemic leukocyte analysis, an increase in the total leukocyte count was observed, due to the increase in circulating neutrophils. The therapy was based in use of a high dose of prednisolone associated with azathioprine. The following hemato-biochemical evaluations revealed a gradual reduction of systemic inflammatory process. Attention is drawn to neutrophil to lymphocyte ratio, which is a low-cost biomarker and less sensitive to pathophysiological changes when compared to individual leukocyte count. This parameter has been gaining visibility as a potential method of monitoring chronic inflammatory diseases. In veterinary medicine, its use is limited, with no reports related to canine pemphigus foliaceous in Brazil. After clinical and hematological improvement, prednisolone dose was slowly reduced, in order to avoid side effects. After clinical improvement, only azathioprine was maintained, in order to prevent critical flares. This report provides a clinical and laboratorial follow-up of a canine with pemphigus foliaceous, as well as it is the first one to describe the use of neutrophil to lymphocyte ratio to monitor therapeutic progression. New studies and reports involving this biomarker in autoimmune diseases monitoring are encouraged.
Downloads
Download data is not yet available.
References
Bizikova P., Dean G.A., Hashimoto T. & Olivry T. 2012. Cloning and establishment of canine desmocollin-1 as a major autoantigen in canine pemphigus foliaceous. Veterinary Immunology and Immunopathology. 149(3-4): 197-207.
Bizikova P. & Olivry T. 2015. Oral glucocorticoid pulse theraphy for induction of treatment of canine pemphigus foliaceous – a comparative study. Veterinary Dermatology. 26: 354-e77.
Bizikova P., Olivry T., Mamo L.B. & Dunston S.M. 2014. Serum autoantibody profiles of IgA, IgE and IgM in canine pemphigus foliaceus. Veterinary Dermatology. 25(5): 471-e75.
Ferreira T.C., Guedes R.F.M., Bezerra B.M.O. & Nunes-Pinheiro D.C.S. 2019. Mupirocin Pemphigus-Like Drug Reaction in a Dog. Acta Scientiae Veterinariae. 47(Suppl 1): 429.
Gershwin L.J. 2010. Autoimmune diseases in small animals. Veterinary Clinics: Small Animal Practice. 40(3): 439-457.
Gomez S.M., Morris D.O., Rosenbaum M.R. & Goldschmidt M.H. 2004. Outcome and complications associated with treatment of pemphigus foliaceus in dogs: 43 cases (1994–2000). Journal of the American Veterinary Medical Association. 224(8): 1312-1316.
Hillier A., Lloyd D.H., Scott-Weese J., Blondeau J.M., Boothe D., Breitschwerdt E., Guardabassi L., Papich M.G., Rankin S., Turnidge J.D. & Sykes J.E. 2014. Guidelines for the diagnosis and antimicrobial therapy of canine superficial bacterial folliculitis (Antimicrobial Guidelines Working Group of the International Society for Companion Animal Infectious Diseases). Veterinary Dermatology. 25(3): 163-e43.
Krenn‐Pilko S., Langsenlehner U., Stojakovic T., Pichler M., Gerger A., Kapp K.S. & Langsenlehner T. 2016. The elevated preoperative derived neutrophil‐to‐lymphocyte ratio predicts poor clinical outcome in breast cancer patients. Tumour Biology. 37: 361‐368.
Ma L., Zeng A., Chen B., Chen Y. & Zhou R. 2019. Neutrophil to lymphocyte ratio and platelet to lymphocyte ratio in patients with systemic lupus erythematosus and their correlation with activity: a meta-analysis. International Immunopharmacology. 76. DOI: 10.1016/j.intimp.2019.105949.
Maltzman J.S. & Koretzky G.A. 2003. Azathioprine: old drug, new actions. Journal of Clinical Investigation. 111(8): 1122-1124.
Meyer D.J. & Harvey J.W. 2004. Veterinary Laboratory Medicine: interpretation & diagnosis. 2nd edn. Philadelphia: Saunders, 351p.
Oh M.S., Hong J.Y., Kim M.N., Kwak E.J., Kim S.Y., Kim E.G., Lee K.E., Kim S.E., Jee H.M., Kim S.H., Sol I.S., Park C.O., Kim K.W. & Sohn M.H. 2019. Activated Leukocyte Cell Adhesion Molecule Modulates Th2 Immune Response in Atopic Dermatitis. Allergy, Asthma & Immunology Research. 11(5): 677-690.
Porro A.M., Hans Filho G. & Santi C.G. 2019. Consensus on the treatment of autoimmune bullous dermatoses: pemphigus vulgaris and pemphigus foliaceus – Brazilian Society of Dermatology. Anais Brasileiros de Dermatologia. 94(2 Suppl 1): 20-32.
Sadik C.D., Kim N.D. & Luster A.D. 2011. Neutrophils cascading their way to inflammation. Trends in Immunology. 32(10): 452-460.
Santoro D. & Rodrigues Hoffmann A. 2016. Canine and Human Atopic Dermatitis: Two Faces of the Same Host-Microbe Interaction. Journal of Investigative Dermatology. 136: 1087-1089.
Shi G., Zhao J. & Ming L. 2017. Clinical significance of peripheral blood neutrophil-lymphocyte ratio and platelet-lymphocyte ratio in patients with asthma. Journal of Southern Medical University. 37(1): 84-88.
Tavakolpour S. 2017. Current and future treatment options for pemphigus: Is it time to move towards more effective treatments? International Immunopharmacology. 53:133-142.
Tavakolpour S. 2017. Pemphigus trigger factors: special focus on pemphigus vulgaris and pemphigus foliaceous. Archives of Dermatological Research. 310(2): 95-106.
Wang L., Wang C., Jia X., Yang M. & Yu J. 2020. Relationship between Neutrophil-to-Lymphocyte Ratio and Systemic Lupus Erythematosus: a meta-analysis. Clinics. 75:e1450. DOI: 10.6061/clinics/2020/e1450.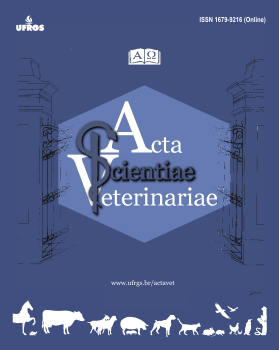 How to Cite
Monteiro, V. P., Oliveira, A. T. C., & Ferreira, T. C. (2020). Pemphigus Foliaceous in a Dog - Clinical and Laboratorial Assessment. Acta Scientiae Veterinariae, 48. https://doi.org/10.22456/1679-9216.105171
License
This journal provides open access to all of its content on the principle that making research freely available to the public supports a greater global exchange of knowledge. Such access is associated with increased readership and increased citation of an author's work. For more information on this approach, see the Public Knowledge Project and Directory of Open Access Journals.
We define open access journals as journals that use a funding model that does not charge readers or their institutions for access. From the BOAI definition of "open access" we take the right of users to "read, download, copy, distribute, print, search, or link to the full texts of these articles" as mandatory for a journal to be included in the directory.
La Red y Portal Iberoamericano de Revistas Científicas de Veterinaria de Libre Acceso reúne a las principales publicaciones científicas editadas en España, Portugal, Latino América y otros países del ámbito latino