Use of Cost-effective Vacuum-assisted Closure Technique for Shell Fracture Repair and Coelomic Cavity Rupture Healing in a Chelonia carbonaria
Abstract
Background: The vacuum-assisted closure (VAC) therapy system has been used as a noninvasive wound management technique for shell damage in Chelonians. These animals are excellent candidates for VAC therapy because of their unique shell anatomyconsists of dermal bones, which make bandage placement easier. Beyond that, they are suited for this technique behaviorally, because they are not inclined to remove the vacuum system intentionally. Considering the possibility of Testudines shell repair with the use of less invasive techniques that result in additional dermal bone lesions, the objective of the present study is to describe the adaptation of a vacuum dressing protocol using low-cost and easily accessible materials for post-traumatic shell healing of a specimen of Chelonoidis carbonaria.
Case: A specimen of tortoise (Chelonoidis carbonaria), a male, weighing 630 g, approximately 3-year-old, was received at the Veterinary Hospital - Wild Animals Sector in the Federal University of Pará (UFPA) because of being run over by a vehicle. On physical examination, fractures of the dermal plaques and underlying bone structures were found, with rupture of the coelomic cavity. In addition, there was exposure and incarceration of an intestinal loop, with the presence of bleeding. According to the findings of the physical screening examination, the patient's prognosis was defined as good, as described in the literature that specifically focused on chelonian shell injuries. The animal was sent to the diagnostic imaging sector. Then, drug therapy was provided for pain control, vitamins were administered for nutritional support, and antibiotics and anti-inflammatory drugs were instituted. For the closure of the shell and coelomic cavity, a bandage was used with the VAC therapy system adapted as described for Chelonians in previous reports. After a complete osteosynthesis and closure of the coelomic cavity, repair of the integumentary component of the shell was possible. For this procedure, the animal did not need to be anesthetized. The patient was physically restrained by being placed in suspension on a support with a diameter smaller than the plastron. Complete asepsis of the shell was necessary. On top of the lesion, a polypropylene mesh and color less dental resin were applied. The animal continued to be evaluated after the repair to check for potential complications. This procedure ensured that the repaired plates remained stable. Furthermore, the animal did not seem to have any discomfort with the resin when moving, so the animal was discharged after 25 days of hospitalization.
Discussion: Radiography was important to determine the condition of the animal and clinical prognosis, and thus, to perform the proper treatment. The VAC therapy system was successful in assisting the patient's recovery. It enabled the reduction of the healing time since shell injuries usually require four to eighteen months to heal. In this report, the healing process only required 17 days, demonstrating that the VAC therapy system is a beneficial treatment to treat traumatic injuries in Testudines. The restoration protocol of the integumentary component using dental resin is less invasive, and this type of material has been used previously by other authors. Drug treatment with aminoglycosides and sulphonamides administered prophylactically has proven to be effective and has been used successfully in reptiles. These drugs may be combined with maintenance fluid therapy to prevent adverse reactions from aminoglycosides, such as nephrotoxicity. It was concluded that the use of the VAC therapy system reduced the time of post-traumatic healing of the carapace and proved to be an innovative approach to treat traumatic injuries in Testudines in a less invasive way.
Downloads
Download data is not yet available.
References
Adkesson M.J., Travis E.K., Weber M.A., Kirby J.P. & Junge R.E. 2007. Vacuum assisted closure for treatment of a deep shell abscess and osteomyelitis in a tortoise. Journal of the American Veterinary Medical Association. 231(8): 1249-1254.
Carpenter J.W. 2013. Exotic Animal Formulary. 5th edn. St. Louis: Elsevier, pp.127-246.
Carvalho R.C., Sousa A.L., Oliveira S.C.R., Pinto A.C.B.C.F., Fontenelle J.H. & Cortopassi S.R.G. 2011. Morphology and topographic anatomy of the spinal cord of the red-footed tortoise (Geochelone carbonaria Spix, 1824). Pesquisa Veterinária Brasileira. 31: 47-52.
Fleming G.J. 2008. Clinical Technique: Chelonian Shell Repair. Journal of Exotic Pet Medicine. 17(4): 246-58.
Fleming G.J. 2014. New Techniques in Chelonian Shell Repair. In: Mader D.R. & Divers S.J. (Eds). Current therapy in reptile medicine surgery. PhD Proposal. pp.205-212.
Gilbert S.F., Loredo G.A., Brukman A. & Burke A.C. 2001. Morphogenesis of the turtle shell: The development of a novel structure in tetrapod evolution. Evolution and Development. 3(2): 47-58.
Lafortune M., Wellehan J.F.X. & Heard D.J. 2005. Vacuum-assisted closure (turtle VAC) in management of traumatic shell defects in chelonians. Journal of Herpetological Medicine Surgery. 15(4): 4-8.
Machin K.L. 2001. Fish, amphibian, and reptile analgesia. The veterinary clinics of North America. Exotic animal practice. 4(1): 19-33.
Mader R. Douglas. 2006. Reptile Medicine and Surgery. 2nd edn. St. Louis, Elsevier, pp.428-441
Maud L.M., Terry M.N. & Mettee N.S. 2014. Vacuum-Assisted Wound Closure in Chelonians. In: Mader D.R. & Divers S.J. (Eds). Current therapy in reptile medicine surgery. PhD Proposal. pp.197-204.
Montoro M.M. 2018. Restauração de casco em testudíneos. Revista Científica de Medicina Veterinária. 15(31): 1- 9.
Oliveira J.F.P., Cipullo J.P. & Burdmann E.A. 2007. Nefrotoxicidade dos aminoglicosídeos. Revista Brasileira de Cirurgia Cardiovascular. 21(4): 444-452.
Perry S.M. & Nevarez J.G. 2018. Pain and Its Control in Reptiles. Veterinary Clinics of North America: Exotic Animal Practice. 21(1): 1-16.
Sladky K.K. & Mans C. 2012. Clinical Analgesia in Reptiles. Journal of Exotic Pet Medicine. 21(2): 158-67.
Souza A.M., Malvasio A. & Lima L.A.B. 2009. Estudo do esqueleto em Trachemys dorbignyi (Duméril & Bibron) (Reptilia, Testudines, Emydidae). Revista Brasileira de Zoologia. 17(4): 1041-1063.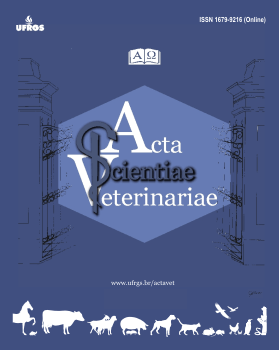 How to Cite
Monteiro, L. H., da Silva, S. K. S. M., Benarrós, M. S. C., Lopes, C. T. de A., & Domingues, S. F. S. (2021). Use of Cost-effective Vacuum-assisted Closure Technique for Shell Fracture Repair and Coelomic Cavity Rupture Healing in a Chelonia carbonaria. Acta Scientiae Veterinariae, 49. https://doi.org/10.22456/1679-9216.104476
License
This journal provides open access to all of its content on the principle that making research freely available to the public supports a greater global exchange of knowledge. Such access is associated with increased readership and increased citation of an author's work. For more information on this approach, see the Public Knowledge Project and Directory of Open Access Journals.
We define open access journals as journals that use a funding model that does not charge readers or their institutions for access. From the BOAI definition of "open access" we take the right of users to "read, download, copy, distribute, print, search, or link to the full texts of these articles" as mandatory for a journal to be included in the directory.
La Red y Portal Iberoamericano de Revistas Científicas de Veterinaria de Libre Acceso reúne a las principales publicaciones científicas editadas en España, Portugal, Latino América y otros países del ámbito latino