Renal Dysplasia in a Free-Living Giant Anteater Cub (Myrmecophaga tridactyla) - Ultrasonographic and Tomographic Aspects
Abstract
Background: Renal dysplasia is a congenital disorder that occurs during differentiation of the renal parenchyma or as a consequence of a functional and/or structural obstruction of the lower urinary tract. In wild animals, this pathology has been reported in cynomolgus monkeys (Macaca fascicularis), golden hamsters (Mesocricetus auratus) and African elephants (Loxodanta africana). However, there are no reports of the disease in the giant anteater (Myrmecophaga tridactyla). Thus, this paper describes a case of renal dysplasia in a free-living giant anteater cub, which was sent to the wild animal clinic of the Federal University of Mato Grosso (UFMT) in Cuiabá, MT, Brazil. 
Case: The rescued animal had a good body condition score and clinical parameters within the normal range for the species. After a routine clinical evaluation, the anteater cub was subjected to radiography and ultrasound tests. Blood tests, serum tests for hepatic and renal profiles, urinalysis, urinary protein creatinine ratio, and chest X-rays did not reveal significant changes. However, the abdominal ultrasound examination revealed a volumetric loss of about 1.17 cm in length in the left kidney, and a renal length to aortic artery diameter ratio of approximately 2.8. This kidney showed irregular contours, loss of corticomedullary demarcation, with preserved echogenicity and cortical echotexture. The right kidney showed the standard size of the species, with a length of approximately 3.08 cm. In view of the suspicion of renal dysplasia, a contrast-enhanced CT scan was performed in order to assess the dynamics of uptake and excretion of the contrast medium in the affected kidney and in the ipsilateral collecting system.  An examination of the tomographic images indicated that the volume of the left kidney was reduced, isodense in relation to the right kidney, with discrete and homogeneous uptake in all phases after administration of the contrast medium, no occurrence of nephrogram and pyelogram phases, or any detection of contrast in the corresponding ureter.
Discussion: Giant anteaters (Myrmecophaga tridactyla) are animals classified as a species vulnerable to extinction. Today, most research involving this species focuses on its ecology, behavior, diet, morphology and parasitology, but little is known about the imaging aspects of the species or about congenital changes such as renal dysplasia. Although the definitive diagnosis of this pathology depends on a histopathological examination, the same diagnosis can be made with a wide margin of safety by assessing the epidemiological aspects and the dynamics of renal uptake of the contrast medium through computed tomography. In this analysis, both vascularization and renal filtration capacity can be assessed. Thus, based on CT imaging, it was concluded that this was a case of renal dysplasia, since the left kidney showed a discrete homogeneous uptake stable in both the arterial and venous phases, without producing any accumulation of contrast medium in the pelvic region or the collecting system, proving to be completely nonfunctional. These findings differ from cases of renal hypoplasia, which, although they reduce renal volume, do not cause structural changes in the renal parenchyma or disturbances in the filtration dynamics of contrast media. They also differ from cases of acquired chronic nephropathy, since, albeit associated with reduced renal volume and changes in renal filtration dynamics, they produce different parenchymal ultrasound changes that usually occur in elderly animals and generally produce bilateral lesions.
Downloads
Download data is not yet available.
References
Bovee K.C. 2003. Renal dysplasia in shih Tzu dogs. In: Proceedings of the World Small Animal Veterinary Association World Congress. (Philadelphia, USA). Disponível em: < <https://www.vin.com/apputil/content/defaultadv1.aspx?meta=Generic&pId=8768&id=3850168>.
Bridgewater D., Giovanni V.D., Cain J.E., Cox B., Jakobson M., Sainio K. & Rosenblum Rosenblum N.D. 2011. Catenin causes renal dysplasia via upregulation of Tgf β2 and Dkk1. Journal of American Society of Nephrology. 22: 718-731.
Bruder M.C., Shoieb A.M., Shirai N., Boucher G.G. & Brodie T.A. 2010. Renal dysplasia in beagle dogs. Toxicology Pathologic. 38: 1051-1057.
Castiglioni M.C., Sarkis C. & Machado V.M. 2014. Conformação anatomo-radiográfica da silhueta cardíaca em tamanduá-bandeira (Myrmecophaga tridactyla) e tamanduá mirim (Tamandua tetractyla). In: IV Simpósio Internacional de Diagnóstico por Imagem Veterinário Proceeding (Belo Horizonte, Brasil). 1p.
Gilday R.A., Wojnarowicz C., Tryon K.A. & Lohmann K.L. 2015. Bilateral renal dysplasia, hydronephrosis, and hydroureter in a septic neonatal foal. Canadian Veterinarian Journal. 56(3): 257-260.
Hoppe A., Swenson L., Jönsson L. & Hedhammar A. 1990. Progressive nephropathy due to renal dysplasia in Shih Tzu dogs in Sweden: A clinic pathological and genetic study. Journal of Small Animal Practice. 31: 83-91.
Hünning P.S., Aguiar J., Lacerda L.A., Sonne L., Oliveira E.C. & Haas G.F. 2009. Displasia renal em um cão. Acta Scientiae Veterinariae. 37(1): 73-77.
Jankowski G., Langan J.N., Askesson M.J., Terio K.A., Mylniczenko N.D., Meehan T. & Shmitt D. 2012. Dilated ureters, renal dysplasia, and chronic renal failure in na african elephant (Loxodonta africana). Journal of Zoo Wildlife Medicine. 43(1): 153-158.
Morgado T.O. 2012. Perfil hematológico, bioquímico e consumo de nutrientes de Tamanduás-Bandeira (Myrmecophaga tridactyla) alimentados com diferentes dietas em cativeiro. 61f. Cuiabá, MT. Dissertação (Mestrado em Ciências Veterinárias) - Programa de Pós-Graduação em Ciências Veterinárias - Universidade Federal do Mao Grosso.
Lobetti R.G., Pearson J & Jimenezt M. 1966. Renal dysplasia a Rhodesian ridgeback dog. Journal of Small Animal Practice. 37: 552-555.
Lopes É.R., Morgado T.O., Meireles Y.S., Jorge A.A., Zago A.A.Q., Corrêa S.H.R., Paz R.C.R. & Néspoli P.B. 2015. Ultrassonografia abdominal de tamanduás-bandeira (Myrmecophaga tridactyla Linnaeus, 1758) mantidos em cativeiro. Pesquisa Veterinária Brasileira. 35(11): 919-924
Maranhão C.P.M., Miranda C.M.N.R., Santos C.J.J., Farias, L. P. G. & Padilha I. G. 2013. Anomalias congênitas do trato urinário superior: novas imagens das mesmas doenças. Radiologia Brasileira. 46(1): 43-50.
Mareschal A., D'Anjou M.A., Moreau M. & Beauregard G. 20017. Ultrasonographic measurement of kidney-to-aorta ratio as a method of estimating renal size in dogs. Veterinary Radiology & Ultrasound. 48(5): 434-438.
Martín C.M., Kogika M.M., Miyashiro S.I. & Fonseca-Pinto A.C.B.C. 2017. B-mode and Doppler ultrasonography in the renal evaluation of dogs undergoing computed tomography after intravenous administration of different iodinated contrast media. Pesquisa Veterinária Brasileira. 37(7): 759-772.
Morcos S.K. & Thomsen H.S. 2001. Adverse reactions to iodinated contrast media. European Radiology. 11: 1267-1275.
Pennick D. & D'Anjou M.A. 2011. Atlas de Ultrassonografia de Pequenos Animais. Rio de Janeiro: Guanabara Koogan, pp.337-381.
Phua Y.L. & Ho J. 2016. Renal Dysplasia in the Neonate. Current Opinion in Pediatrics. 28(2): 209-215.
Santos A.P., Gaivão A.M., Tavares A. & Ferreira S. 2009. Produtos de contrastes iodados. Acta Médica Portuguesa. 22(3): 261-274.
Seiler G.S., Rhodes J., Cianciolo R. & Casal M. L. 2010. Ultrasonographic Findings in Cairn Terriers with Preclinical Renal Dysplasia. Veterinary Radiology Ultrasound. 51(4): 453-457.
Shirai N., Muravnicka K.B., Lettierea D.J. & Evans M. 2014. Spontaneous unilateral renal dysplasia in a clinically healthy cynomolgus monkey (Macaca fascicularis). Experimental and Toxicologic Pathology. 66: 403-405
Thomsen H.S. 2011. Contrast media safety: an update. European Journal of Radiology. 80(1): 77-82.
Volkweis F.S., Almeida A. M. S., Wong L., Mulinari F. & Santos Júnior H.L. 2012. Displasia renal em cão da raça Rotweiller. Arquivo. Brasileiro de Medicina Veterinária e Zootecnia. 64(6): 1511-1514.
Winyard P. & Chitty L.S. 2008. Dysplastic kidneys. Seminars in Fetal Neonatal Medicine 13: 142-151.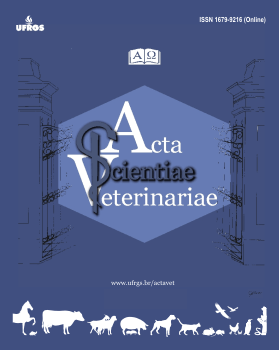 How to Cite
Neri Jaworski, L. T. de B., Borba, J. de P., Rezende, B. C., Lopes, J. M., Morgado, T. O., & Néspoli, P. B. (2021). Renal Dysplasia in a Free-Living Giant Anteater Cub (Myrmecophaga tridactyla) - Ultrasonographic and Tomographic Aspects. Acta Scientiae Veterinariae, 49. https://doi.org/10.22456/1679-9216.103480
License
This journal provides open access to all of its content on the principle that making research freely available to the public supports a greater global exchange of knowledge. Such access is associated with increased readership and increased citation of an author's work. For more information on this approach, see the Public Knowledge Project and Directory of Open Access Journals.
We define open access journals as journals that use a funding model that does not charge readers or their institutions for access. From the BOAI definition of "open access" we take the right of users to "read, download, copy, distribute, print, search, or link to the full texts of these articles" as mandatory for a journal to be included in the directory.
La Red y Portal Iberoamericano de Revistas Científicas de Veterinaria de Libre Acceso reúne a las principales publicaciones científicas editadas en España, Portugal, Latino América y otros países del ámbito latino