Image Diagnosis in Extensor Tendons Injuries in the Radiocarpal Region in Horses
Abstract
Background: Soft tissue injuries are common in sport horses, especially those involving tendons, with few current reports in the literature on the diagnosis of extensor injuries, especially with regard to ultrasound characteristics, being essential for the diagnosis of these injuries. The objective of the study is to characterize the clinical signs and the alterations of images, especially ultrasound, in the diagnosis of these lesions of the dorsal radiocarpal region, through case reports of horses seen at the Medical Clinic of Large Animals of the Federal University of Campina Grande (MCLA/UFCG), Patos-PB, Brazil.
Cases: The study includes five "vaquejada" competitions horses, of which two were active and the others were away from the sport before the onset of the problem, with injuries to the extensor tendons in the radiocarpal region. Two of the animals had involvement of the common digital extensor muscle tendon (CDEMT), with acute and chronic tenosynovitis, and three with involvement of the extensor carpi radialis muscle tendon (ECRMT), presenting acute tendonitis, septic tenosynovitis and rupture, all of traumatic etiology, except for one whose cause has not been determined. On physical examination, the affected tendon was noticeable in three cases, and two had other injuries associated with the tendons. Bone alteration in the radiographic examination was observed in two cases, however, one of them related to another disease in the radiocarpal palmar region. Ultrasound images, performed in all cases, showed different characteristics and degrees of the involvement of the tendon and its sheath.
Discussion: The scarcity of current reports of extensor tendon injuries in horses can be attributed to the fact that they do not suffer as much overload or effect from biomechanics compared to flexor tendons, in addition to being an area of little soft tissue covering these tendons. Although the involvement of the extensor tendons is more frequent in the pelvic limbs, due to lacerations, the occurrence of lesions in the dorsal radiocarpal region may be related to excess flexion, being easily susceptible to trauma to solid objects. The specific clinical examination, associated with a well-explored anamnesis, can allow us to locate the lesion and achieve a presumptive diagnosis. In three cases, tendon injuries were noticeable on inspection and palpation, important points to guide the diagnosis. However, in two cases with associated injuries this perception became difficult. Regardless of the clinical diagnosis, imaging diagnosis in lesions of the locomotor system was essential, as it allowed us to assess bone involvement, accurately determine the location of the lesion, its extent and prognosis, which would not be possible only in the clinic. Through ultrasonography it was possible to classify the lesions into acute (hypoechoic areas) and chronic (hyperechoic areas or with heterogeneous pattern of variable echogenicity), in addition to the thickness and characteristic of the liquid in the tendon sheath, which are also important aspects for lesion classification. Thus, we conclude that the dorsal region at the carpal level is susceptible to trauma and can easily compromise the extensor tendons. And for the diagnosis and adequate conduct, it is necessary to determine ultrasound image regarding the different types of lesions, which is provided in the present study.
Downloads
Download data is not yet available.
References
Adams, O.R. & Stashak's, T.S. 2011. Lameness in horses. 6.ed. Blackwell Publishing.
Belknap, J.K., Baxter, G.M. & Nickels, F.A. 1993. Extensor tendon lacerations in horses: 50 cases (1982-1988). Journal of the American Veterinary Medical Association. 203 (3): 428 – 431.
Booth, T.M., Abbot, J., Clements, A., Singer, E.R. & Clegg, P.D. 2004. Treatment of septic common digital extensor tenosynovitis by complete resection in seven horses. Veterinary Surgeons. 33 (2): 107-111.
Booth, T.M., Clegg, P.D., Singer, E.R. & Cheeseman, M.T. 2000. Resection of the common digital extensor tendon in a gelding. Veterinary Record. 146 (13): 373-376.
Dyce, K.M., Wensing, C.J.G. & Sack, W.O. 2010. Tratado de anatomia veterinária. 4.ed. Rio de Janeiro: Elsevier.
El-Bably, S.H & Abdelgalil, A.I. 2018. Ultrasonographic Anatomy of the Equine Carpal Region (Equus caballus). International Journal of Veterinary Science. 7(1): 44-49.
Fackelman, G.E. 1973. The nature of tendon damage and its repair. Equine Veterinary Journal. 5 (4): 141-149.
Foland, J.W., Trotter, G.W., Stashak, T.S., Mcilwraith, C.W., Turner, A.S. & Aanes, W.A. 1991. Traumatic injuries involving tendons of the distal limbs in horses: a retrospective study of 55 cases. Equine Veterinary Journal. 23 (6): 422-425.
Frandson, R.D., Wilke, W. L. & Fails, A. D. 2011. Anatomia e fisiologia dos animais de fazenda. 7.ed. Rio de Janeiro: Guanabara Koogan.
Getty, R. 1986. Anatomia dos animais domésticos. 5.ed. v.1. Rio de Janeiro: Interamericana.
Gray, S.M., Gutierrez-Nibeyro, S.D. & Lobato, D.N. 2019. Tenoscopic removal of a protruding osteophyte as a treatment for chronic common digital extensor tendinopathy and associated tenosynovitis. Equine veterinary education. 1-5.
Hage, M.C.F.N.S., Invernizzi, M.S., Bellegard, Gm.C., Dória, R.G.S., Schwarzbach, S.V.; Miada, V.J.Y. 2017. Didatic approach of ultrasonographic examination for evaluation of the carpal joint in horses. Ciência Rural. 47 (12).
Kidd, J.A., Lu, K.G. & Frazer, M.L. 2014. Atlas of Equine Ultrasonograph.
Nixon, A.J. 2002. Arthroscopic Surgery of the Carpal and Digital Tendon Sheaths. Clinical Techniques in Equine Practice. 1 (4): 245-256.
Platt, D. & Wright, I.M. 1997. Chronic tenosynovitis of the carpal extensor tendon sheaths in 15 horses. Equine Veterinary Journal. 29 (1): 11-16.
Smith, R.K.W. 2008. Tendon and Ligament Injury. Proceedings of the 54th Annual Convention of the American Association of Equine Practitioners. v.48. 475-501. San Diego, Califórnia.
Tnibar, M., Kaser-Hotz, B. & Auer, J.A. 1993. Ultrasonography of the dorsal and lateral aspects of the equine carpus: technique and normal appearance. Veterinary Radiology & Ultrasound. 34 (6): 413-425.
Wallace, C. E. 1972. Chronic Tendosynovitis Of The Extensor Carpi Radialis Tendon In The Horse. Australian Veterinary Journal. 48 (11): 585 -587. Wiley-Blackwell., 503p.
Williams, M. 2019. Pathology of equine extensor tendons: Can they function without them? Equine Veterinary Education. 31 (6): 315-317.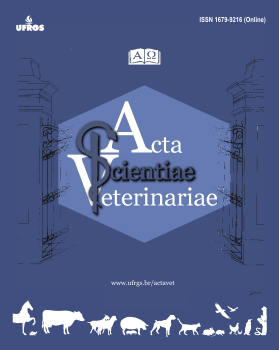 How to Cite
Paz, J. H. N., Assis, D. de M., Oliveira, C. C. de, Palmeira, R. B., Nascimento, B. H. R. do, Oliveira, D., Maciel, T. A., & Miranda Neto, E. G. de. (2020). Image Diagnosis in Extensor Tendons Injuries in the Radiocarpal Region in Horses. Acta Scientiae Veterinariae, 48. https://doi.org/10.22456/1679-9216.103088
License
This journal provides open access to all of its content on the principle that making research freely available to the public supports a greater global exchange of knowledge. Such access is associated with increased readership and increased citation of an author's work. For more information on this approach, see the Public Knowledge Project and Directory of Open Access Journals.
We define open access journals as journals that use a funding model that does not charge readers or their institutions for access. From the BOAI definition of "open access" we take the right of users to "read, download, copy, distribute, print, search, or link to the full texts of these articles" as mandatory for a journal to be included in the directory.
La Red y Portal Iberoamericano de Revistas Científicas de Veterinaria de Libre Acceso reúne a las principales publicaciones científicas editadas en España, Portugal, Latino América y otros países del ámbito latino