Systemic Candidosis in Dogs Associated with Canine Distemper Virus
Abstract
Background: Candidosis is an opportunistic fungal infection caused by yeasts of the genus Candida, which normally reside on the surfaces of the mucous membranes and in the skin of several animal species and healthy humans; however the fungi can convert into pathogenic microorganisms and result in invasive infections with systemic involvement due to the impairment of the immune system. Systemic candidosis is rare in dogs and few reports of this mycosis are available in literature. Therefore, the objective of this study was to describe three cases of systemic candidiasis associated to canine distemper in dogs, highlighting the main epidemiological, clinical and pathological aspects.
Cases: Three cases of systemic infection by Candida sp. were diagnosed in dogs. The animals predominantly presented neurological clinical manifestations, followed by unspecific alterations with an evolution of 5 to 30 days. Macroscopically, the lesions were characterized by white-yellowish multifocal to coalescent areas surrounded by reddish borders in the kidneys and heart (cases 1, 2 and 3); liver and submandibular lymph node (case 1); and lung (case 2). In the brains of the three dogs were observed multifocal, blackened and/or reddish and friable areas. In case 1, was observed an increased volume of the right carpometacarpal joint, that when cut, released a reddish and turbid content. In case 2, there was deposition of a whitish lumpy material on the epicardial surface, aorta artery, pericardial sac and spleen; infarction on the right testicle, hydroureter, pyelonephritis and hydronephrosis. Microscopically, the lesions consisted of necrossupurative inflammation associated to hemorrhage, vasculitis, congestion, thrombosis, infarction and fungal structures with distinct morphological patterns which included blastoconidia, pseudohyphae and hyphae. The fungal structures were strongly positive for the anti-Candida albicans polyclonal antibody in the immunohistochemistry. All 3 dogs were concomitantly infected by the canine distemper virus, and 2 of the animals also presented other comorbidities.
Discussion: The diagnosis of systemic candidiasis was made based on the morphotintorial characteristics of the agent and confirmed by immunohistochemistry. The yeasts of the genus Candida live as commensals, but when there is an imbalance of the normal microbiota or the immune system of the host is impaired, the yeasts can convert themselves into opportunistic pathogenic microorganisms. The concomitant infection with the canine distemper virus may have favored the infection and proliferation of the agent in the tissues, as the virus causes immunosuppression. The extensive vascular lesions associated to fungi in the vascular lumen and wall observed in the affected organs suggest hematogenous dissemination causing acute infarctions. The clinical signs of systemic candidosis are extremely variable and reflect the affected organs and hardly ever the infections are considered in the differential diagnoses. The dogs presented neurological clinical signs compatible with canine distemper, however the other clinical alterations were unspecific and insufficient to correlate with a secondary infection and none of the cases diagnosed in the necroscopic examination suggested systemic candidiasis during the clinical investigation. The histochemical methods used in this study contributed effectively for the prior diagnosis of candidosis, making evident the variable morphological characteristics of the fungi. It is concluded that the systemic candidosis in dogs with canine distemper affects young and adult animals with predominantly neurological and unspecific clinical signs resulting from necrossupurative and vascular lesions in several organs, including the articular involvement little described in dogs and testicular lesions only reported in humans.
Downloads
Download data is not yet available.
References
Birse C.E., Irwin M.Y., Fonzi W.A. & Sypherd P.S. 1993. Cloning and characterization of ECE1, a gene expressed in association with cell elongation of the dimorphic pathogen Candida albicans. Infection and. Immunity. 61(9): 3648-3655.
Bufalari A., Maggio C., Moretti G., Stefanetti1 V., Straubinger R.K. & Passamonti F. 2016. Management of Candida guilliermondii joint infection in a dog. Acta Veterinaria Scandinavica. 58(1): 1-7.
Curiel T.J. 2008. Regulatory T cells and treatment of cancer. Current Opinion in Immunology. 20(2): 241-246.
Fidel Jr. P.L., Vazquez J.A. & Sobel J.D. & 1999. Candida glabrata: review of epidemiology, pathogenesis, and clinical disease with comparison to C. albicans. 12(1): 80-96.
Galiza G.J.N., Silva T.M., Caprioli R.A., Barros C.S.L., Irigoyen L.F., Fighera R.A., Lovato M. & Kommers G.D. 2014. Ocorrência de micoses e pitiose em animais domésticos: 230 casos. Pesquisa Veterinária Brasileira. 34(3): 224-232.
Giuffrida R. 2016. Enfermidades pelo gênero Candida. In: Megid J., Ribeiro M.G. & Paes A.C. (Eds). Doenças Infecciosas em Animais de Produção e de Companhia. Rio de Janeiro: Roca, pp.907-910.
Heseltine J.C., Panciera D.L. & Saunders G.K. 2003. Systemic candidiasis in a dog. Journal of the American Veterinary Medical Association. 223(6): 821-824.
Jenkin G.A., Choo M., Hosking P. & Johnson P.D.R. 1998. Candidal Epididymo-Orchitis: Case Report and Review. Clinical Infectious Diseases. 26(4): 942-945.
Khosravi A.R., Mardjanmehr H., Shokri H., Naghshineh R., Rostamibashman M. & Naseri A. 2009. Mycological and histopathological findings of experimental disseminated candidiasis in dogs. Iranian Journal of Veterinary Research. 10(3): 228-234.
Matsuda K., Sakaguchi K., Kobayashi S., Tominaga M., Hirayama K., Kadosawa T. & Taniyama H. 2009. Systemic candidiasis and mesenteric mast cell tumor with multiple metastases in a dog. Journal of Veterinary Medical Science. 71(2): 229-232.
Pressler B.M. 2015. Candidíase e rodotorulose. In: Greene C.E. (Ed). Doenças Infecciosas em Cães e Gatos. 4.ed. Rio de Janeiro: Guanabara Koogan, pp.1466-1477.
Rodriguez F., Fernandez A., De los Monteros A.E., Wohlsein P. & Jensen H.E. 1998. Acute disseminated candidiasis in a puppy associated with parvoviral infection. The Veterinary Record. 142(4): 434-436.
Skoric M., Fictum P., Slana I., Kriz P. & Pavlik I. 2011. A case of systemic mycosis in a Hovawart dog due to Candida albicans. Veterinarni Medicina. 56(5): 260-264.
Souto E.P.F., Frade M.T.S., Borges I.L., Torres L.M., Kommers G.D., Galiza G.J.N., Riet-Correa F. & Dantas A.F.M. 2018. Cerebral Candida albicans Infection in Two dogs. Acta Scientiae Veterinariae. 46(Suppl 1): 1-6.
Sykes J.E. 2014. Canine and Feline Infectious Diseases. Saint Louis: Elsevier, 915p.
Tunca R., Guvenc T., Haziroglu R., Ataseven L., Özen H. & Toplu N. 2006. Pathological and immunohistochemical investigation of naturally occurring systemic Candida albicans infection in dogs. Turkish Journal of Veterinary and Animal Sciences. 30(6): 545-551.
Uzal F.A., Plattner B.L. & Hostetter J.M. 2016. Alimentary system. In: Maxie M.G. (Ed). Jubb, Kennedy, and Palmer's Pathology of Domestic Animals. v.2. 6th edn. Philadelphia: Elsevier Saunders, pp.1-257.
Willems N., Houwers D.J. & Schlotter Y.M. 2017. Disseminated Candidiasis in a Young, Previously Healthy, Dog and Review of Literature. Mycopathologia. 182(5): 591-596.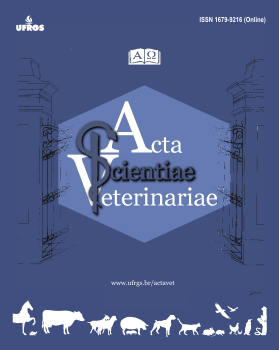 How to Cite
Alves, R. C., Carneiro, R. dos S., Kommers, G. D., de Souza, A. P., de Galiza, G. J. N., & Dantas, A. F. M. (2020). Systemic Candidosis in Dogs Associated with Canine Distemper Virus. Acta Scientiae Veterinariae, 48. https://doi.org/10.22456/1679-9216.103056
License
This journal provides open access to all of its content on the principle that making research freely available to the public supports a greater global exchange of knowledge. Such access is associated with increased readership and increased citation of an author's work. For more information on this approach, see the Public Knowledge Project and Directory of Open Access Journals.
We define open access journals as journals that use a funding model that does not charge readers or their institutions for access. From the BOAI definition of "open access" we take the right of users to "read, download, copy, distribute, print, search, or link to the full texts of these articles" as mandatory for a journal to be included in the directory.
La Red y Portal Iberoamericano de Revistas Científicas de Veterinaria de Libre Acceso reúne a las principales publicaciones científicas editadas en España, Portugal, Latino América y otros países del ámbito latino