Extranodal B Cell Lymphoma in the Trachea of a Domestic Cat
Abstract
Background: Primary tracheal tumors are considered uncommon in veterinary medicine and among them extranodal tracheal lymphoma, which is a neoplastic type, has rarely been described, especially with the use of immunophenotyping. Consequently, there is a lack of knowledge inherent to the characteristics of this tumor type in felines and as a result little information on how to deal with animals affected by this disease. Therefore, there is a need for more studies focusing on this matter. The objective of this work is to report a case of extranodal B cell lymphoma in the trachea of a domestic cat and point out the clinical and pathological characteristics of this neoplastic type.
Case: A 5-year-old domestic cat, of an oriental breed, was taken to a veterinary clinic exclusively for cats in Rio de Janeiro, Brazil. The main complaint was difficulty in breathing and loss of appetite and historical data included intolerance to exercise. A clinical examination confirmed inspiratory dyspnea and upper respiratory sounds. Hematological and serum biochemical exams did not evidence any noteworthy changes and the cat was considered negative for feline viral leukemia and feline immunodeficiency viruses through serological and molecular testing. However, in the radiographic examination of the thoracic cervical region, an opacity was observed that occluded part of the tracheal lumen and this was suggestive of a mass in the initial third of the trachea, measuring 0.5 cm in diameter. The animal was stabilized and then 24 h after admission underwent inspection of the oral cavity and a biopsy of the tracheal mass was performed. Cytology of the specimen was suggestive of lymphoma. The treatment of choice was: lomustine with a single, oral dose of 10 mg; vincristine sulfate with a single intravenous dose of 0.75 mg/m²; and methylprednisolone acetate with a single intramuscular dose of 20 mg. A second radiograph taken 24 h after the chemotherapy showed that the tracheal mass had shrunk to 0.3 cm in diameter. Seven days after the treatment adopted for lymphoma, the mass was no longer visible. Histopathological analysis and immunohistochemistry supported the diagnosis of B cell lymphoma. A 36-month follow-up after the initial admission showed that the cat was in good health, without any respiratory signs and/or alterations in imaging tests that could suggest neoplastic recurrence.
Discussion: The majority of animals with tracheal lymphoma are more than seven years old; thus, this report is one of the few that describes this tumor type in a young cat, and therefore highlights the importance of considering tracheal lymphoma as a differential diagnosis in young cats with clinical findings compatible with this condition. The successful treatment carried out here was attributed to the immunophenotyping of the neoplasia, because when B cell trachea lymphoma is diagnosed early and correctly there is usually a good prognosis. Type T lymphomas exhibit a poorer clinical response through therapy than B cell lymphomas. As far as the authors know, this is only the fifth report in which immunophenotyping of a tracheal lymphoma in a cat has been performed. The relevance of studies involving the immunohistochemistry of this tumor type in cats is asserted, so that the differentiation between B or T cell lymphomas can provide greater accuracy in dealing with animals affected with this disease.
Downloads
Download data is not yet available.
References
Bataller L., Tamborini A., L'Eplattenier H., Necova S. & Robertson E. 2017. Successful treatment of tracheal lymphoma in a Siamese cat. Journal of Feline Medicine and Surgery Open Reports. 3(2): 1-6.
Brown M.R., Rogers K.S., Mansell K.J. & Barton C. 2003. Primary intratracheal lymphosarcoma in four cats. Journal of the American Animal Hospital Association. 39(5): 468-472.
Carlisle C.H., Biery D.N. & Thrall D.E. 1991. Tracheal and laryngeal tumors in the dog and cat: literature review and 13 additional patients. Veterinary Radiology. 32(5): 229-235.
Costa F.V.A., Souza H.J.M. & Damico C.B. 2017. Linfomas e desordens mieloproliferativas em felinos. In: Costa F.V.A., Souza H.J.M., Cunha S.C.S. & Corgozinho K.B. (Eds). Oncologia felina. Rio de Janeiro: L.F. Livros, pp.315-356.
Dugas B., Hoover J. & Pechman R. 2001. Computed tomography of a cat with primary intratracheal lymphosarcoma before and after systemic chemotherapy. Journal of the American Animal Hospital Association. 47(6): 131-137.
Gisselbrecht C., Gaulard P., Lepage E., Coiffier B., Brière J., Haioun C., Cazals-Hatem D., Bosly A., Xerri L., Tilly H., Berger F., Bouhabdallah R. & Diebold J. 1998. Prognostic significance of T-cell phenotype in aggressive non-Hodgkin's lymphomas. Groupe d'Etudes des Lymphomes de l'Adulte (GELA). Blood. 92(1): 76-82.
Howard J., Fisher J. & Tolbert M.K. 2017. Invasive tracheal neoplasia in eight cats: descriptive cases and review of the current literature. Journal of Feline Medicine and Surgery Open Reports. 3(1): 1-6.
Jakubiak M.J., Siedlecki C.T., Zenger E., Matteucii M.L., Bruskiewicz K.A., Rohn D. A. & Bergman P. J. 2005. Laryngeal, laryngotracheal, and tracheal masses in cats: 27 cases (1998-2003). Journal of the American Animal Hospital Association. 41(5): 310-316.
Jelinek F. & Hozmanova F. 2012. Lymphoma of the trachea in cat: a case report. Veterinarni Medicina. 57(3): 150-153.
Katayama M., Okamura Y., Katayama R., Sasaki J., Shimamura S., Uzuka Y., Kamishina H. & Nezu Y. 2013. Presumptive acute lung injury following multiple surgeries in a cat. The Canadian Veterinary Journal. 54(4): 381-386.
Kim D.Y, Kim J.R., Taylor H.W. & Lee Y.S. 1996. Primary extranodal lymphosarcoma of the trachea in a cat. The Journal of Veterinary Medical Science. 58(7): 703-706.
Ponce F., Magnol J.P., Ledieu D., Marchal T., Ledieu D., Turinelli V., Chalvet-Monfray K. & Fournel-Fleury C. 2004. Prognostic significance of morphological subtypes in canine malignant lymphomas during chemotherapy. Veterinary Journal. 167(2): 158-166.
Rossi G., Magi G.E., Tarantino C., Taccini E., Mari S., Pengo G. & Renzoni G. 2007. Tracheobronchial neuroendocrine carcinoma in a cat. Journal of Comparative Pathology. 137(2-3): 165-168.
Ruslander D.A., Gebhard D.H., Tompkins M.B., Grindem C.B. & Page R.L. 1997. Immunophenotypic characterization of canine lymphoproliferative disorders. In Vivo. 11(2): 169-172.
Valli V.E, Jacobs R.M, Parodi A.L, Vernau V. & Moore P.F. 2002. Histological classification of hematopoietic tumors of domestic animals. The Armed Forces Institute of Pathology. American Registry of Pathology, World Health Organization. 8(2): 42-43.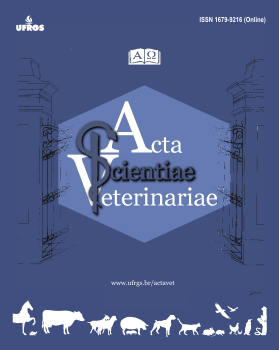 How to Cite
Jardim, M. P. de B., Cid, G. de C., Meirelles, A. C. A., Damico, C. B., Nogueira, V. de A., & Moreira de Souza, H. J. (2020). Extranodal B Cell Lymphoma in the Trachea of a Domestic Cat. Acta Scientiae Veterinariae, 48. https://doi.org/10.22456/1679-9216.102983
License
This journal provides open access to all of its content on the principle that making research freely available to the public supports a greater global exchange of knowledge. Such access is associated with increased readership and increased citation of an author's work. For more information on this approach, see the Public Knowledge Project and Directory of Open Access Journals.
We define open access journals as journals that use a funding model that does not charge readers or their institutions for access. From the BOAI definition of "open access" we take the right of users to "read, download, copy, distribute, print, search, or link to the full texts of these articles" as mandatory for a journal to be included in the directory.
La Red y Portal Iberoamericano de Revistas Científicas de Veterinaria de Libre Acceso reúne a las principales publicaciones científicas editadas en España, Portugal, Latino América y otros países del ámbito latino