Severe Corneal Edema in a Dog Naturally Infected by Leishmania spp.
Abstract
Background: Visceral leishmaniasis (VL) is an infectious disease caused by the protozoan Leishmania infantum that is transmitted to dogs and humans by sandflies. The incidence of eye injuries in VL is high. They occur in 20 to 81% of infected dogs and include blepharitis, granulomatous conjunctivitis, scleritis, keratitis, anterior uveitis, keratoconjunctivitis sicca, and secondary glaucoma. However, some dogs present only the clinical signs of eye damage. The main objective of this manuscript is to report a case of anterior uveitis with severe corneal edema in a dog with VL that underwent clinical and surgical ophthalmic treatments after miltefosine therapy.
Case: An 8-month-old, intact male Labrador Retriever with brown fur presented with pruritus, diffuse desquamation, and conjunctival hyperemia on physical evaluation. On the basis of an ophthalmic examination, nodular conjunctivitis and uveitis were diagnosed in both eyes. Moreover, laboratory examination results showed hyperproteinemia, increased serum alkaline phosphatase activity, and positive reactions to immunochromatographic tests for VL. Clinical treatment was instituted from the moment of diagnosis, when miltefosine and allopurinol were prescribed. At the end of treatment, based on laboratory examination results, only allopurinol was prescribed at a lower dose than initially prescribed for treatment continuation. Topical medications (prednisolone eye drops and sodium hyaluronate) were recommended for the ophthalmic changes. One week after the start of topical treatment, the dog showed an improvement in eye inflammation but still had bilateral corneal edema. A hyperosmotic agent was prescribed to improve edema, and a surgical procedure was recommended if there was no improvement. The physician opted for the surgical procedure in one of the eyes that had not shown significant improvement after the clinical treatment.
Discussion: VL is a zoonosis, and the domestic dog is the main reservoir. These animals often have dermatological conditions, and the ophthalmic changes observed can be unilateral or bilateral, with more than one change in the same eye. Lymphoplasmacytic or granulomatous anterior uveitis is the most prevalent change, as the uvea and conjunctiva are important lymphoid areas of the eye; this also explains the high incidence of uveitis and conjunctivitis in dogs with VL. In uveitis, corneal edema is driven by endothelial cell damage induced by prostaglandins, which interfere with the function of the endothelial pump and interrupt the normal dehydrated state of the cornea. Severe corneal edema can result in the formation of fluid-filled multifocal bubbles in the corneal stroma—a condition called bullous keratopathy. These bubbles accumulate under or inside the corneal epithelium, and they can burst spontaneously, leading to corneal erosions or ulcerations. Drug therapy with hyperosmotic agents could, in principle, reduce the formation of bubbles. Surgical options to decrease edema and blistering include a permanent conjunctival graft or thermokeratoplasty. Thermokeratoplasty induces the formation of superficial scars in the corneal stroma, applying multiple cauterization foci to the stroma exposed in the areas of bullous keratopathy and epithelial ulceration. In conclusion, the surgical therapeutic choice results in better visual quality in patients who do not respond well to clinical treatment.
Downloads
Download data is not yet available.
References
Abbott R.L. & Vermillion S.J. 1987. Cornea diseases treatment. In: Surgical intervention in corneal and external diseases. Orlando: Grune & Stratton, pp.143-98.
Andrade S.F., Cremonezi T., Zachi C.A.M., Lonchiati C.F., Amatuzzi J.D., Sakamoto K.P. & De Arruda P.A. 2009. Evaluation of the Perkins® handheld applanation tonometer in the measurement of intraocular pressure in dogs and cats. Veterinary Ophthalmology. 12(5): 277-284.
Barbosa V.T., Silva M.A.G., Souza M.G., Gering A.P., Santos H.D. & Laus J.L. 2012. Suabe conjuntival de cães com Leishmaniose Visceral. Arquivos Brasileiros de Medicina Veterinaria e Zootecnia. 64(6): 1465-1470.
Brito F.L. da C., Laus J.L., Tafuri W.L., Figueiredo M.M., Silva Júnior V.A., Maia F.C.L. & Alves L.C. 2014. Achados histopatológicos e detecção de parasitas nos olhos de cães infectados por Leishmania chagasi. Ciência Rural. 40(5): 1141-1147.
Brito F.L.C., Alves L.C., Maia F.C.L., Santos E.S.C., Laus J.L. & Meunier I.M.J. 2006. Ocular alterations in dogs naturally infected by Leishmania (Leishmania) chagasi. Arquivo Brasileiro de Medicina Veterinária e Zootecnia. 58(5): 768-775.
Courtenay O., Quinnell R.J., Garcez L.M., Shaw J.J. & Dye C. 2002. Infectiousness in a cohort of brazilian dogs: why culling fails to control visceral leishmaniasis in areas of high transmission. The Journal of Infectious Diseases. 186(9): 1314-1320.
De Luna R., Persechino A., Scalone A., Grandoni L., Cortese L., OlivaG., Ciaramella P. & Ambrosio R. 2010. A retrospective clinical study of canine leishmaniasis in 150 dogs naturally infected by Leishmania infantum. Veterinary Record. 141(21): 539-543.
Desjeux P. 2004. Leishmaniasis: current situation and new perspectives. Comparative Immunology, Microbiology and Infectious Diseases. 27(5): 305-318.
Eguchi G.U., Oliveira G.G., Souza A.I. & Barros R. 2017. Ceratoconjuntivite nodular em um caso de leishmaniose visceral canina: relato de caso. Arquivo Brasileiro de Medicina Veterinária e Zootecnia. 69(6): 1480-1484.
Feitosa M. M., Ikeda F.A., Luviz Otto M.C.R. & Perri S.H.V. 2000. Aspectos clínicos de cães com leishmaniose visceral no município de Araçatuba São Paulo, Brasil. Clínica Veterinária. 5(28): 36-44.
Ferrer L. 1999. Clinical aspects of canine leishmaniasis. In: Proceedings of the International Canine Leishmaniasis Forum (Barcelona, Spain). pp.6-10.
Fulgêncio G.O. 2006. Prevalência de oftalmopatias em cães naturalmente infectados com Leishmania (Leishmania) chagasi no município de Belo Horizonte-MG. Belo Horizonte. Dissertação (Mestrado em Ciência Animal) - Programa de Pós-Graduação em Ciências Veterinárias, Universidade Federal de Minas Gerais.
Gellat K.N. 2013. Ocular Manifestations of Systemic Diseases. In: Veterinary Ophthalmology. 5th edn. Oxford: Blackwell Publishing, pp.1897-1977.
Gilger B. C. & Hollingsworth S.R. 2011. Diseases of the uvea, uveitis, and recurrent uveitis. In: Equine Ophthalmology. 3rd edn. Ames: John Wiley e Sons Inc., pp.368-415.
Gontijo C.M.F. & Melo M.N. 2004. Visceral Leishmaniasis in Brazil: current status, challenges and prospects. Revista Brasileira de Epidemiologia. 7(3): 338-349.
Greene C.E. 2006. Leishmaniasis. Infectious Diseases of the Dog and Cat. 3rd edn. Philadelphia: Saunders Elsevier, pp.685-698.
Gundersen T. 1960. Surgical Treatment of Bullous Keratopathy. Archives of Ophthalmology. 64(2): 260-267.
Hendrix D.V.H. 2013. Diseases and surgery of the canine anterior uvea. Essentials of Veterinary Ophthalmology. 2nd edn. Oxford: Blackwell Publishing, pp.189-216.
Kontos V.J. & Koutinas A.F. 1993. Old World Canine Leishmaniasis. Compedium on Continuing Education Small Animal. 15(7): 949-959.
Koutinas A., Polizopoulou Z., Saridomichelakis M., Argyriadis D., Fytianou A. & Plevraki K. 2014. Clinical considerations on canine visceral leishmaniasis in Greece: a retrospective study of 158 cases (1989-1996). Journal of the American Animal Hospital Association. 35(5): 376-383.
Lonsberry B.B., Wyles E., Goodwin D., Casser L. & Lingel N. 2008. Diseases of the Cornea. Clinical Ocular Pharmacology. 6th edn. London: Elsevier Health Sciences, pp.483-548.
Manna L., Corso R., Galiero G., Cerrone A., Muzj P. & Gravino A.E. 2015. Long-term follow-up of dogs with leishmaniosis treated with meglumine plus allopurinol versus miltefosine plus allopurinol. Parasite Vectors. 8: 289.
Michau T.M., Gilger B.C., Maggio F. & Davidson M.G. 2006. Use of thermokeratoplasty for treatment of ulcerative keratitis and bullous keratopathy secondary to corneal endothelial disease in dogs: 13 cases (1994-2001). Journal of the American Veterinary Medical Association. 222(5): 607-612.
Molleda J. M., Novales M., Ginel P.J., Fernandez A. & Lopez R. 1993. Clinical and histopathological study of the eye in canine leishmaniasis. Israel Journal of Veterinary Medicine. 48: 173-178.
Naranjo C., Fondevila D., Leiva M., Roura X. & Peña T. 2005. Characterization of lacrimal gland lesions and possible pathogenic mechanisms of keratoconjunctivitis sicca in dogs with leishmaniosis. Veterinary Parasitology. 133(1): 37-47.
Novalés M. 1991. Aportaciones al estudio de las alteraciones oculares en la leishmaniosis canina. Córdoba, Espanha. Tese (Doutorado em Ciências Veterinárias) Programa de Pós-Graduação em Ciências Veterinárias, Faculdade de Veterinária de Córdoba.
Peña M.T., Naranjo C., Klauss G., Fondevila D., Leiva M., Roura X., Davidson M.G. & Dubielzig R.R. 2008. Histopathological Features of Ocular Leishmaniosis in the Dog. Journal of Comparative Pathology. 138(1): 32-39.
Peña M.T., Roura X. & Davidson M.G. 2000. Ocular and periocular manifestations of leishmaniasis in dogs: 105 cases (1993-1998). Veterinary Ophthalmology. 3(1): 35-41.
Pumarola M., Brevik L., Badiola J., Vargas A., Domingo M. & Ferrer L. 1991. Canine leishmaniasis associated with systemic vasculitis in two dogs. Journal of Comparative Pathology. 105(3): 279-286.
Rocha M.A.N., Matos-Rocha T.J., Ribeiro C.M.B. & Abreu S.R.O. 2018. Epidemiological aspects of human and canine visceral leishmaniasis in State of Alagoas, Northeast, Brazil. Brazilian Journal of Biology. 78(4): 609-614.
Roze M. 1986. Manifestations oculaires de la leishmaniose canine. Recueil de Médecine Vétérinaire. 162: 19-26.
Scherrer N.M., Lassaline M. & Miller W.W. 2017. Corneal edema in four horses treated with a superficial keratectomy and Gundersen inlay flap. Veterinary Ophthalmology. 20(1): 65-72.
Shokri A., Fakhar M. & Teshinizi S.H. 2017. Canine visceral leishmaniasis in Iran: A systematic review and meta-analysis. Acta Tropica. 165: 76-89.
Slappendel R.J. 2011. Prize‐winning paper Jubilee Competition: Canine leishmaniasis. Veterinary Quarterly. 10(1): 1-16.
Toncarelli M.Z., Lucheis S.B., Camargo J.B., Machado J.G. & Langoni H. 2009. Análise clínica e laboratorial em cães eutanasiados no centro de controle de zoonoses de Bauru-SP, com vistas ao diagnóstico da Leishmaniose visceral (LV). Veterinária e Zootecnia. 16(2): 343-353.
Whitley R.D. & Gilger B.C. 1999. Diseases of the canine cornea and sclera. Veterinary Ophthalmology. 3rd edn. Philadelphia: Lea & Febiger, pp.635-674.
Zarean M.S., Maraghi H., Hajjaran M., Mohebali M.H. & Feiz-Hadad. M.A. 2015. Comparison of proteome profiling of two sensitive and resistant field iranian isolates of Leishmania major to glucantime® by 2-dimensional electrophoresis. Iranian Journal of Parasitology. 10(1): 19-29.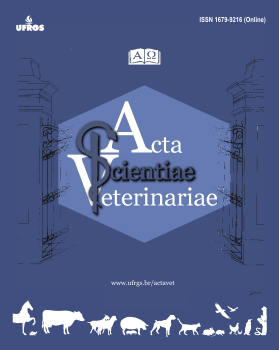 How to Cite
Dower, N. M. B., Amorim, T. M., Ribeiro, A. P., Dias, Álvaro F. de L. R., & Sousa, V. R. F. (2020). Severe Corneal Edema in a Dog Naturally Infected by Leishmania spp. Acta Scientiae Veterinariae, 48. https://doi.org/10.22456/1679-9216.101128
License
This journal provides open access to all of its content on the principle that making research freely available to the public supports a greater global exchange of knowledge. Such access is associated with increased readership and increased citation of an author's work. For more information on this approach, see the Public Knowledge Project and Directory of Open Access Journals.
We define open access journals as journals that use a funding model that does not charge readers or their institutions for access. From the BOAI definition of "open access" we take the right of users to "read, download, copy, distribute, print, search, or link to the full texts of these articles" as mandatory for a journal to be included in the directory.
La Red y Portal Iberoamericano de Revistas Científicas de Veterinaria de Libre Acceso reúne a las principales publicaciones científicas editadas en España, Portugal, Latino América y otros países del ámbito latino