Accidental Closantel Poisoning in Sheep in the State of Rio Grande do Sul - Brazil
Abstract
Background: Verminosis is one of the major health problems in sheep flocks, and is one of the main causes of death in sheep worldwide. Closantel is an antiparasitic drug commonly used in sheep; however, its safety margin is narrow, and this drug may induce intoxication in animals submitted to high doses. Lesions occur mainly in the eyes, and are characterized by edema and compression of the optic nerve, retinopathy, and severe degeneration of ganglia cells. Clinical signs are pupil dilation, which often lead to permanent blindness. This work aims to report an outbreak of sheep mortality due to closantel intoxication, associated with inadequate anthelmintic administration practices.
Case: An on-site visit was conducted to a sheep farm, located in the municipality of Osório, Rio Grande do Sul (RS), in which high mortality was reported. The flock consisted of approximately 300 Texel sheep, managed in an extensive grazing system. Lambs and adult animals were affected. According to the information provided by the farm owner, many animals presented clinical signs of haemonchosis, and a closantel dose of 20 mg / lamb was administered in all sheep, regardless of body weight. Lambs weighted on average 13 kg. After closantel administration, several sheep presented neurologic signs and died.  At the clinical examination, sheep presented pallor of ocular mucous membranes, as well as submandibular edema.  Also, 20 lambs showed signs of blindness, disorientation and bumping into objects, as well as hypothermia and lack of response to the menace reflex. Three 30 to 45-day-old male lambs that died spontaneously were submitted for necropsy. Grossly, only mild ascites was noted. Histopathological examination of the retina showed degeneration and fragmentation of photoreceptor layer as well as depletion of the inner nuclear layer, associated with pyknosis and karyorrhexis. There was also a reduction in the number of ganglia cells in the ganglion cell layer and atrophy and vacuolization in the outer plexiform layer. In the optic nerve, multifocal mild to moderate vacuolization was observed.  Diffuse perineural and perivascular edema were observed in the brain, predominantly in the grey matter. In the encephalon of one of the lambs, multifocal vacuolization was observed, which was also evidenced at the junction of the white and gray matter of the telencephalon, and in the white matter of the cerebellum. In the trigeminal ganglia, moderate multifocal vacuolization was noted in the perikaryon of neurons. Furthermore, the spinal cord had moderate multifocal vacuolization at the junction of white and gray matter.
Discussion: The diagnosis of closantel intoxication in sheep was based on the clinical history and histopathological findings. The association of these data is crucial to suspect and confirm the diagnosis of this type of intoxication. Closantel is an anthelmintic drug widely used in sheep, and in correct doses may be very effective, but when used in doses higher than recommended may lead to irreversible lesions.  The optical damage is derived from edema which leads to degeneration of ganglia cells and injury to the optic nerve. Another proposed mechanism is related to optic nerve compression causing rupture and edema of retinal structures. Lesions tend to be dose related, and poisoning usually occurs when treating groups of animals based on the weight of the heaviest animal. Clinical signs of blindness and pupil dilatation are usually seen. There is no effective treatment for reversion of this condition; therefore, prevention based on correct calculation of anthelmintic dose is pivotal. The epidemiological examination, clinical signs and anatomopathological examination were extremely important to make the final diagnosis of this intoxication. 
Downloads
Download data is not yet available.
References
Amarante A.F.T. & Sales R.O. 2007. Controle de Endoparasitoses dos ovinos: Uma Revisão. Revista Brasileira de Higiene e Sanidade Animal. 1(2): 14-36.
Amarante A.F.T. 2014. Classe Nematoda. In: Os parasitas de ovinos [online]. São Paulo: Editora UNESP, pp.13-97.
Andrade S.F. & Santarém V.A. 2002. Endoparasitida e ectoparasitida. In: Manual de Terapêutica Veterinária. 2.ed. São Paulo: Roca, pp.469-470.
Borges C.C.L. 2003. Atividade in vitro de anti-helmínticos sobre larvas infectantes de nematódeos gastrintestinais de caprinos, utilizando a técnica de coprocultura quantitativa (Ueno, 1995). Parasitologia Latinoamericana. 58: 142-147.
Charles T.P. 1989. Seasonal prevalence of nematodes of goats in Pernambuco State, Brazil. Veterinary Parasitology. 30: 335-343.
Ecco R., Gava A. & Graça D.L. 1999. Intoxicação por closantel em caprinos: relato de caso. In: Anais do 9o Encontro Nacional de Patologia Veterinária (Belo Horizonte, Brasil). p.91.
Ecco R., Barros C.S.L. & Graça D.L. 2008. Alterações oftálmicas associadas à intoxicação experimental por closantel em caprinos. Arquivo Brasileiro de Medicina Veterinária e Zootecnia, 60: 42-50.
Echevarria F.A.M., Pinheiro A.C. & Corrêa M.B.C. 1988. Alternativas para o controle da verminose ovina no Rio Grande do Sul. Comunicado Técnico do Centro Nacional de Pesquisa de Ovinos da EMBRAPA. 8: 6p.
Furlan F.H., Lucioli J., Borelli V., Fonteque J.H., Stolf L. Traverso S.D. & Gava A. 2009. Intoxicação por closantel em ovinos e caprinos no Estado de Santa Catarina. Pesquisa Veterinária Brasileira. 29(1): 89-93.
Gill P.A., Cook R.W. & Boulton J.G. 1999. Optic neuropathy in closantel toxi¬cosis of sheep and goats. Australian Veterinary Journal. 77: 259-261.
Hannon F.P., Ellis K.A., Guevar J., Marchesi F., Geraghty T. & Geleach J.D. 2014. Closantel toxicity in a pregnant ewe at mid gestation: the pathological evaluation of the ewe and lamb nine months later. Veterinary Record Case Reports. 2(1): e000113.
Hirono I., Ito M., Yagyu S., Haga M., Wakamatsu K., Kishikawa T., Nishikawa O., Yamada K., Ojika M. & Kigoshi H. 1993. Reproduction of progressive retinal degeneration (bright blindness) in sheep by administration of Ptaquiloside contained in bracken. Journal of Veterinary Medical Science. 55: 973-983.
Molento M.B. 2005. Avanços no diagnóstico e controle das helmintoses em caprinos. In: I Simpósio Paulista de Caprinocultura (SIMPAC). Jaboticabal: Multipress, pp.101-110.
Ramos C.I., Bellato V., Ávilla V.S., Coutinho G.C. & Souza A.P. 2002. Resistência de parasitos gastrointestinais de ovinos a alguns anti-helmínticos no Estado de Santa Catarina, Brasil. Ciência Rural. 32(3): 473-477.
Ribeiro L.A.O. 1988. Atualidades na profilaxia das enfermidades infecciosas dos ovinos. In: Anais do 1o Simpósio Paulista de Ovinocultura (Botucatu, Brasil). Campinas: Fundação Cargill, p.143.
Riet-Correa F. 2007. Intoxicação por closantel. In: Schild A.L., Lemos R.A.A. & Borges J.R. (Eds). Doenças de Ruminantes e Equídeos. Santa Maria: Pallotti, pp.60-62.
Rivero R., Matto C., Soares M.P. & Adrien M.D.L. 2015. Accidental and experimental Closantel intoxication in Uruguayan sheep. Pesquisa Veterinária Brasileira. 35(7): 599-604.
Urquhart G.M., Armour J., Duncan J.L., Dunn A.M. & Jennings F.W. 1998. Parasitologia Veterinária. Rio de Janeiro: Guanabara Koogan, 273p.
Van der Lugt J.J. & Venter I. 2007. Myelin vacuolation, optic neuropathy and retinal degeneration after closantel overdosage in sheep and in a goat. Journal of Comparative Pathology. 136(2-3): 87-95.
Whittington R.J., Searson J.E. & Whittaker S.J. 1988. Blindness in goats fol¬lowing ingestion of Stypandra glauca. Australian Veterinary Journal. 65(6): 176-181.
Yamamoto S.M., Macedo F.A.F., Zundt A.M., Sakaguti E.S., Rocha G.B.L., Regaçoni K.C.T. & Macedo R.M.G. 2005. Fontes de óleo vegetal na dieta de cordeiros em confinamento. Revista Brasileira de Zootecnia. 34(2): 703-710.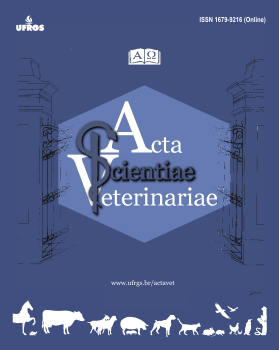 How to Cite
Blanco Pohl, C., Lorenzett, M. P., Santana de Cecco, B., Henker, L. C., Panziera, W., & Driemeier, D. (2020). Accidental Closantel Poisoning in Sheep in the State of Rio Grande do Sul - Brazil. Acta Scientiae Veterinariae, 48. https://doi.org/10.22456/1679-9216.101078
License
This journal provides open access to all of its content on the principle that making research freely available to the public supports a greater global exchange of knowledge. Such access is associated with increased readership and increased citation of an author's work. For more information on this approach, see the Public Knowledge Project and Directory of Open Access Journals.
We define open access journals as journals that use a funding model that does not charge readers or their institutions for access. From the BOAI definition of "open access" we take the right of users to "read, download, copy, distribute, print, search, or link to the full texts of these articles" as mandatory for a journal to be included in the directory.
La Red y Portal Iberoamericano de Revistas Científicas de Veterinaria de Libre Acceso reúne a las principales publicaciones científicas editadas en España, Portugal, Latino América y otros países del ámbito latino