Partial Obstruction and Intestinal Bleeding Secondary to a Congenital Duodenal Diverticulum in a Dog
Abstract
Background: Intestinal diverticulum is an abnormality resulting in the formation of a blind-ended saccular pouch that can be acquired either congenital, true (involving all intestinal layers) or false (involving the mucosa and submucosa), with extraluminal and intraluminal type. In humans, the acquired is more frequent, being the colon is the most affected segment followed by duodenum; most of duodenal diverticulum remains asymptomatic, but biliary obstruction, recurrent acute pancreatitis, hemorrhagic ulcer, proximal intestinal obstruction and perforation may occur. The aim of this report is to present a case of a congenital disease in dogs, prone to misdiagnosis due to non-specific clinical signs.
Case: An 8-month-old male Boxer was evaluated due to recurrent hyporexia, vomiting, melena and syncope over three months with signs of a possible intestinal obstruction. Physical examination showed no abnormalities except for pale mucous membranes. Complete blood count revealed anemia and leukocytosis. Platelets and biochemical profiles were normal. Abdominal ultrasound examination indicated a dilated duodenum, measuring approximately 3.36 cm in diameter, with heterogeneous fluid content and hyperechogenic structures with acoustic shadow, peristalsis appeared decreased and non-progressive. The gastrointestinal positive contrast study was performed to better evaluate abnormalities detected at ultrasonography. Images after 30 m of contrast administration demonstrated a marked distension of the duodenum, filled with contrast and a mildly filled stomach displaced to the left. Sixty min after contrast administration a marked distension of the entire duodenum, with tortuous aspect and filled with contrast was seen. The caudal duodenal flexure was connected to a large barium filled saccular structure that measured approximately 7 cm in diameter, consistent with a duodenal diverticulum. A blood transfusion was performed and surgical treatment indicated. The diverticulum and a small portion of the caudal duodenal segment were resected, an end-side enteroanastomosis was made due to the difference in diameter between intestinal segments. The patient was medicated with sucralfate (12.5 mg/kg), ranitidine (2 mg/kg), metronidazole (25 mg/kg), dipyrone (25 mg/kg) and, tramadol (2 mg/kg) and recovered quickly from surgery. Histopathological examination characterized the diverticular tissue as a true diverticulum by the presence of all intestinal layers. Post-operative and follow-up evaluations showed no recurrence of clinical signs.
Discussion: In veterinary practice, congenital duodenal diverticulum is a rare condition documented in dogs, curiously all Boxers None of the reported cases in literature had the diagnostic of duodenal diverticulum made exclusively by ultrasonography. Other diagnostic imaging modalities, such as gastrointestinal barium study or endoscopy, were necessary. In one case a diagnostic was made during exploratory laparotomy. The marked dilatation of the duodenal segment impaired ultrasound evaluation, allowing recognition of an obstructive pattern, not the diverticulum itself. At histopathological examination, the diverticular tissue was characterized by a thickened wall with a hypertrophied muscle layer, characterizing a true duodenal diverticulum. The location, breed and age of the dogs affected with duodenal diverticulum was similar in all veterinary cases reported. Dogs presenting signs of gastrointestinal disease and abdominal pain are common in patients referred to ultrasound examination. However, despite the rare reports described, we must consider this affection as a differential diagnosis, whenever boxer puppies present these clinical signs associated with gastrointestinal bleeding and syncope.
Downloads
Download data is not yet available.
References
Angus L., Larson B., Egodage T. & Raju S.G. 2013. Traumatic blow out of a duodenal diverticulum: a rare clinical finding. Injury Extra. 44(10-12): 95-98.
Bittle M.M., Gunn M.L., Gross J.A. & Rohrmann C.A. 2012. Imaging of duodenal diverticula and their complications. Current Problems in Diagnostic Radiology. 41(1): 20-29.
Blesch M., Livet V., Cabom Q. & Cachon T. 2016. Obstruction intestinale par un corps étranger au sein d'un diverticule duodénal chez un chiot Boxer. Revue de Médecine Vétérinaire. 167(3-4): 71-76.
Buote N.J., Kovak J.R., Fischetti A.J. & Monette S. 2007. What is your diagnosis? Mineralized-opaque-rimmed soft tissue mass in the right caudoventral portion of the abdomen. Journal of American Veterinary Medical Association. 231(4): 527-528.
Chambenois E., Derhy S. & Arrive L. 2015. Intraluminal duodenal diverticulum. A rare cause of recurrent acute pancreatitis. Clinics and Research in Hepatology and Gastroenterology. 39(3): 278-279.
Eusebio M., Ramos A. & Guerreiro H. 2016. Intraluminal duodenal (windsock) diverticulum: a rare cause of gastrointestinal bleeding. Portuguese Journal of Gastroenterology. 23(2): 113-115.
Glener J., Poris S., Foles B. & Harmon R. 2016. Perforated duodenal diverticulum case report. International Journal of Surgery Case Reports. 29: 100-102.
Kassir R., Boueil-Bourlier A., Baccot S., Abboud K., Dubois J., Petcu C.A., Boutet C., Chevalier U., Montveneur M., Cano M.I., Ferreira R., Debs T. & Tiffet O. 2015. Jejuno-ileal diverticulitis: etiopathogenicity, diagnosis and management. International Journal of Surgery Case Reports. 10: 151-153.
Mehrjerdi H.K., Mirshahi A. & Afkhami A. 2013. Rectal diverticulum in a Terrier dog: a case report. Veterinary Research Forum. 4(1): 63-67.
Penades M., Guerrero I., Peña A.B. & Corpa J.M. 2010. Duodenal gland cysts and pseudodiverticula in sheep. Journal of Veterinary Diagnostic Investigation. 22(4): 649-651.
Peng H.L., Su C.T., Chang C.Y. & Lau B.H. 2014. Intraluminal duodenal diverticulum in a child concomitant with an entrapped coin and a duodenal polyp. Formosan Journal of Surgery. 47(6): 236-239.
Perrot T., Poletti P.A., Becker C.D. & Platon A. 2012. The complicated duodenal diverticulum: retrospective analysis of 11 cases. Clinical Imaging. 36(4): 287-294.
Polf H. & Poteet B. 2010. Imaging diagnosis - duodenal diverticulum in a dog. Veterinary Radiology & Ultrasound. 51(1): 61-64.
Schroeder T.C., Hartman M., Heller M., Klepchick P. & Ilkhanipour K. 2014. Duodenal diverticula: potential complications and common imaging pitfalls. Clinical Radiology. 69(10): 1072-1076.
Simôes V.C., Santos B., Magalhães S., Faria G., Silva D.S. & Davide J. 2014. Perforated duodenal diverticulum: surgical treatment and literature review. International Journal of Surgery Case Report. 5(8): 547-550.
Van Klaveren N.J., Grinwis G.C.M., Brocks B.A.W. & Kirpensteijn J. 2008. Collapse following gastrointestinal bleeding secondary to a congenital duodenal diverticulum in two littermate boxer pups. Journal of Small Animal Practice. 49(2): 103-106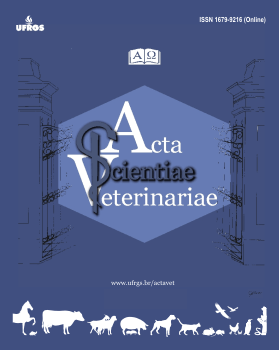 How to Cite
Lorigados, C. A. B., Zoppa, A. M., Schiller, A., Tiburcio, I., Calderon, F. G., & Pantano, M. (2021). Partial Obstruction and Intestinal Bleeding Secondary to a Congenital Duodenal Diverticulum in a Dog. Acta Scientiae Veterinariae, 49. https://doi.org/10.22456/1679-9216.100991
License
This journal provides open access to all of its content on the principle that making research freely available to the public supports a greater global exchange of knowledge. Such access is associated with increased readership and increased citation of an author's work. For more information on this approach, see the Public Knowledge Project and Directory of Open Access Journals.
We define open access journals as journals that use a funding model that does not charge readers or their institutions for access. From the BOAI definition of "open access" we take the right of users to "read, download, copy, distribute, print, search, or link to the full texts of these articles" as mandatory for a journal to be included in the directory.
La Red y Portal Iberoamericano de Revistas Científicas de Veterinaria de Libre Acceso reúne a las principales publicaciones científicas editadas en España, Portugal, Latino América y otros países del ámbito latino