Non-Cardiogenic Thromboembolism in a Persian Cat with Hypertrophic Cardiomyopathy
Abstract
Background: Hypertrophic cardiomyopathy is the most common acquired cardiovascular disease in the feline species. A frequent complication of this cardiomyopathy is the development of cardiac congestive failure, left atrial enlargement and subsequent development of arterial thromboembolism. In a significant percentage of affected animals there is progression to congestive heart failure, resulting in cyanosis and dyspnea, often the first clinical signs reported by owners. This is a report of a 10-year-old Persian cat with hypertrophic cardiomyopathy and venous and arterial thromboembolism of non-cardiogenic origin.
Case: The patient was referred for cardiac evaluation, arterial thromboembolism was the suspected cause of tetraparesis. On clinical examination, a metacarpal pulse was present in all limbs; there was no cyanosis or peripheral hypothermia thus, ruling out a thromboembolic event in the limbs. Changes consistent with feline asthma and pulmonary edema were seen on radiographs, therefore hypertrophic cardiomyopathy was suspected. Treatment with enalapril (0.25 mg/kg every 12 h) for the heart condition and prednisolone (1 mg/kg every 24 h) for asthma was started. Nine days later, the patient developed mixed dyspnea (inspiratory and expiratory) and was hospitalized with signs consistent with arterial thromboembolism: paralysis and cold extremities in the right and left pelvic limbs. The patient was euthanized due to the poor prognosis. Post mortem and histopathological findings revealed left ventricular concentric hypertrophy, with no valvular changes; disseminated intravascular coagulation, with thrombi in the arterial (iliac arteries, pancreatic and renal vessels) and venous (pulmonary and renal veins) beds; as well as multiple neoplastic lung masses, identified as scirrhous pulmonary adenocarcinoma, responsible for increased interstitial radiopacity. Metastasis was also identified at the tracheal bifurcation, causing radiographic changes similar to the alveolar pattern of pulmonary edema.
Discussion: The origin of the concentric left ventricular hypertrophy was not established. Both primary hypertrophy, due to breed-related genetic predisposition or secondary hypertrophy, due to systemic hypertension from chronic kidney disease are possibilities. However, despite the left ventricular concentric hypertrophy and the presence of thrombus under the mitral valve, it was not thought that the patient had cardiogenic thromboembolism, since this would not explain the venous thrombi. The arterial and venous thromboembolism in this case were the result of paraneoplastic syndrome due to pulmonary adenocarcinoma, which was a triggering factor for disseminated intravascular coagulation and multiple thrombus formation, both in arterial and venous beds. Tumor cells may promote direct and indirect modifications in the coagulation cascade and, thus hypercoagulability. The hypercoagulatory state promoted by the tumor associated with the Virchow triad seen in feline species, explains the occurrence of thrombosis in this case report. Sensitive imaging tests, such as computed tomography or magnetic resonance imaging, may be required in middle-aged cats with hypertrophic cardiomyopathy and clinical presentations of thromboembolism or respiratory signs, in order to exclude pulmonary neoplasm as a differential diagnosis for thrombus formation and dyspnea. Furthermore, it is speculated that the antitumor effect of heparin used in the treatment for arterial thromboembolism may delay the diagnosis of lung neoplasia in cats.
Downloads
Download data is not yet available.
References
Abbott J.A. 2010. Feline hypertrophic cardiomyopathy: an update. Veterinary Clinics of North America - Small Animal Practice. 40(4): 685-700.
Acierno M.J., Brown S., Coleman A.E., Jepson R.E., Papich M., Stepien R.L. & Syme H.M. 2018. ACVIM consensus statement: Guidelines for the identification, evaluation, and management of systemic hypertension in dogs and cats. Journal of Veterinary Internal Medicine. 32(6): 1803-1822.
Bergman P.J. 2007. Paraneoplastic syndromes. In: Whitrow S.J. & Vail D.M (Eds). Whitrow & MacEwen's Small Animal Clinical Oncology. 4th edn. St Louis: Saunders Elsevier, pp.77-93.
Biasato I., Francescone L., La Rosa G. & Tursi M. 2015. Anatomopathological staging of feline hypertrophic cardiomyopathy through quantitative evaluation based on morphometric and histopathological data. Research in Veterinary Science. 102: 136-141.
Borgeat K., Wright J., Garrod O., Payne J.R & Fuentes V.L. 2014. Arterial thromboembolism in 250 Cats in general practice: 2004-2012. Journal of Veterinary Internal Medicine. 28(1): 102-108.
Carney H.C., Ward C.R., Bailey S.J., Bruyette D., Dennis S., Ferguson D., Hinc A. & Rucinsky A.R.. 2016. AAFP Guidelines for the management of feline hyperthyroidism. Journal of Feline Medicine and Surgery. 18(5): 400-416.
Ferasin L., Sturgess C.P., Cannon M.J., Caney S.M.A., Gruffydd-Jones T.J. & Wotton P.R. 2003. Feline idiopathic cardiomyopathy: A retrospective study of 106 cats (1994-2001). Journal of Feline Medicine and Surgery. 5(3): 151-159.
Fox P.R. & Schober K.A. 2015. Management of asymptomatic (occult) feline cardiomyopathy: challenges and realities. Journal of Veterinary Cardiology. (17): S150-S158.
Fox P.R. 2003. Hypertrophyc cardiomiopathy. Clinical and Pathologic Correlates. Journal of Veterinary Cardiology. 5(2): 39-45.
Franchini K.K.G. 2001. Hipertrofia cardíaca: mecanismos moleculares. Revista Brasileira de Hipertensão. 8(1): 125-142.
Hogan D.F. 2017. Feline Cardiogenic Arterial Thromboembolism: Prevention and Therapy. Veterinary Clinics of North America - Small Animal Practice. 47(5): 1065-1082.
Hogan D.F., Dhaliwal R., Sisson D. & Kitchell B. 1999. Paraneoplastic thrombocytosis-induced systemic thromboembolism in a cat. Journal of the American Animal Hospital Association. 35(6): 483-486.
Hurty C.A. 2005. Feline Acromegaly: a review of the syndrome. Journal of the Americal Animal Hospital Association. (41): 292-297
International Renal Interest Society. 2017. IRIS Staging of CKD (modified 2017). [Fonte:<http://www.iriskidney.com/pdf/IRIS_2017_Staging_of_CKD_09May18.pdf>].
Kim J.Y., Al-Hilal T.A., Chung S.W., Kim S.Y., Ryu G.H., Son W.C. & Byun Y. 2015. Antiangiogenic and anticancer effect of an orally active low molecular weight heparin conjugates and its application to lung cancer chemoprevention. Journal of Controlled Release. 199: 122-131.
Laste N.J. & Harpster N.K. 1993. A retrospective study of 100 cases of feline distal aortic thromboembolism: 1977-1993. Journal of American Animal Hospital Association. (31): 492-500.
Lesser M., Fox P.R. & Bond B.R. 1992. Assessment of hypertension in 40 cats with left ventricular hypertrophy by Doppler‐shift sphygmomanometry. Journal of Small Animal Practice. 33(2): 55-58.
Liu S.K., Maron B.J. & Tilley L.P. 1981. Feline hypertrophic cardiomyopathy: gross anatomic and quantitative histologic features. The American Journal of Pathology. 102(3): 388-395.
Lunsford K.V. & Mackin A.J. 2007. Thromboembolic Therapies in Dogs and Cats: An Evidence-Based Approach. Veterinary Clinics of North America - Small Animal Practice. 37(3): 579-609.
Marinho F.C.A. & Takagaki T.Y. 2008. Artigo de revisão: Hipercoagulabilidade e câncer de pulmão. Jornal Brasileiro de Pneumologia. 34(5): 312-322.
Martin L., VandeWoide S., Boon J. & Brown D. 1994. Left ventricular hypertrophy in a closed colony of Persian cats. Journal of Veterinary Internal Medicine. (8):143.
Meurs K.M., Norgard M.M., Kuan M., Haggstrom J. & Kittleson M. 2009. Analysis of 8 sarcomeric candidate genes for feline hypertrophic cardiomyopathy mutations in cats with hypertrophic cardiomyopathy. Journal of Veterinary Internal Medicine. 23: 840-843.
Moore K.E., Morris N., Dhupa N., Murtaugh R.J. & Rush J.E. 2000. Retrospective study of streptokinase administration in 46 cats with arterial thromboembolism. Journal of Veterinary Emergency and Critical Care. 10(4): 245-257.
Pellegrino A. & Daniel A.G.T. 2011. Cardiomiopatia hipertrófica em felinos - aspectos diagnósticos e terapêuticos. Vets Today. 11:1-3.
Reina-doreste Y., Stern J.A., Keene B.W., Atkins C., Defrancesco T.C, Ames M.K, Hodge T.E. & Meurs K.M. 2014. Effects of Pimobendan on survival time in cats with hypertrophic cardiomyophathy and congestive heart failure. Scientific Reports. 245(5): 534-539.
Ross L. 1992. Hypertension and chronic renal failure. Seminars in Veterinary Medicine and Surgery (Small Animal). 7(3): 221-226.
Sampedrano C.C., Chetboul V., Gouni V., Nicolle A.P., Pouchelon J.L. & Tissier R. 2006. Systolic and Diastolic Myocardial Dysfunction in Cats with Hypertrophic Cardiomyopathy or Systemic Hypertension. Journal of Veterinary Internal Medicine. 20(5): 1106-1115.
Smith S.A. & Tobias A.H. 2004. Feline arterial thromboembolism: An update. Veterinary Clinics Small Animal Practice. 34(5):1245-1271.
Smith S.A., Tobias A.H., Jacob K.A., Fine D.M. & Grumbles P.L. 2003. Arterial Thromboembolism in Cats: Acute Crisis in 127 Cases (1992-2001) and Long-Term Management with Low-Dose Aspirin in 24 Cases. Journal of Veterinary Internal Medicine. 17(1): 73-83.
Sousa M.G., Paulo J., Pascon E., De Brum A.M., Santos P.A.C. & Camacho A.A. 2007. Severe aortic stenosis in a Persian kitten. Revista Portuguesa de Ciências Veterinárias. 103(567-568): 229-232.
Spalla I., Locatelli C., Riscazzi G., Santagostino S., Cremasch E. & Brambilla P. 2016. Survival in cats with primary and secondary cardiomyopathies. Journal of Feline Medicine and Surgery. 18(6): 501-509.
Spalla I., Payne J.R., Borgeat K., Luis Fuentes V. & Connolly D.J. 2017. Prognostic value of mitral annular systolic plane excursion and tricuspid annular plane systolic excursion in cats with hypertrophic cardiomyopathy. Journal of Veterinary Cardiology. 20(3): 154-164.
Stiles J., Polzin D.J.& Bistner S.I. 1994. The prevalence of retinopathy in cats with systemic hypertension and chronic renal failure or hyperthyroidism. Journal of the American Animal Hospital Association. (30): 564-572.
Saavedra P.V., García A.L., López S.Z. & Couto G. 2011. Hemostatic abnormalities in dogs with carcinoma: A thromboelastographic characterization of hypercoagulability. Veterinary Journal. 190(2): 78-83.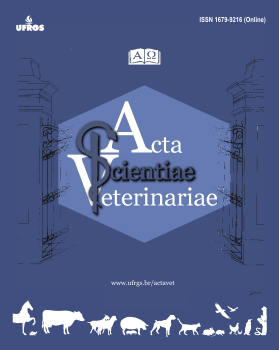 How to Cite
Fontoura Mateus, N. L., Velozo Leal, P., Candolo Marques, B., da Silva, K. F., Mattei, D. R., & Carvalho, E. R. (2020). Non-Cardiogenic Thromboembolism in a Persian Cat with Hypertrophic Cardiomyopathy. Acta Scientiae Veterinariae, 48. https://doi.org/10.22456/1679-9216.100519
License
This journal provides open access to all of its content on the principle that making research freely available to the public supports a greater global exchange of knowledge. Such access is associated with increased readership and increased citation of an author's work. For more information on this approach, see the Public Knowledge Project and Directory of Open Access Journals.
We define open access journals as journals that use a funding model that does not charge readers or their institutions for access. From the BOAI definition of "open access" we take the right of users to "read, download, copy, distribute, print, search, or link to the full texts of these articles" as mandatory for a journal to be included in the directory.
La Red y Portal Iberoamericano de Revistas Científicas de Veterinaria de Libre Acceso reúne a las principales publicaciones científicas editadas en España, Portugal, Latino América y otros países del ámbito latino