DEFENSE EXPENDITURE AND STRATEGIC CAPABILITIES: DISSIMILARITIES AMONG SOUTH AMERICAN COUNTRIES
Keywords:
Defense Economics, South America, Defense Capabilities, Defense Expenditure.
Abstract
We take into account that interpretations of security complexes, traditions of long peace, and violent peace do not fully explain how South American countries are organized regarding Defense. Given those, we ran a cluster analysis with data from the Stockholm International Peace Research Institute (SIPRI) and Military Balance report with economic defense expenditure and capabilities investment from South American countries to identify how they are organized, determining those that are most similar to each other (which would form complexes) and how they differ from the others (dissimilarities). The results showed four different clusters: the first formed by Chile, Peru, Argentina, and Bolivia; the second by Brazil, Colombia, Ecuador and Paraguay; the third only by the Guyana; and the fourth, formed only by Uruguay. We interpreted these clusters considering the history of conflicts, current countries threats and treaties.
Downloads
Download data is not yet available.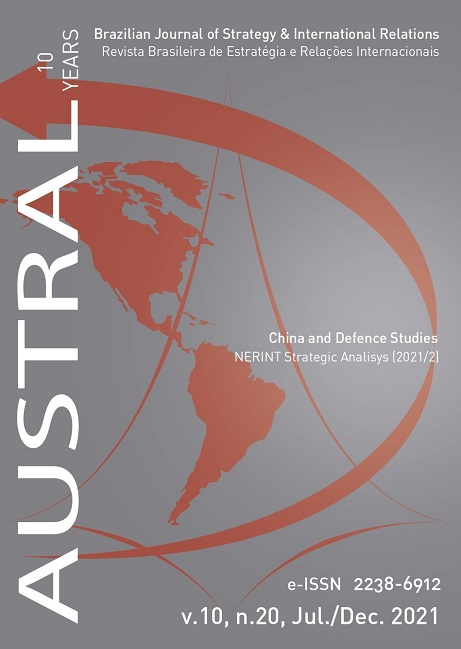 Downloads
How to Cite
Neves, A. N., & Franchi, T. (2022). DEFENSE EXPENDITURE AND STRATEGIC CAPABILITIES: DISSIMILARITIES AMONG SOUTH AMERICAN COUNTRIES. AUSTRAL: Brazilian Journal of Strategy &Amp; International Relations, 10(20). https://doi.org/10.22456/2238-6912.118036