Corneal Stromal Abscess in a Dog
Abstract
ABSTRACT
Background: The eye is an important sense organ responsible for sight. The cornea is the outermost of many eye layers, being predisposed to several lesions, some of them being frequent in small animal clinics meanwhile others are unusual and seldom reported in specialized literature. The stroma abscess is a common condition in horses, but atypical in dogs, it's a condition in which a microperforation in the corneal epithelium allows microorganisms or a foreign body to penetrate the corneal stroma, and those become inside the cornea after a re-epithelialization, producing an intense inflammatory response. Therefore, this case reports a case of deep stromal abscess in a Shih Tzu dog.
Case: A 4-year-old female Shih Tzu, weighing 4.6 kg, was submitted to ophthalmic examination in which the left eye presented an opaque yellowish-white protruding structure located on the right side, in the center of the cornea (3 o´clock position), bulbar and palpebral conjunctival hyperemia and congestion, chemosis, blepharospasm, and a moderate amount of mucous discharge. The clinical diagnosis was stromal abscess with reflex uveitis. A differential diagnosis should include conditions affecting the anterior part of the cornea, such as an epithelial inclusion cyst and a corneal ulcer. The inclusion cyst, contrarily to the corneal abscess, doesn't cause pain, meanwhile, the corneal ulcer was ruled out by the Fluorescein Staining Test. The recommended treatment was surgical, through lamellar keratectomy, followed by overlapping pedicled conjunctival graft and third eyelid flap. In association with the surgical treatment, oral antibiotics, anti-inflammatory, and opioids, plus topical antibiotics and autologous serum eye drop. Seventy days post-surgery, the previously observed inflammatory signs were no longer present. In the conjunctival graft insertion site perpetuated a scar leucoma with few blood vessels. The therapy was proven effective in solving the stromal abscess and in visual maintenance. Despite the located opacity due to leucoma, it barely causes any impairment, once its lateral position won't impact the central vision, which is more important to predator species than the peripheral vision.
Discussion: Stromal abscess is a pathological condition in which an initial perforating corneal injury leads to a rupture of the epithelial barrier, allowing the access of bacterial, fungus, or foreign bodies of organic nature. The morbidity is more frequent in horses, but this report shows that although uncommon, stromal abscesses can occur in dogs. The diagnosis was achieved by an analysis of the clinical history and findings. Conditions that affect the anterior cornea must be among differential diagnoses. Treatment aims for the removal of infectious material with debridement and curetting of the stroma, by performing the lamellar keratoplasty technique, which produces a corneal wound. The implementation of a pedicled conjunctival graft allows, the influx of growth factors, active replication of stromal collagen by fibroblasts, and direct arrival of antibiotics through the blood supply to the exposed portion of the cornea.  The third eyelid flap is questioned by some authors, once it complicates the post-op follow up, and hinder the topical therapy from directly reaching the eye surface. Autologous serum: A blood-derived product often used to control corneal melting. The Federal Medicine Board determined that autologous serum eyedrops therapy has been scientifically proven effective, being used worldwide in the treatment of severe eye surface conditions. In Veterinary, studies also demonstrated that autologous serum can improve improve the corneal re-epithelialization in dogs.   
Keywords: autologous serum, keratectomy, ophthalmology, veterinary.
Título: Abscesso estromal em córnea de cão
Descritores: soro autólogo, ceratectomia, oftalmologia, veterinária.
Downloads
Download data is not yet available.
References
REFERENCES
Amorim T.M., Ribeiro, A.P., Ruiz T., Dower N.M.B., Madruga G., Schroder D.C., Monteiro G.B. & Rodrigues B.E. 2018. Impacto do grau de uveíte em diferentes tipos de úlceras de córneas em cães submetidos ao enxerto pediculado de conjuntiva bulbar - 34 casos. Arquivo Brasileiro de Medicina Veterinária e Zootecnia. 70(4): 1233-1239. DOI: 10.1590/1678-4162-9290.
Balland O., Poinsard A., Famose F., Goulle F. & Isard P.F. 2016. Use of a porcine urinary bladder acellular matrix for corneal reconstruction in dogs and cats. Veterinary Ophthalmology. 19(6): 454-463.
Braga F.V.A., Pippi N.L., Gomes K., Weiss., Flores F., Dalmolin F., Severo D., Krauspenhar L. & Leotte A. 2004. Ceratoplastia com enxerto autógeno lamelar livre de córnea e pediculado de conjuntiva fixados com adesivo de cianoacrilato em cães. Ciência Rural. 34(4): 1119-1126.
Brooks D.E., Matthews A. & Clode A.B. 2017. Diseases of the cornea. In: Gilger B.C. (Ed). Equine Ophthalmology. 3rd edn. Hoboken: John Wiley & Sons, pp.252-355.
Colville T. 2010. Órgãos dos sentidos. In: Colville T. & Bassert J.M. (Eds). Anatomia e Fisiologia Clínica para Medicina Veterinária. 2.ed. Rio de Janeiro: Elsevier Editora Ltda, pp.713-732.
CFM - Conselho Federal de Medicina. 2017. Parecer CFM orienta sobre o uso do colírio de soro autólogo. [Fonte:https://sistemas.cfm.org.br/normas/visualizapareceres/BR/2017/40].
Crispin S. 2002. The Cornea. In: Jones S.P. & Crispin S. (Eds). BSAVA Manual of Small Animal Ophthalmology. 2nd edn. Gloucester: British Small Animal Veterinary Association, pp.143-163.
Dulaurent T., Azoulay T., Goulle F., Dulaurent A., Mentek M., Peiffer R.L. & Isard P.F. 2014. Use of bovine pericardium (Tutopatch®) graft for surgical repair of deep melting corneal ulcers in dogs and corneal sequestra in cats. Veterinary Ophthalmology. 17(2): 91-99.
Esson D.W. 2015. Corneal Abscessation. In: Clinical Atlas of Canine and Feline Ophthalmic Diseases. Hoboken: John Wiley & Sons, pp.140-141.
Freire V., Andollo N., Etxebarria J.M.D., Hernáez-Moya R., Durán J.A. & Morales M.C. 2014. Corneal wound healing promoted by 3 blood derivatives: an in vitro and in vivo comparative study. Cornea: The Journal of Cornea and external Disease. 33(6): 614-620. DOI: 10.1097/ICO.0000000000000109.
Gadallah S., Misk T., Ghaith A., Ahmed E.R. & Zaid A. 2021. Compare the Efficacy of Corneal Healing Between AS and E-PRP Treatment in Dogs. Journal of Current Veterinary Research. 3(1): 93-99.
Gilger B.C. 2014. Equine Ophtalmology. In: Gelatt K.N. (Ed). Essentials of Veterinary Ophthalmology. 3rd edn. Hoboken: John Wiley & Sons, pp.427-428.
Hünning P.S., Rigon G.M., Beheregaray W.K., Presser D., Muccillo M. & Pigatto J.A.T. 2009. Reparação de perfuração ocular em um cão usando pericárdio homólogo preservado em glicerina. Acta Scientiae Veterinariae. 37(2): 195-199.
Ledbetter E.C. & Gilger B.C. Canine Cornea: Diseases and Surgery. In: Gelatt K.N. (ED). Essentials of Veterinary Ophthalmology. 3rd edn. Hoboken: John Wiley & Sons, pp.216-248.
Maggs D. 2013. Slatter's Fundamentals of Veterinary Ophthalmology. 5th edn. St. Louis: Saunders Elsevier, p.198.
Marks D.C., van der Meer P.F. & Biomedical Excellence for Safer Transfusion (BEST) Collaborative. 2017. Serum eye drops: a survey of international production methods. Vox Sanguinis. 112(4): 310-317.
Ofri R. 2008. Vitreous. In: Maggs D. (Ed). Slatter's Fundamentals of Veterinary Ophthalmology. 4th edn. St. Louis: Saunders Elsevier, pp.277-284.
Pontes K.C.S., Borges P.B., Eleotério R.B., Favarato L.S.C. & Duarte T.S. 2011. Processo de reparação de lesões da córnea e a membrana amniótica na oftalmologia. Ciência Rural. 41(12): pp.2120-2127. DOI: /10.1590/S0103-84782011001200014.
Stades F.C., Wyman M., Boevé M.H. & Neumann W. 2010. Cornea and Sclera. In: Ophthalmology for the Veterinary Practitioner. Hannover: Schlütersche, pp.129-155.
Stades F.C. & Woerdt A.V.D. 2021. Diseases and Surgery of the Canine Eyelid. In: Gelatt, K.N., Ben-Shlomo G., Gilger B.C., Hendrix D.V.H., Kern T.J. & Plummer C.E. (Eds). Veterinary Ophthalmology. Hoboken: John Wiley & Sons, p.1104.
Turner S.M. 2010. Deep corneal ulcer. In: Saunders Solutions in Veterinary Practice: Small Animal Ophthalmology. Rio de Janeiro: Elsevier Health Sciences, p.137.
Whitley R.D. & Hamor R.E. 2021. Diseases and Surgery of the Canine Cornea and Sclera. In: Gelatt K.N., Ben-Shlomo G., Gilger B.C., Hendrix D.V.H., Kern T.J. & Plummer C.E. (Eds). Veterinary Ophthalmology. Hoboken: John Wiley & Sons pp.1082-1172 & p.1267.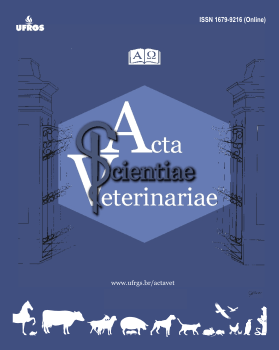 How to Cite
Marinho, K. A. de O., Tavernezi, K. M. T., Alves, B. H., Souza, B. C. de, Silva, C. F., Pereira, G. F., Carvalho, L. M. de, & Júnior, S. T. A. (2022). Corneal Stromal Abscess in a Dog. Acta Scientiae Veterinariae, 50. https://doi.org/10.22456/1679-9216.117612
License
This journal provides open access to all of its content on the principle that making research freely available to the public supports a greater global exchange of knowledge. Such access is associated with increased readership and increased citation of an author's work. For more information on this approach, see the Public Knowledge Project and Directory of Open Access Journals.
We define open access journals as journals that use a funding model that does not charge readers or their institutions for access. From the BOAI definition of "open access" we take the right of users to "read, download, copy, distribute, print, search, or link to the full texts of these articles" as mandatory for a journal to be included in the directory.
La Red y Portal Iberoamericano de Revistas Científicas de Veterinaria de Libre Acceso reúne a las principales publicaciones científicas editadas en España, Portugal, Latino América y otros países del ámbito latino