Reactive Seizures Due to Hyperlipidemia in a Maltese Dog
Abstract
Background: Primary hyperlipidemia is a condition that affects some specific breeds. It has been previously described in Miniature Shnauzer, Beagles, Shetland Shepdog and West Highland White Terrier. There are no reports of primary hyperlipidemia in Maltese dogs. It is a hereditary disorder of lipoprotein metabolism. The etiology is unknown and may be related to a genetic problem in lipoprotein lipase or to the absence of apaprotein CII. Clinical signs include spontaneous arterosclerosis, retinal lipemia, cutaneous xanthomas, abdominal pain, lethargy, vomiting and / or diarrhea. Neurological manifestations such as seizures and behavioral changes may also occur. The aim of this report is to describe a case of reactive seizures due to hyperlipidemia in a dog.

Case: A 5-year-old male Maltese dog was admitted with a history of seizures. Hypertension and abdominal distension with large amounts of intestinal gases were found in general physical examination. Neurological examination revealed impaired nasal septum sensory perception, which was slightly bilaterally reduced, and pain on cervical palpation and in the brachial plexus region. Based on history and clinical examination, it was possible to locate the lesion in the thalamocortical region and to suspect idiopathic epilepsy, reactive seizures, and symptomatic epilepsy due to meningoencephalitis of unknown origin. The diagnosis of primary hyperlipidemia was made by exclusion with the aid of laboratory tests and ultrasound. After the establishment of a fat restriction diet, bezafibrate, phenobarbital, and omega-3 supplementation, the animal improved significantly with the reduction of epileptic seizures.

Discussion: The initial clinical suspicion was hyperadrenocorticism as the primary cause of hyperlipidemia. This suspicion was based on the presence of polyphagia, polydipsia, polyuria and abdominal distension, together with laboratory results of thrombocytosis, increased ALT and AF, and hyposenuria; but ultrasound images and ACTH stimulation test ruled out this differential diagnosis. Hypothyroidism was also ruled out since LDL values were normal and the animal was extremely active. Regarding nephrotic syndrome, it was also excluded for some alterations would be present, such as severe proteinuria, cholesterol reduction and hypoalbuminemia. As for diabetes mellitus, it was discarded because of the dog's young age and due to the absence of suggestive clinical signs. The suspicion of primary hyperlipidemia was based on increased levels of triglycerides, and the presumptive diagnosis was of reactive seizures due to hyperlipidemia. It is essential, when treating hyperlipidemia, to readjust to a low-calorie diet with fat concentration below 8% and protein level above 18%. Generally, these restricted diets are for life. Omega-3 supplementation can be performed to help maintain low levels of triglycerides. Drug therapy is usually carried out with bezafibrate, which is used in human medicine as treatment for hypertriglyceridemia, and has showed good results in the control of hypertriglyceridemia and hypercholesterolemia in dogs with primary and secondary hyperlipidemia. Six months after the beginning of the treatment, the animal no longer presented abdominal distension and pain, cholesterol values and its fractions were controlled, as well as triglycerides. Seizures were also under control. Therefore, hyperlipidemia is an important differential diagnosis in cases of patients presenting seizures, especially when dealing with young animals showing signs of metabolic diseases.
Downloads
Download data is not yet available.
References
Albuquerque P. 2017. Tratamento de hiperlipidemia primária com ácidos graxos e ômega 3 em cães da raça Schnauzer. 107f. São Paulo, SP. Dissertação (Mestrado em Medicina Veterinária e Bem-Estar Animal) - Programa de Pós-Graduação Stricto Sensu em Medicina Veterinária e Bem-Estar Animal, Universidade de Santo Amaro.
Bauer J.E. 1995. Evaluation and dietary considerations in idiopathic hyperlipidemia in dogs. Journal of American Veterinary Medical Association. 206(11): 1684-1688.
Braund K.G. 2003. Endogenous metabolic disorders. In: Vite C.H. (Ed). Braund's Clinical Neurology in Small Animals:Localization, Diagnosis and Treatment. New York: International Veterinary Information Service. Disponível em:
Câmara B.O.S., Viana F.A.B., Ribeiro B.N.T., Ocarino N.M., Nepomuceno A.C. & Serakides R. 2018. Um caso raro de destruição total do pâncreas em cão. Arquivo Brasileiro de Medicina Veterinária e Zootecnia. 70(5): 1655-1659.
Catanozi S. 2015. Dislipidemias. In: Jericó M.M., Andrade Neto J.P. & Kogika M.M. (Eds). Tratado de Medicina Interna de Cães e Gatos. Rio de Janeiro: Roca, pp.1780-1793.
Cavalcante L.F.H., Neuwald E.B., Mello F.P.S., Lacerda L.A., Oliveira S.T., Marques J.M.V. & Pöppl A.G. 2006. Síndrome nefrótica em cão associado a Babesia canis. Acta Scientiae Veterinariae. 34(3): 335-338.
De Marco V. 2015. Abordagem nutricional dos pacientes com hipelipidemia. In: Jericó M.M., Andrade Neto J.P. & Kogika M.M. (Eds). Tratado de Medicina Interna de Cães e Gatos. Rio de Janeiro: Roca, pp.275-276.
De Marco V., Noronha K.S.M., Casado T.C., Nakandakare E.R., Florio J.C., Santos E.Z. & Gilor C. 2017. Therapy of canine hyperlipidemia with bezafibrate. Journal of Veterinary Internal Medicine. 31(3): 717-722.
Everest S., Castilho G. & Gaitero L. 2020. Primary hiperlipidemia with associated ischemic strokes in a West Highland white terrier dog. Canadian Veterinary Journal. 61(10): 1060-1064.
Feldman E.C. 2004. Hiperadrenocorticismo. In: Ettinger S.J. & Feldman E.C. (Eds). Tratado de Medicina Interna Veterinária. 5.ed. Rio de Janeiro: Guanabara Koogan, pp.1539-1568.
Fors S. 2006. Neuromuscular manifestations of hypothyroidism in dogs. Svensk Veterinärtidning. 14: 11-17.
Greco D. S. 2001. Diagnosis and treatment of juvenile endócrine disorders in puppies and kittens. Veterinary Clinics of North America: Small Animal Practice. 31(2): 401-409.
Johnson M.C. 2005. Hyperlipidemia disorders in dogs. Compendium on Continuing Education for the PractisingVeterinarian. 27(5): 361-370.
Kent M. 2009. The cat with neurological manifestations of systemic disease: key conditions impacting on the CNS. Journal of Feline Medicine and Surgery. 11(5): 395-407.
Le Blanc C.J., Bauer J.E., Hosgoo G. & Mauldin G.E. 2005. Effective of dietry fish oil and vitamin E suplementation on hematologic and serum biochemical analytes and oxidative status in young dogs. Veterinary Therapeutics. 6(4): 325-340.
Manning P.J. 1979. Thyroid gland and arterial lesions of beagles with familial hypothyroidism and hyperlipoproteinemia. American Journal of Veterinary Research. 40(6): 820-828.
Nelson R.W., Delaney S.J. & Elliott D.A. 2010. Distúrbios metabólicos. In: Nelson R.W. & Couto C.G. (Eds). Medicina Interna de Pequenos Animais. 4.ed. Rio de Janeiro: Elsevier, pp.860-866.
Palumbo M.I.P., Romão F.G., Martinello L.M., Machado L.H.A. & Lourenço M.L.G. 2010. Hipotireoidismo em cães - revisão. Clínica Veterinária. 89(15): 70-76.
Patterson J.S., Rusley M.S. & Zachary J.F. 1985. Neurologic manifestations of cerebrovascular atherosclerosis associated with primary hypothyroidism in a dog. Journal of American Veterinary Medical Association. 186(5): 499-503.
Pöppl A.G. & González F.H.D. 2005. Aspectos epidemiológicos e clínico-laboratoriais da Diabetes Melittus em cães. Acta Scientiae Veterinariae. 33(1): 33-40.
Reis J.S., Saad F.M.O.B., Ogoshi R.C.S. & França J. 2011. Manejo dietético na hiperlipidemia em cães. Cães e Gatos. 26(149): 74-79.
Romão F.G., Leitão L.M.M., Martinello L.M., Machado L.H.A., Lourenço M.L.G., Mamprim M.J., Heckler M.C.T. & Doiche D.P. 2011. Hiperadrenocorticismo em cães - revisão. Clínica Veterinária. 91(16): 86-92.
Rogers W.A., Donovan, E.F. & Kociba G.J. 1975. Idiopathic hyperlipoproteinemia in dogs. Journal of American Veterinary Medical Association. 166(11): 1087-1091.
Sando K.R. & Knight M. 2015. Nonstatin therapies for management of dyslipidemia: a review. Clinical Therapeutics. 37(10): 2153-2179.
Sato K., Agoh H., Kaneshige T., Hikasa Y. & Kagota K. 2000. Hypercholesterolemia in Shetland sheepdogs. Journal of Veterinary Medical Science. 62(12): 1297-1301.
Schenck P.A. 2006. Canine hyperlipidemia: causes and nutritional management. In: Pibot P., Biourge V. & Elliot D.A. (Eds). Encyclopedia of canine clinical nutrition. Paris: Aniwa SAS, pp.222-251.
Schickel R. 2005. Identification of the nucleotide sequence of the lipoprotein lipase gene as well as its role in the development of hyperlipidemia and pancreatitis in the Miniature Schnauzer. 77f. Munich, Baviera. Tese (Doutorado em Medicina Veterinária) - Programa de Pós-Graduação Ludwig-Maximilians University, Munich, Germany.
Suzuki M. 1972. Experimental cerebral atherosclerosis in the dog. I. A morphologic study. American Journal of Pathology. 67(2): 387-394.
Tenebaum A. & Fisman E.Z. 2012. Balanced pan-PPAR activatorbezafibrate in combination with statin: comprehensive lipids control, and diabetes prevention? Cardiovascular Diabetology. 11(140): 1-9.
Tiwari V. & Khokhar M. 2014. Mechanism of action of anti-hypercholesterificadoolemia drugs and their resistance. European Journal of Pharmacology. 741(15): 156-170.
Veicheva I., Antonova N., Dimitrova N. & Ivanov I. 2006. Plasma lipids and blood viscosity in patients with cerebrovascular disease. Clinical Hemorheology Microcirculation. 35(1-2): 155-157.
Vitale C.L. & Olby N.J. 2007. Neurologic dysfunction in hypothyroidism, hyperlipidemic labrador retrievers. Journal of Veterinary Internal Medicine. 21(6): 1316-1322.
Wada M., Minamisono T., Ehrhart L.A., Naito H.K. & Mise J. 1977. Familial hyperlipoproteinemia in Beagles. Life Sciences. 20(6): 999-1008.
Xenoulis P.G., Suchodolski J.S., Levinski M.D. & Steiner J.M. 2007. Investigation of hypertriglyceridemia in healthy Miniature Schnauzers. Journal of Veterinary Internal Medicine 21(6): 1224-1230.
Xenoulis P.G. & Steiner J.M. 2010. Lipid metabolism and hyperlipidemia in dogs. Veterinary Journal. 180(1): 12-21.
Xenoulis P.G. & Steiner J.M. 2015. Canine hyperlipidemia. Journal of Small Animal Practice. 56(10): 595-605.
Zeiss C.J. & Waddle G. 1995. Hypothyroidism and atherosclerosis in dogs. Compendium on Continuing Education for the Practicing Veterinarian. 17(9): 1117-1128.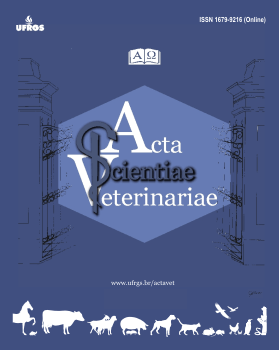 How to Cite
de Sales, N. A. A., Picelli, J. P., Alves, E. G. L., dos Anjos, L. C. de T., Bittar, E. R., & Rosado, I. R. (2021). Reactive Seizures Due to Hyperlipidemia in a Maltese Dog. Acta Scientiae Veterinariae, 49. https://doi.org/10.22456/1679-9216.110100
License
This journal provides open access to all of its content on the principle that making research freely available to the public supports a greater global exchange of knowledge. Such access is associated with increased readership and increased citation of an author's work. For more information on this approach, see the Public Knowledge Project and Directory of Open Access Journals.
We define open access journals as journals that use a funding model that does not charge readers or their institutions for access. From the BOAI definition of "open access" we take the right of users to "read, download, copy, distribute, print, search, or link to the full texts of these articles" as mandatory for a journal to be included in the directory.
La Red y Portal Iberoamericano de Revistas Científicas de Veterinaria de Libre Acceso reúne a las principales publicaciones científicas editadas en España, Portugal, Latino América y otros países del ámbito latino