Lumbar Malignant Peripheral Nerve Sheath Tumor in a Young Dog
Abstract
Background: The most common location of malignant tumors of the peripheral nerve sheath in the spinal cord is the intradural-extramedullary region, and is rare in the spinal nerve roots in the lumbar region. They mainly affect large female dogs over six years of age. Imaging tests assist in the presumptive diagnosis, but confirmation requires histopathological and immunohistochemical examination. The prognosis is guarded. Diagnostic imaging, anatomopathological and immunohistochemical findings of a malignant tumor of the intradural-extramedullary peripheral nerve sheath with medullary infiltration in the lumbar region in a young dog are reported.
Case: A body of a 6-year-old Poodle dog was donated for necropsy and diagnostic clarification. In the history, there was a suspicion of lumbar intramedullary neoplasia, detected by computed tomography (CT), with a 4 years progressive chronic evolution. Additionally, the dog had hidden spina bifida (L7 to S3), as detected by radiography and CT. On post mortem radiographic examination (X-ray), there was an enlargement of the vertebral canal (T10 to S2), intense osteolysis (L1 to S2), spinous processes (L5 to L7), and ankylosis (L3 to L7). Necropsy revealed ankylosis (L3 to L7) and intradural-extramedullary mass (9.5 × 2.6 × 2.3 cm) (L2 to L6). No metastases were identified. On microscopy, there was neoplastic proliferation of cells with intense pleomorphism, arranged in bundles interlaced in palisades and sometimes solid mantles. The mitotic index was high, ranging from 10 to 12 mitoses per field. There was also necrosis, hemorrhage, edema, and focal axonal demyelination of the adjacent white matter in the spinal cord. Masson Trichrome staining highlighted an intense diffuse conjunctive stroma. There was a suspicion of a malignant tumor of the peripheral nerve sheath and an immunohistochemical panel was performed for confirmation. There was strong and diffuse positivity for vimentin and S-100 and partial positivity for neuron-specific enolase (NSE), negative for anti-factor VIII, glial fibrillary acidic protein (GFAP), α-actin for smooth muscle, cytokeratin, neurofilament, and desmin. Thus, the diagnosis of malignant neoplasm of the peripheral nerve sheath was confirmed.
Discussion: Peripheral nerve sheath tumors are classified as benign or malignant. In dogs, they are frequent in elderly, females, and large breeds. In this case report, the animal was young, female, and small breed. The location of the spinal nerve roots is uncommon, and is more commonly found in the brachial plexus. In the animal reported, the tumor was observed as lumbar swelling. Clinical signs vary with the affected region, however, neurogenic claudication and muscle atrophy are more frequent, as observed in this report. Imaging examinations such as X-rays and CT assist in the presumptive diagnosis. In this case report, spina bifida was identified on radiography, and CT suggested the presence of intramedullary neoplasia and allowed to monitor tumor growth. Post mortem X-ray imaging revealed intense osteolysis and ankylosis, which were confirmed at necropsy, which also elucidated its intradural-extramedullary location with infiltration into the spinal cord. The confirmation of the neoplasm was made by histopathological and immunohistochemical examination; the latter should be made a panel, not restricted to the use of antibodies S-100 and vimentin only. The prognosis of malignant peripheral nerve sheath tumors (MPNST) of the spinal cord is poor, and although there are palliative methods, there is no curative treatment, as complications can interfere with the quality of life of the animal. MPNST should be included in the differential diagnosis of spinal disorders, even in young dogs and small breeds. CT helps in early diagnosis to make decisions aimed at the animal's well-being.
Downloads
Download data is not yet available.
References
Arias M.V.B., Severo M.S. & Tudury E.A. 2007. Trauma medular em cães e gatos: revisão da fisiopatologia e do tratamento médico. Semina Ciências Agrárias. 28(1): 115-134.
Boos G.S., Bassuino D.M., Wurster F., Castro N.B., Watanabe T.T.N., Silva G.S., Sonne L. & Driemeier D. 2015. Retrospective canine skin peripheral nerve sheath tumors data with emphasis on histologic, immunohistochemical and prognostic factors. Pesquisa Veterinária Brasileira. 35(12): 965-974.
Chijiwa K., Uchida K. & Tateyama S. 2004. Immunohistochemical evaluation of canine peripheral nerve sheath tumors and other soft tissue sarcomas. Veterinary Pathology. 41(4): 307-318.
Costa R.C. 2016. Neoplasias Intracranianas e de Nervos Periféricos. In: Daleck C.R. & de Nardi A.B. (Eds). Oncologia Em Cães e Gatos. 2.ed. Rio de Janeiro: Editora Roca, pp.880-901.
Da Silva E.O., Zanoni F.P., Ferioli R.B., Souza M.S.B. & Di Santis G.W. 2012. Tumor maligno da bainha de nervo periférico envolvendo raízes nervosas do terceiro segmento medular lombar em um cão. Semina: Ciências Agrárias. 33(6): 2397-2402.
Dolera M., Malfassi L., Bianchi C., Carrara N., Finesso S., Marcarini S., Mazza G., Pavesi S., Sala M. & Urso G. 2017. Frameless stereotactic volumetric modulated arc radiotherapy of brachial plexus tumours in dogs: 10 cases. British Journal of Radiology. 90(1069): 1-10.
Ferrell E., Berry C. & Thrall D. 2007. Technical Issues and Interpretation Principles Relating to the Axial Skeleton. In: Textbook of Veterinary Diagnostic Radiology. 5th edn. St. Louis: Elsevier, pp.94-95.
Fishbein L., Zhang X., Fisher L. B., Li H., Thompson M.C., Yachnis A., Rubenstein A., Muir D. & Wallace M.R. 2007. In vitro Studies of Steroid Hormones in Neurofibromatosis 1 Tumors and Schwann Cells. Molecular Carcinogenesis. 46(7): 512-523.
Gaitero L., Añor S., Fondevila D. & Pumarola M. 2008. Canine Cutaneous Spindle Cell Tumours with Features of Peripheral Nerve Sheath Tumours: A Histopathological and Immunohistochemical Study. Journal of Comparative Pathology. 139(1): 16-23.
Gross T.L., Ihrke P.J., Walder E.J. & Affolter V.K. 2005. Neural and perineural tumors. In: Skin Diseases of the Dog and Cat: Clinical and Histopathologic Diagnosis. 2nd edn. Oxford: Blackwell Science, pp.792-795.
Higgins R.J, Bollen A.W. & Dickinson P.J. 2017. Tumors of the Nervous System. In: Meuten D.J. (Ed). Tumors in Domestic Animals. 5th edn. Ames: Wiley, pp.881-891.
Jeffery N.D. & Phillips S.M. 1995. Surgical treatment of intramedullary spinal cord neoplasia in two dogs. Journal of Small Animal Practice. 36(12): 553-555.
Kim D.Y., Cho D.Y., Kim D.Y., Lee J. & Taylor H.W. 2003. Malignant peripheral nerve sheath tumor with divergent mesenchymal differentiations in a dog. Journal of Veterinary Diagnostic Investigation. 15(2): 174-178.
Martins B.C., Martins G.C., Horta R.S., Moreira M.V.L., Rocha L., Nagem A.P. & Ecco R. 2015. Aspectos clínico-patológicos da neoplasia da bainha de mielina no plexo braquial com infiltração do canal medular em um cão. Acta Scientiae Veterinariae. 43(Suppl 1): 1-5.
Moreira T.D.A., Borges L.W., Serra T.L., Caetano D.P., Costa M.C. & Medeiros-Ronchi A.A. 2017. Case report and immunohistochemical study of a malignant peripheral nerve sheath tumor in a dog. Brazilian Journal of Veterinary Research and Animal Science. 54(4): 420.
Pancotto T.E., Rossmeisl J.H., Zimmerman K., Robertson J.L. & Were S.R. 2013. Intramedullary spinal cord neoplasia in 53 dogs (1990-2010): Distribution, clinicopathologic characteristics, and clinical behavior. Journal of Veterinary Internal Medicine. 27(6): 1500-1508.
Patnaik A.K., Zachos T.A., Sams A.E. & Aitken M.L. 2002. Malignant nerve-sheath tumor with divergent and glandular differentiation in a dog: a case report. Veterinary Pathology. 39(3): 406-410.
Platt S.R., Graham J., Chrisman C.L., Collins K., Chandra S., Sirninger J. & Newell S.M. 1999. Magnetic resonance imaging and ultrasonography in the diagnosis of a malignant peripheral nerve sheath tumor in a dog. Veterinary Radiology & Ultrassound. 40(4): 367-371.
Poli F., Calistri M., Mandara M.T. & Baroni M. 2019. Central nervous system metastasis of an intradural malignant peripheral nerve sheath tumor in a dog. Open Veterinary Journal. 9(1): 49-53.
Rudich S.R., Feeney D.A., Anderson K.L. & Walter P.A. 2004. Computed tomography of masses of the brachial plexus and contributing nerve roots in dogs. Veterinary Radiology and Ultrasound. 45(1): 46-50.
Sawamoto O., Yamate J., Kuwamura M., Hagiwara R. & Kurisu K. 1999. A Canine Peripheral Nerve Sheath Tumor Including Peripheral Nerve Fibers. Journal of Veterinary Medical Science. 61(12): 1335-1338.
Silva C.M.O., Caldeira F.M.C., Melo E.G., Ocarino N.M., Silva A.E., Guedes R.M.C., Lavalle G.E. & Serakides R. 2007. Tumor maligno da bainha de nervo periférico em cães: Relato de três casos. Arquivo Brasileiro de Medicina Veterinaria e Zootecnia. 59(3): 679-684.
Stoica G., Tasca S.I. & Kim H.T. 2001. Point mutation of neu oncogene in animal peripheral nerve sheath tumors. Veterinary Pathology. 38(6): 679-688.
Summers B.A., Cummings J.F. & Delahunta A. 2012. Tumors of cranial and spinal nerves. In: Vandevelde M., Higgins J.R. & Oevermann A. (Eds). Veterinary Neuropathology. Oxford: Blackwell Science, pp.145-147.
Viott A.M., Ramos A.T., Inkelmann M.A., Kommers G.D. & Graça D.L. 2007. Aspectos histoquímicos e imunoistoquímicos nos neoplasmas do sistema nervoso periférico. Arquivo Brasileiro de Medicina Veterinária e Zootecnia. 59(5): 1145-1153.
Zachary J.F. 2009. Sistema Nervoso. In: McGavin M.D. & Zachary J.F. (Eds). Bases da Patologia Veterinária. 5.ed. Rio de Janeiro: Elsevier, pp.953-964.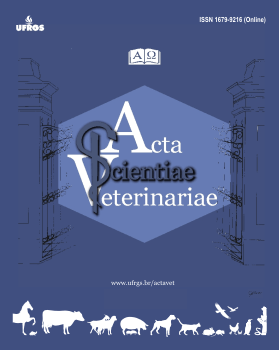 How to Cite
Souza, A. C. da S. N., Filho, C. H. da C. V., da Silva, E. M. B., Muramoto, C., Correia, I. F., Ribeiro, L. S., Requião, K. G., & Moreira, E. L. T. (2021). Lumbar Malignant Peripheral Nerve Sheath Tumor in a Young Dog. Acta Scientiae Veterinariae, 49. https://doi.org/10.22456/1679-9216.109929
License
This journal provides open access to all of its content on the principle that making research freely available to the public supports a greater global exchange of knowledge. Such access is associated with increased readership and increased citation of an author's work. For more information on this approach, see the Public Knowledge Project and Directory of Open Access Journals.
We define open access journals as journals that use a funding model that does not charge readers or their institutions for access. From the BOAI definition of "open access" we take the right of users to "read, download, copy, distribute, print, search, or link to the full texts of these articles" as mandatory for a journal to be included in the directory.
La Red y Portal Iberoamericano de Revistas Científicas de Veterinaria de Libre Acceso reúne a las principales publicaciones científicas editadas en España, Portugal, Latino América y otros países del ámbito latino