Primary Splenic Pleomorphic Liposarcoma in a Bitch
Abstract
Background: Liposarcoma is a malignant neoplasm of lipoblasts with low incidence in dogs, representing 1.7% of neoplasms diagnosed in the spleen. In veterinary medicine, this neoplasm is classified morphologically into the myxoid, well-differentiated, undifferentiated and pleomorphic subtypes, the latter being one of the most aggressive forms, mainly in cavity organs. This study reports a case of primary splenic pleomorphic liposarcoma in a female dog, addressing anatomopathological and immunohistochemical aspects.
Case: A 14-year-old, 35 kg female mongrel canine with a history of absence of defecation, progressive weight loss, difficulty walking, sensitivity to abdominal palpation, prostration, pale mucous membranes, tachypnea and abdominal distention. The condition evolved to death and, on necroscopy, there was an increase in splenic volume with neoformation of whitish and reddish color, measuring 32 × 27 cm in its largest axes and weighing 8.9 kg. The neoformation exhibited areas of firm and soft consistency, and sectioning revealed the existence of focal areas of extensive necrosis and cavity collections of different diameters that allowed the flow of liquid serous contents with a brownish red color. Microscopy showed cells of neoplastic morphology infiltrating the splenic parenchyma, mostly with slightly acidophilic cytoplasm and few intracytoplasmic lipid vacuoles, which varied in size and distribution. The nuclei of the cells were large, eccentric and irregular, with round to oval morphology, grossly lacy chromatin and single or multiple evident nucleoli. These cells exhibited marked anisocytosis, anisokaryosis and pleomorphism, with more than one mitotic figure per high magnification field visible. Moderately inflammatory infiltrate, predominantly lymphocytic, permeated the neoplastic cells, and marked depletion of lymphoid follicles and atrophy of the red pulp were found in the remaining splenic parenchyma. Immunohistochemical tests revealed marked and discrete immunostaining for anti-vimentin and anti-S100 antibodies, respectively. No staining was observed for anti-pan cytokeratin, anti-desmin, anti-alpha smooth muscle actin or anti-CD20 antibodies. Based on anatomopathological and immunohistochemical aspects, it was concluded to be a splenic pleomorphic liposarcoma of primary origin.
Discussion: the spleen is not a common anatomical site for the development of liposarcoma, a neoplasm whose origin remains unclear. Similar to what occurs in humans, liposarcoma is believed to develop from the adipose tissue of the splenic hilum. Thus, it should be considered as a differential diagnosis of invasive abdominal tumors. For the identification and classification of liposarcoma as a pleomorphic subtype, we considered mainly histological findings such as marked cell atypia and intracytoplasmic lipid vacuoles, which may or may not be present in neoplastic cells. Immunohistochemical examination favored the diagnosis of liposarcoma, regardless of the subtype, due to the marked immunostaining for the anti-vimentin antibody, unlike immunostaining for the anti-S100 antibody, for which it was variable. This fact is related to adipocyte differentiation, where lower amounts of intracytoplasmic lipids translate into lower immunostaining intensity for anti-S100. Histological and immunostaining aspects should be regarded with caution in the diagnosis of pleomorphic liposarcoma, as it is a distinct neoplastic entity, with a complex karyotype and without correlation with the other subtypes.
Downloads
Download data is not yet available.
References
Aihara N. & Une Y. 2009. Pleomorphic Liposarcoma of the Intrathoracic Cavity in a Meerkat (Suricata suricatta). The Journal of Veterinary Medical Science. 71(5): 685-688.
Anderson W.J. & Jo V.Y. 2019. Pleomorphic liposarcoma: Updates and current differential diagnosis. Seminars in Diagnostic Pathology. 36(2): 122-128.
Avallone G., Roccabianca P., Crippa L., Lepri E., Brunetti B., Bernardini C., Forni M., Olandese A. & Sarli G. 2016. Histological classification and immunohistochemical evaluation of MDM2 and CDK4 expression in canine lipossarcoma. Veterinary Pathology. 53(4): 773-780.
Baez J.L., Hendrick M.J., Shofer F.S., Goldkamp C. & Sorenmo K.U. 2004. Liposarcomas in dogs: 56 cases (1989–2000). Journal of the American Veterinary Medical Association. 224(6): 887-891.
Bandinelli M.B., Pavarini S.P., Oliveira E.C., Gomes D.C., Cruz C.E.F. & Driemeier D. 2011. Estudo retrospectivo de lesões em baços de cães esplenectomizados: 179 casos. Pesquisa Veterinária Brasileira. 31(8): 697-701.
Boland J., Weiss S., Oliveira A.M., Erickson-Johnson M.L. & Folpe A. 2010. Liposarcomas with mixed well-differentiated and pleomorphic features: A clinicopathologic study of 12 cases. The American Journal of Surgical Pathology. 34(6): 837-843.
Cecilia V., Marco R., Francesca M., Gary E.C.W. & Giuseppe C. 2013. Uterine Liposarcoma in a German Shephard Dog. Open Journal of Veterinary Medicine. 3(2): 91-94.
Chang S. & Liao J. 2008. Mesojejunoileac Liposarcoma with Intrahepatic Metastasis in a Dog. The Journal of Veterinary Medical Science. 70(6): 637-640.
Dei Tos A. 2014. Liposarcomas: diagnostic pitfalls and new insights. Histopathology. 64(1): 38-52.
Demicco E.G. 2019. Molecular updates in adipocytic neoplasms. Seminars in Diagnostic Pathology. 36(2): 85-94.
Doria-Torra G., Martínez G., Domingo M., Vidana B., Isidoro-Ayza M., Zasanova M.I. & Vidal E. 2015. Liposarcoma in animals: literature review and case report in a domestic pig (Sus scrofa). Journal of Veterinary Diagnostic Investigation. 27(2): 196-202.
Easler R.E. & Dowlin W.M. 1969. Primary lipoma of the spleen: report of a case. Archives of Pathology. 88(5): 557-559.
Figueiredo R.S., Muramoto C., Fontes T.N., Meneses I.D.S. Cardoso P.G.S., Vieira Filho C.H.C. & Estrela-Lima A. 2019. Lesions in 224 spleens of splenectomized dogs and evalution of alternative techniques for previous microscopic diagnosis. Pesquisa Veterinária Brasileira. 39(8): 622-629.
Filgueira K.D., Rodrigues R.T.G.A. & Ferreira M.B. 2016. Non-vasculogenic splenic sarcoma in dogs. In: Resumos do XIV Congresso Paulista de Clínicos Veterinários de Pequenos Animais (São Paulo, Brasil). pp.197-201.
Garcia D.A.A., Froes T.S. & Guérios S.D. 2012. Ultrassonografia abdominal pré-operatória em cães e gatos com suspeita de tumores abdominais. Ciência Rural. 42(1): 105-111.
Guillou L. & Aurias A. 2010. Soft tissue sarcomas with complex genomic profiles. Virchows Archives. 456(2): 201-217.
Hendrick M.J. 2017. Mesenchymal Tumors of the Skin and Soft Tissues. In: Meuten D.J. (Ed). Tumor in Domestics Animals. 5th edn. San Francisco: Wiley Blackwell, pp.159-160.
LaDouceur E.E.B., Stevens S.E., Wood J. & Reilly C.M. 2017. Immunoreactivity of Canine Liposarcoma to Muscle and Brown Adipose Antigens. Veterinary Pathology. 54(6): 885-891.
Leyva F.J., Loughin C.A. & Dewey C.W. 2018. Histopathologic characteristics of biopsies from dogs undergoing surgery with concurrent gross splenic and hepatic masses: 125 cases (2012–2016). BMC Research Notes. 11(1): 122.
Montagna M.M., Nicolau S.B., Nakage A.P.M., Souza A.D. & Engracia Filho J.R. 2004. Lipossarcoma esplênico em um cão. Ciência Rural. 34(6): 1957-1960.
Nishikawa G., Minamiguchi S., Hata H., Ogiso S., Yamaguchi T., Otani T. & Ikai I. 2015. Dedifferentiated Liposarcoma Involving the Spleen and Splenic Hilum: A Report of a Case With a Rare Growth Pattern. International Surgery. 100(1): 128-132.
Plumlee Q.D., Hernandez A.M., Clark S.D., Bascunan A., Davidson J. & Mansell J. 2016. High-Grade Myxoid Liposarcoma (Round Cell Variant) in a Dog. Journal of Comparative Pathology. 155(4): 305-309.
Rekhi B., Navale P. & Jambhekar N.A. 2012. Critical histopathological analysis of 25 dedifferentiated liposarcomas, including uncommon variants, reviewed at a Tertiary Cancer Referral Center. Indian Journal of Pathology and Microbiology. 55(3): 294-302.
Sant'Ana F.J.F., Serakides R. & Lavelle G.E. 2003. Lipossarcoma em cão: Relato de dois casos. Arquivo Brasileiro de Medicina Veterinária e Zootecnia. 55(1): 1-3.
Shive H., Mohammed F., Osterstock J., Porter B. & Mansell J. 2006. Liposarcoma in the nasal cavity of a cow. Veterinary Pathology. 43(5): 793-797.
Suto Y., Ishikawa Y. & Kadota K. 2007. Epithelioid Variant of Pleomorphic liposarcoma in a Heifer. Journal of Comparative Pathology. 137(2-3): 133-136.
Thway K., Flora R., Shah C., Olmos D. & Fischer C. 2012. Diagnostic utility of p16, CDK4, and MDM2 as an immunohistochemical panel in distinguishing well-differentiated and dedifferentiated liposarcomas from other adipocytic tumors. The American Journal of Surgical Pathology. 36(3): 462-469.
Wang F., Liang S., Eng H., Jeng C. & Pang V.F. 2005. Disseminated liposarcoma in a dog. Veterinary Diagnostic Investigations. 17(3): 291-294.
Wang L., Ren W., Zhou X., Sheng W. & Wang J. 2013. Pleomorphic liposarcoma: A clinicopathological, immunohistochemical and molecular cytogenetic study of 32 additional cases. Pathology International. 63(11): 523-531.
Weiss S.W. & Goldblum J.R. 2008. Liposarcoma. In: Enzinger F.M. & Weiss S.W. (Eds). Soft Tissue Tumors. 5th edn. Philadelphia: Mosby, pp.477-516.
Zanardello C., Carminato A., Vascellari M. & Mutinelli F. 2013. Splenic myxoid liposarcoma: diagnosis not straightforward. ESVP/ECVP Proceedings. 150(1): 108.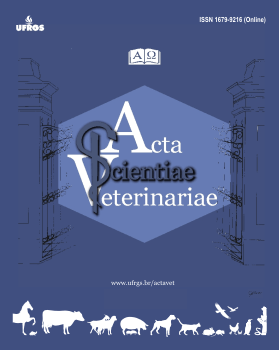 How to Cite
Nascente, E. de P., Adorno, B. R., Santos, A. da S., Matos, M. P. C., Porto, R. N. C., Santin, A. P. I., & Moura, V. M. B. D. de. (2021). Primary Splenic Pleomorphic Liposarcoma in a Bitch. Acta Scientiae Veterinariae, 49. https://doi.org/10.22456/1679-9216.109921
License
This journal provides open access to all of its content on the principle that making research freely available to the public supports a greater global exchange of knowledge. Such access is associated with increased readership and increased citation of an author's work. For more information on this approach, see the Public Knowledge Project and Directory of Open Access Journals.
We define open access journals as journals that use a funding model that does not charge readers or their institutions for access. From the BOAI definition of "open access" we take the right of users to "read, download, copy, distribute, print, search, or link to the full texts of these articles" as mandatory for a journal to be included in the directory.
La Red y Portal Iberoamericano de Revistas Científicas de Veterinaria de Libre Acceso reúne a las principales publicaciones científicas editadas en España, Portugal, Latino América y otros países del ámbito latino