Ultrasonographic Detection of Interstitial Nephritis in a Canine Fetus
Abstract
Background: A detailed ultrasound examination of the fetal urinary tract as part of prenatal care is important to detect possible abnormalities. Early diagnosis can prevent more serious damage such as loss of kidney function. Interstitial nephritis can compromise renal functionality. Also, acute interstitial nephritis is a frequent cause of acute kidney injury and can become chronic if not treated. Besides, a renal biopsy can help in the diagnosis and at the staging of the disease. Therefore, this report aims to describe the ultrasonographic findings of the renal tissues in a canine fetus affected by interstitial nephritis.
Case: Gestational ultrasound evaluations were performed in a female Pug, at the 25th, 45th, and 58th gestational days. Ultrasound examination was performed with a 9.0 MHz linear transducer and a high-resolution digital transducer with a frequency standardized at 17.0 MHz. During the first evaluation, embryonic vesicles were detected and were compatible with the gestational period. At 45 days of gestation, some abnormalities were observed in the kidneys of one of the fetuses, such as increased cortical echogenicity, cortical thickening, loss of corticomedullary ratio (1:1), renal pelvis and ureter dilatation by echogenic content. Biparietal and abdominal diameters were also lower than that from the other fetuses, which did not show abnormalities, being compatible with the estimated gestational age. However, the heart rate was similar among all fetuses. On the 58th day, we observed in the underdeveloped fetus that both kidneys still presented the abnormalities seen previously, in addition to the presence of a cystic structure in the right kidney, in the cranial topography of the cortex. The other fetuses kept showing normal ultrasonographic findings, normal heartbeat, all of these compatible with the ultrasound gestational age. The delivery occurred without complications and only the underdeveloped fetus stillborn. Then, it was submitted to a necropsy where chronic interstitial nephritis was found in the histopathological analysis.
Discussion: Adequate prenatal care is important to detect abnormalities in fetuses, in which ultrasound examination allows to access fetal development. The gestation in the bitch seemed to be occurring without complications, but the B mode and High Definition ultrasound techniques were able to identify abnormal development of the fetus' kidneys. Both techniques showed to be secure to the fetuses and the mother, as they are non-invasive and free of radiation. These findings, different from those described as normal for a fetus, reinforce the warning signal for a possible establishment of anomalies consistent with nephropathy. Still, histopathology is important to exclude other diseases and help to define prognosis. Interstitial nephritis can significantly affect perinatal survey, considering that the fetus was stillborn, confirming that the description of such anomalies can help to prevent disease. Since nephritis can be associate with the use of some medicines, the orientation of the owner regarding drug use during bitch pregnancy is essential.  Therefore, this is the first report describing renal abnormalities in a canine fetus, which highlights the importance of ultrasound examination for disease identification in prenatal care. Lastly, high-resolution ultrasound (HD) could provide detailed information on abnormalities in the fetal kidney.
Downloads
Download data is not yet available.
References
Devriendt A., Cassart M., Massez A., Donner C. & Avni F.E. 2013. Fetal kidneys: additional sonographic criteria of normal development. Prenatal Diagnosis. 33(13): 1248-1252. DOI: 10.1002/pd.4240
Dias T., Sairam S. & Kumarasiri S. 2014. Ultrasound diagnosis of fetal renal abnormalities. Best Practice & Research Clinical Obstetrics & Gynaecology. 28(3): 403-415. DOI: 10.1016/j.bpobgyn.2014.01.009
Feliciano M.A.R., Cardilli D.J., Nepomuceno A.C., Crivalero R.M., Silva M.A.M., Coutinho L.N., Oliveira M.E.F. & Vicente W.R.R. 2014. Echobiometrics kidney and renal artery triplex doppler of canine fetuses. Arquivo Brasileiro de Medicina Veterinária e Zootecnia. 66(2): 445-449. DOI: 10.1590/1678-41626120
Garcia P.H.S. & Vac M.H. 2019. Rins e Ureters. In: Feliciano M.A.R., Assis A.R. & Vicente W.R.R. (Eds). Ultrassonografia em Cães e Gatos. São Paulo: MedVet, pp.177-216.
Gil E.M.U., Garcia D.A.A., Giannico A.T. & Froes T.R. 2018. Early results on canine fetal kidney development: Ultrasonographic evaluation and value in prediction of delivery time. Theriogenology. 107: 180-187. DOI: 10.1016/j.theriogenology.2017.11.015
Jayasumana C. 2019. Chronic Interstitial Nephritis in Agricultural Communities (CINAC) in Sri Lanka. Seminars in Nephrology. 39(3): 278‐283. DOI: 10.1016/j.semnephrol.2019.02.006
Jayasumana C., Orantes C., Herrera R., Almaguer M., Lopez L., Silva L.C., Ordunez P., Siribaddana S., Gunatilake S. & De Broe M.E. 2016 Chronic interstitial nephritis in agricultural communities: a worldwide epidemic with social, occupational and environmental determinants. Nephrology Dialysis Transplantation. 32(2): 234‐241. DOI: 10.1093/ndt/gfw346
Kurjak A., Latin V., Mandruzzato G., D'Addario V. & Rajhvajn B. 1984. Ultrasound diagnosis and perinatal management of fetal genito-urinary abnormalities. Journal of Perinatal Medicine. 12(6): 291‐312. DOI: 10.1515/jpme.1984.12.6.291
Lawson T.L., Foley W.D., Berland L.L. & Clark K.E. 1981. Ultrasonic evaluation of fetal kidneys. Radiology. 138(1): 153-156. DOI: 10.1148/radiology.138.1.7455076
Oliva-Damaso N., Oliva-Damaso E. & Payan J. 2018. Acute and Chronic Tubulointerstitial Nephritis of Rheumatic Causes. Rheumatic Disease Clinics. 44(4): 619‐633. DOI: 10.1016/j.rdc.2018.06.009
Praga M. & González E. 2010. Acute interstitial nephritis. Kidney International. 77(11): 956‐961. DOI: 10.1038/ki.2010.89
Rivers B.J., Walter P.A., Polzin D.J. & King V.L. 1997. Duplex doppler estimation of intrarenal pourcelot resistive index in dogs and cats with renal disease. Journal of Veterinary International Medicine. 11(4): 250-260, DOI: 10.1111/j.1939-1676.1997.tb00099.x.
Robertson L.J. 1986. Spontaneous renal disease in Dogs. Toxicologic Pathology. 14(1): 101-108. DOI: 10.1177/019262338601400112
Yang C.W. 2018. Leptospirosis Renal Disease: Emerging Culprit of Chronic Kidney Disease Unknown Etiology. Nephron. 138(2): 129-136. DOI:10.1159/000480691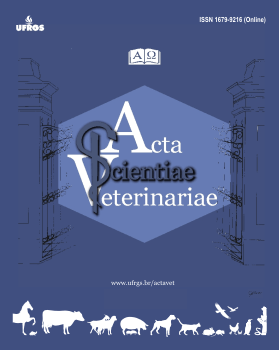 How to Cite
Silva, P., Maronezi, M. C., Gasser, B., Pavan, L., Aires, L. P. N., Padilha-Nakaghi, L. C., Uscategui, R. A. R., & Feliciano, M. A. R. (2021). Ultrasonographic Detection of Interstitial Nephritis in a Canine Fetus. Acta Scientiae Veterinariae, 49. https://doi.org/10.22456/1679-9216.106692
License
This journal provides open access to all of its content on the principle that making research freely available to the public supports a greater global exchange of knowledge. Such access is associated with increased readership and increased citation of an author's work. For more information on this approach, see the Public Knowledge Project and Directory of Open Access Journals.
We define open access journals as journals that use a funding model that does not charge readers or their institutions for access. From the BOAI definition of "open access" we take the right of users to "read, download, copy, distribute, print, search, or link to the full texts of these articles" as mandatory for a journal to be included in the directory.
La Red y Portal Iberoamericano de Revistas Científicas de Veterinaria de Libre Acceso reúne a las principales publicaciones científicas editadas en España, Portugal, Latino América y otros países del ámbito latino