Juvenile-Onset Ischemic Dermatopathy in a Dog
Abstract
Background: Juvenile-onset ischemic dermatopathy is a rare dermatosis in dogs. Reports on this condition are scarce in the literature, and its pathogenesis is poorly understood. This disease consists of a set of alterations that exhibit similar clinical and histological characteristics, and which are associated with cutaneous vasculopathic processes. Consequently, this case report describes the clinical case of a dog diagnosed with juvenile-onset ischemic dermatopathy. 
Case: A 9-month-old female mongrel dog exhibited significant tegumentary alterations, while other contact animals (siblings and mother) did not. The patient history did not contain a complete record of vaccines, and included previous therapeutic failures. A general skin examination revealed the presence of erythematous lesions containing crusts and erosions associated with extended areas with alopecia, especially in the ears, nose, and tail. Therefore, skin cytology and a parasitological examination of the skin and cerumen were performed. These tests revealed the presence of neutrophilic inflammatory process, bacterial inflammation, and various yeast-like structures compatible with Malassezia sp. The parasitological examination of the cerumen revealed the presence of numerous mites of the Otodectes cynotis species.Consequently, the dog received a treatment that included amoxicillin with potassium clavulanate, itraconazole, therapeutic baths with a shampoo containing chlorhexidine and miconazole, and an antiparasitic medication containing sarolaner, which was administered once every 35 days. Thirty days later, the patient returned with a significant improvement of the lesions, except those in the ears and tail; consequently, material from these two body areas was submitted to histopathological examination, and additional tests were performed to allow differential diagnosis. The histopathological report indicated the existence of interface dermatitis (cytotoxic), and suggested the clinical hypothesis of chronic juvenile ischemic dermatopathy secondary to vasculitis, since the patient exhibited lesions and clinical history compatible with this condition. Accordingly, the patient was given a treatment with oclacitinib at a dose of 0.6 mg/kg every 12 h for 60 days, and at a dose of 0.6 mg/kg every 24 h thereafter. This treatment resulted in significant improvement of the lesions, with only scars remaining. Complete blood count and biochemical tests performed after two months of treatment returned values within the normal ranges. Side effects from the medication used were not observed. Six months after commencement of oclacitinib administration, the patient remained stable and exhibited no new lesions. 
Discussion: Cutaneous vasculopathies are not biased by breed, and are secondary to deposition of immune complexes that develop owing to factors such as presence of pathogenic agents, immune-mediated diseases, exposure to viral particles present in the rabies vaccine, and alimentary hypersensitivities, among others. This condition is divided into five distinct categories, among which juvenile-onset ischemic dermatopathy is included. A specific treatment for this condition is not established, as it has peculiar characteristics. However, reported studies have demonstrated good results with the use of oclacitinib maleate. This drug is an inhibitor of Janus kinase, an enzyme involved in hypersensitivity reactions and pruritus in dogs. Published studies have reported that oclacitinib is effective for the control of the inflammatory processes that occur in this type of cutaneous vasculopathy, which explains the therapeutic success in the case described here. 
Downloads
Download data is not yet available.
References
Antunes M.R & Koch S.N. 2019. Eficácia do maleato de oclacitinib no tratamento de dermatopatia isquêmica generalizada juvenil em um cão: Relato de caso. Nosso Clínico. 130: 6-8.
Backel K.A., Bradley C.W., Cain C.L., Morris D.O., Goldschimidt K.H. & Mauldin E.A. 2019. Canine ischaemic dermatopathy: a retrospective study of 177 cases (2005-2016). Veterinary Dermatology. 30(5): 406-e122.
Collard W.T., Hummel B.D., Fielder A.F., King V.L., Boucher J.F., Mullins M.A., Malpas P.B. & Stegemann M.R. 2013. The pharmacokinetics of oclacitinib maleate, a Janus Kinase inhibitor, in the dog. Journal of Veterinary Pharmacology and Therapeutics. 37(3): 279-285.
Conceição L.G. & Loures F.H. 2020. Biópsia e Histopatologia da Pele. In: Larsson C.E. & Lucas R. (Eds). Tratado de Medicina Externa - Dermatologia Veterinária. 2.ed. São Caetano do Sul: Interbook Editorial, pp.145-167.
Gross T.L., Ihrke P.J., Walder E.J. &Affolter V.K. 2005. Interface diseases of the dermal-epidermal junction. In: Skin Diseases of the Dog and Cat: Clinical and Histopathologic Diagnosis. 2nd edn. Oxford: Blackwell Science, pp.49-74.
Hargis A.M., Haupt K.H., Hegreberg G.A., Prieur D.J. & Moore M.P. 1984. Familial Canine Dermatomyositis Initial Characterization of the Cutaneous and Muscular Lesions. The American Journal of Pathology. 116 (2): 234-244.
Heinrich N.A., Eisenschenk M., Harvey R.G. & Nutall T. 2019. Ulceratives dermatoses. In: Skin Diseases of the Dog and Cat. 3rd edn. Boca Raton: CRC Press, pp.157-188.
Hnilica K.A. 2005. Cyclosporine Therapy I: Immune Mediated Dermatoses. In: V The North American Veterinary Conference (Orlando, Florida). pp.270-272.
Ihrke P.J. 2006. Ischemic skin disease in the dog. In: World's Congress WSAVA/FECAVA/CSAVA. (Prague, Czech Republic). pp.227-231.
Innera M. 2013. Cutaneous Vasculitis in Small Animals. Veterinary Clinics: Small Animal Practice. 43(1): 113-134.
Levy B.J., Linder K.E. & Olivry T. 2019. The role of oclacitinib in the management of ischaemic dermatopathy in four dogs. Veterinary Dermatology. 30(3): 201-e63.
Medleau L. & Hnilica K.A. 2009. Doenças cutâneas autoimunes e imunomediadas. Vasculite cutânea. In: Dermatologia de Pequenos Animais: Atlas Colorido e Guia Terapêutico. 2.ed. São Paulo: Roca, pp.214-215.
Medleau L. & Hnilica K.A. 2009. Doenças congênitas. Dermatomiosite Canina Familiar. In: Dermatologia de Pequenos Animais: Atlas Colorido e Guia Terapêutico. 2.ed. São Paulo: Roca, pp.275-277.
Miller W.H., Griffin C.E. & Campbell K.L. 2012. Congenital and hereditary defects. In: Muller and Kirk's Small Animal Dermatology. 7th edn. St. Louis: Elsevier, pp.573-617.
Morris D.O. 2013. Ischaemic Dermatopathies. Veterinary Clinics: Small Animal Practice. 43(1): 99-111.
Pulsoni D., Freire A. & Ferreira D.R. 2018. Juvenile-onset ischaemic dermatopathy in two dogs treated with oclacitinib. Veterinary Dermatology. 29(5): 371.
Romero C., Garcia G., Sheinberg G., Cordero A., Rodrigues D. & Heredia R. 2018. Three Cases of Canine Dermatomyositis - Like Disease. Acta Scientiae Veterinariae. 46(1): 1-6.
Rondelli M.C.H., Marinho F.A., Alves M.A.M.K., Werner J., Cipólli V.M.M. & Costa M.T. 2011. Dermatomiosite canina - relato de três casos. Clínica Veterinária. 93: 58-62.
Vitale C.B., Gross T.L. & Magro C.M. 1999. Vaccine-induced ischemic dermatopathy in the dog. Veterinary Dermatology. 10: 131-142.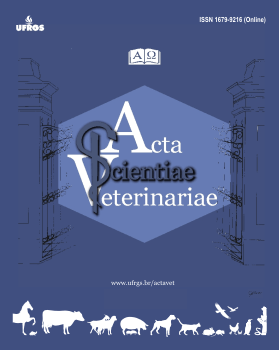 How to Cite
Cousandier, G., Scholten, A. D., Scotton, G., & Stefanello, C. (2021). Juvenile-Onset Ischemic Dermatopathy in a Dog. Acta Scientiae Veterinariae, 49. https://doi.org/10.22456/1679-9216.105583
License
This journal provides open access to all of its content on the principle that making research freely available to the public supports a greater global exchange of knowledge. Such access is associated with increased readership and increased citation of an author's work. For more information on this approach, see the Public Knowledge Project and Directory of Open Access Journals.
We define open access journals as journals that use a funding model that does not charge readers or their institutions for access. From the BOAI definition of "open access" we take the right of users to "read, download, copy, distribute, print, search, or link to the full texts of these articles" as mandatory for a journal to be included in the directory.
La Red y Portal Iberoamericano de Revistas Científicas de Veterinaria de Libre Acceso reúne a las principales publicaciones científicas editadas en España, Portugal, Latino América y otros países del ámbito latino