Pyothorax in Antillean Manatee (Trichechus manatus) in Brazil
Abstract
Background: Manatees are the most endangered aquatic mammals in Brazil. The current conservation scenario, together with their biological characteristics, raises concern with the future of this species. Pyothorax, also known as septic pleural effusion or pleural empyema, is characterized by the accumulation of a septic purulent exudate within the pleural space. Although this infection often has a multifactorial etiology, it is most commonly associated with respiratory tract disorders and trauma. Here, we report a case of pyothorax in a Antillean manatee (Trichechus manatus) held in captivity for acclimatization in Brazil.
Case: A young, male Antillean manatee, aged 4 years and 11 months, measuring 227 cm in total length, and weighing 258 kg was held in captivity for acclimatization (natural environment) in Porto de Pedras in the State of Alagoas, Brazil. The animal died in February 2013 and was sent for necropsy at the CMA/ICMBio laboratory. The study was developed with authorisation from the Ethics Committee on Animal Use (License number 020/2009) and under the license SISBIO/ICMBio number 20685-1. Externally, the carcass of the animal showed swelling and bulging of the right antimere and purulent secretion from the right nostril. After external examination, a window was opened in the layers of skin, fat, and muscles from the level of the anus to the navel. Subsequently, the abdominal cavity was opened for inspecting the internal organs. The subcutaneous muscles had a slightly friable, swollen, and pale texture, in addition to petechial hemorrhage, suffusions, and marked edema of the subcutaneous tissue. The right hemidiaphragm was elevated, filling the abdominal and thoracic spaces. Depending on the elevation, all organs were moved to the left antimere. After dissecting the surrounding structures and analyzing the causes for the increase in volume, it was observed that the right lung formed a structure containing a large amount of purulent exudate, which was delimited by the right hemidiaphragm. It had a length of 111 cm, width of 40 cm, and wingspan of 137 cm, starting from the first thoracic rib to the last lumbar rib, near the peduncle region. After making an incision in the right hemidiaphragm and visceral pleura, approximately 70 L of purulent exudate and caseous material were removed. Since the right lung was severely damaged, visualizing the pulmonary parenchyma was not possible, and only remains of the main right bronchus could be seen.
Discussion: Domestic species, such as dogs and cats, when affected by pleural empyema, usually have a restrictive breathing pattern (shallow and rapid breaths) and fever. Interpreting the clinical signs may be difficult for manatees because of their slow metabolism. In the United States, 44 (6%) cases of pleural empyema were recorded in manatees from a total of 731 animals evaluated, and shock with boats was determined as the primary cause. In the present animal, no signs of bone fractures were found, suggesting that the infection may have been caused by the use of an orogastric tube or even acquired in the environment prepared for acclimation. Based on the pathognomonic macroscopic findings, one can conclude that the animal had a characteristic clinical picture of pleural empyema (pyothorax) associated with an infection of unknown origin. This situation resulted in complete degeneration of the right lung and massive thoracic and abdominal distensions, resulting in decreased expansion capacity of the left lung, making breathing impossible, thus leading to death.
Downloads
Download data is not yet available.
References
Attademo F.L.N., Ribeiro V.O., Soares H.S., Luna F.O., Souza G.P., Freire A.C.B., Gennari S. M., Alves L.C., Marvulo M.F.V. & Dubey J.P. 2016. Seroprevalence of Toxoplasma gondii in captive Antillean Manatee (Trichechus manatus manatus) in Brazil. Journal of Zoo and Wildlife Medicine. 47(2): 423-426.
Balensiefer D.C., Attademo F.L.N., Souza G.P., Freire A.C.B., Cunha F.A.G.C., Alencar A.E.B., Silva F.J.L. & Luna F.O. 2017. Three decades of Antillean manatee (Trichechus manatus manatus) strandings along the Brazilian coast. Tropical Conservation Science. 10(1): 1-9.
Borges J.C., Alves L.C., Vergara-Parente J.E., Faustino M.A. & Machado EC.L. 2009. Ocorrência de infecção Cryptosporidium spp. em peixe-boi marinho (Trichechus manatus). Revista Brasileira de Parasitologia Veterinária. 18(1): 60-61.
Borges J.C.G., Jung L.M., Carvalho V.L., Moreira A.L.O., Attademo F.L.N., Ramos R.A.N. & Alves L.C. 2016. Pulmonicola cochleotrema (Digenea: Opisthotrematidae) in Antillean manatees (Trichechus manatus manatus) from the North-eastern region of Brazil. Journal of the Marine Biological Association of the United Kingdom. 97(8):1581-1584.
Bossart G.D. 2001. Manatee. In: Dierauf L.A. & Gulland F.M.D. (Eds). CRC Handbook of Marine Mammal Medicine. 2nd edn. Boca Raton: CRC Press, pp.939-960.
Catão-Dias J.L. 2008. Biossegurança na manipulação de animais silvestres. Biossegurança na reintrodução de animais silvestres na natureza. Ciências Veterinárias Tropical. 11(1): 178-181.
Deutsch C.J., Self-Sullivan C. & Mignucci-Giannoni A. 2008. Trichechus manatus. The IUCN Red List of Threatened Species. Disponível em: <https://dx.doi.org/10.2305/IUCN.UK.2008.RLTS.T22103A9356917.en.>. [Accessed online in April 2020].
Doyle R.S., Bellenger C.R., Campoy L. & Mcallister H. 2005. Pyothorax in a cat managed by intrathoracic debridement and postoperative ventilatory support. Irish Veterinary Journal. 58(4): 211-215.
Harr K.E., Rember R., Ginn P.E., Lightsey J., Keller M., Reid J. & Bonde R.K. 2011. Serum Amyloid A (SAA) as a Biomarker of Chronic Infection Due to Boat Strike Trauma in a Free-ranging Florida Manatee (Trichechus manatus latirostris) with Incidental Polycystic Kidneys. Journal of Wildlife Diseases. 47(4): 1026-1031.
ICMBIO. 2011. Plano de Ação Nacional para a Conservação dos Sirênios: peixe-boi-da-Amazônia: Trichechus inunguis e peixe-boi marinho: Trichechus manatus. Brasília, Brasil. Disponível em: <https://www.icmbio.gov.br/portal/images/stories/docs-pan/pan-sirenios/1-ciclo/pan-sirenios-livro.pdf>. [Accessed online in April 2020].
Johnson A.L. 2014. Cirurgia do sistema respiratório inferior. In: Fossum T.W. (Ed). Cirurgia de Pequenos Animais. 4.ed. Rio de Janeiro: Elsevier, pp.1025.
Lazzarini S.E., Vergara-Parente J.E. & Ribeiro D.C. 2014. Sireni (Peixe-boi-da-amazônia e Peixe-boi-marinho). In: Cubas Z.S., Silva J.C.R. & Catão-Dias J.L. (Eds). Tratado de Animais Selvagens - Medicina Veterinária. 2.ed. São Paulo: Roca, pp.936-972.
Lee K.C.L. 2014. Surgical or medical management of pyothorax in dogs? Veterinary Record. 174(24): 605-607.
Leger J.A.S., Begeman L., Fleetwood M., Frasca S., Garner M.M., Lair S., Trembley S., Linn M.J. & Terio K.A. 2009. Comparative Pathology of Nocardiosis in Marine Mammals. Veterinary Pathology. 46(2): 299-308.
Lightsey J.D., Rommel S.A., Costidis A.M., Thomas D. & Ptchford B.S. 2006. Methods used during gross necropsy to determine watercraft-related mortality in the Florida manatee (Trichechus manatus latirostris). Journal of Zoo and Wildlife Medicine. 37(3): 262-275.
Luna F.O., Balensiefer D.C., Fragoso A.B., Stephano A. & Attademo F.L.N. 2018. Trichechus manatus Linnaeus, 1758. In: Instituto Chico Mendes de Conservação da Biodiversidade. (Ed). Livro Vermelho da Fauna Brasileira Ameaçada de Extinção. Brasília: ICMBio/MMA, 84p.
Luna F.O. & Passavante J.Z.O. 2010. Projeto peixe-boi/ICMBio 30 anos de conservação de uma espécie ameaçada. Brasília: ICMBio, 108p.
Luna F.O. 2013. Population genetics and conservation strategies for the West Indian manatee (Trichechus manatus Linnaeus, 1758) in Brazil. 237f. Recife, PE. Tese (Doutorado em Oceanografia) - Faculdade de Oceanografia, Universidade Federal de Pernambuco.
Mendonça M.A., Santos M.L., Barral T.D., Attademo F.L., Costa R.B., Meyer R., Barrouin-Melo S.M. & Portela R.D. 2019. Affinity of Staphylococcal A and Streptococcal G Proteins to West Indian Manatee (Trichechus manatus manatus) Immunoglobulins. Journal of Wildlife Diseases. 55(2): 421-424.
Rommel S. & Reynolds J.E. 2000. Diaphragm structure and function in the Florida manatee (Trichechus manatus latirostris). The Anatomical Record. 259(1): 41-51.
Silva M.C.O., Attademo F.L.N., Freire A.C.B., Souza G.P., Luna F.O., Lima D.C.V., Mota R.A., Mendes E.S. & Silva J.C.R. 2017. Identification of bacteria in blood cultures from clinically ill captive Antillean Manatees (Trichechus manatus manatus). Journal of Zoo and Wildlife Medicine. 48(1): 13-17.
Stillion J.R. & Letendre J.-A. 2015. A clinical review of the pathophysiology, diagnosis, and treatment of pyothorax in dogs and cats. Journal of Veterinary Emergency and Critical Care. 25(1): 113-129.
Stroud R.K. & Roffe T.J. 1979. Causes of death in marine mammals stranded along the oregon coast. Journal of Wildlife Diseases. 15(1): 91-97.
Vergara-Parente J.E. 2005. Sirênios. In: Protocolo de conduta para encalhes de mamíferos aquáticos. Rede de Encalhes de Mamíferos Aquáticos do Nordeste. Recife: IBAMA, pp.185-205.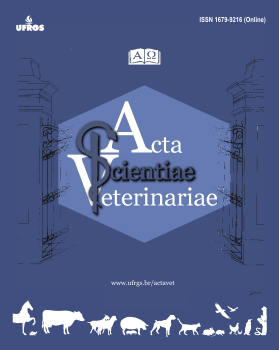 How to Cite
Attademo, F. L. N., Luna, F. de O., Sousa, G. P. de, Freire, A. C. da B., Balensiefer, D. C., & Oliveira, R. E. M. de. (2020). Pyothorax in Antillean Manatee (Trichechus manatus) in Brazil. Acta Scientiae Veterinariae, 48. https://doi.org/10.22456/1679-9216.102809
License
This journal provides open access to all of its content on the principle that making research freely available to the public supports a greater global exchange of knowledge. Such access is associated with increased readership and increased citation of an author's work. For more information on this approach, see the Public Knowledge Project and Directory of Open Access Journals.
We define open access journals as journals that use a funding model that does not charge readers or their institutions for access. From the BOAI definition of "open access" we take the right of users to "read, download, copy, distribute, print, search, or link to the full texts of these articles" as mandatory for a journal to be included in the directory.
La Red y Portal Iberoamericano de Revistas Científicas de Veterinaria de Libre Acceso reúne a las principales publicaciones científicas editadas en España, Portugal, Latino América y otros países del ámbito latino