Focus and Scope
Focus and Scope
ASV is concerned with papers dealing with all aspects of disease prevention, clinical and internal medicine, pathology, surgery, epidemiology, immunology, diagnostic and therapeutic procedures, in addition to fundamental research in physiology, biochemistry, immunochemistry, genetics, cell and molecular biology applied to the veterinary field and as an interface with public health.
The submission of a manuscript implies that the same work has not been published and is not under consideration for publication elsewhere.
The articles must be submitted online by the Electronic System of Publishing Journals (SEER, by its expression in Portuguese) – in https://seer.ufrgs.br/ActaScientiaeVeterinariae/login
There are no page charges, only a submission fee.
Section Policies
Review
Por solicitação dirigida do C.E. ou por iniciativa do autor que deverá enviar previamente uma proposta com descrição, sequencial e numerada, dos tópicos a serem abordados
na revisão
| | | |
| --- | --- | --- |
| Open Submissions | Indexed | Peer Reviewed |
Articles
Composto de dados inéditos com apresentação clara da hipótese. A redação deve ser concisa, mas permita a reprodução da metodologia descrita, com
perfeito entendimento da discussão no contexto geral do assunto, gerando conclusões alicerçadas nos dados obtidos ou observados, normalmente não deve ultrapassar 15 páginas, e uma base de no máximo 60 referências.
| | | |
| --- | --- | --- |
| Open Submissions | Indexed | Peer Reviewed |
Case Report
Destinado para a descrição de quadros
clínicos/cirúrgicos/sintomatológicos/terapêuticos etc. de natureza ou evolução incomum.
| | | |
| --- | --- | --- |
| Open Submissions | Indexed | Peer Reviewed |
Publication Frequency
Uma vez aceito quanto ao mérito científico, os autores deverão enviar o comprovante de pagamento da taxa de publicação. Após o pagamento ser confirmado,  o artigo será enviado para publicação.  
Os Editores.
__________
Acta Scientiae Veterinariae is an online journal. The articles will be published (continuous publication) as they come in without specific issues being identified.
Research Articles (Full Paper) or Review Articles will be complete with the full citation details from first publication.
The citation will be year, volume, article (a unique identifier for that article) — for example, Acta Scientiae Veterinariae 2013; 41: 1001.
Annual Supplement to Acta Scientiae Veterinariae:  Acta Scientiae Veterinariae will publish  only one regular annual supplement with Case Reports. Please, read the instructions of this type of manuscript.
Open Access Policy
We are an Open Access Journal.
Indexed in: Web of Science Core Collection / CAB Direct / Index Veterinarius / Veterinary Bulletin / LAPTOC (Latin American Periodicals Tables of contents)
Qualis B1 (Veterinary Science area)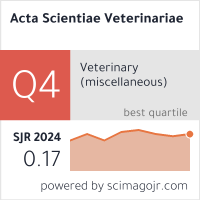 Directory of Open Access Journals


Acta Scientiae Veterinariae