FROM THE GENERAL PEACE AGREEMENT (1992) TO THE GENERAL ELECTIONS IN 1994: THE PEACE PROCESS CONDUCTED IN MOZAMBIQUE
Keywords:
Mozambique, Peace, United Nations, Africa
Abstract
The purpose of this article is to understand the peace process in Mozambique, as well as to identify the main events that occurred in the world, which were reflected in the respective peace process. Therefore, this article is structured this way: initially, the theme is set out, highlighting some relevant geographical and historical characteristics of Mozambique. In the second section the methodology is defined, in the same way that the limits of this investigation are informed. The third section revisits the process of historical evolution that took place in Mozambique between century 8th and the years of 1992, and discussing it in five subperiods. The fourth section analyzes the participation of the UN in Mozambique between 1992 and 1994. And in the last section, the main facts of the international system are verified that positively and negatively reflected in the peace process conducted in Mozambique.
Downloads
Download data is not yet available.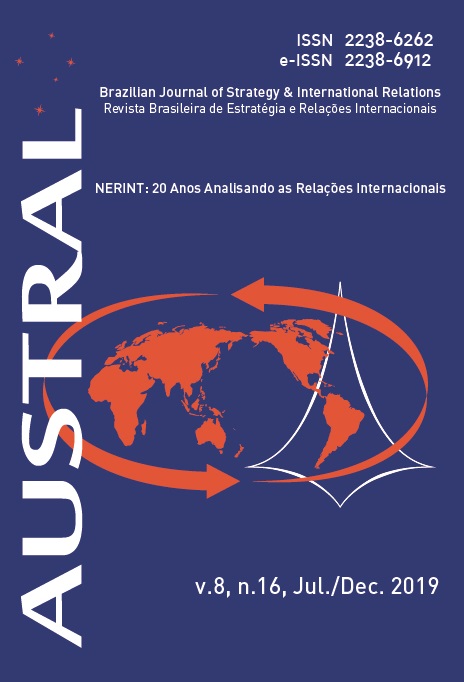 Downloads
How to Cite
Rodrigues, A. de O., & Migon, E. X. F. G. (2022). FROM THE GENERAL PEACE AGREEMENT (1992) TO THE GENERAL ELECTIONS IN 1994: THE PEACE PROCESS CONDUCTED IN MOZAMBIQUE. AUSTRAL: Brazilian Journal of Strategy & International Relations, 8(16). https://doi.org/10.22456/2238-6912.89070