Sul, Sertão e Flores: uma propedêutica necessária para compreender as manifestações artísticas contemporâneas do Sul Global
Palavras-chave:
Brasil, Feminejo, Identidades Decolonais, Género, Resistência
Resumo
Neste artigo propomos uma abordagem ao grupo de feminejo intitulado Fulô do Sertão procedente de Teresina, Estado do Piauí, Brasil. Esse grupo foi escolhido com o intuito de enaltecer a música como uma arma de resistência/existência no Sul Global. Assim, considerando a perspetiva dos mundos imaginados e das tecnologias do self, defendemos que as produções artísticas das Fulô do Sertão são, na verdade, responsáveis por engendrarem novas epistemologias músico-simbólicas no Sul Global. A abordagem aqui adotada centra-se em dois pilares analíticos fundamentais: (1) a necessidade de introduzir nas cenas musicais atuais experiências que contribuíram para a diversidade artística e cultural, não obstante terem sido largamente secundarizadas e/ou omitidas pelo modo de pensar anglo-americano; (2) analisar
experiências culturais inovadoras que envolvem um estudo sustentado de grupos sociais que são largamente omitidos, nomeadamente as mulheres, bem como uma compreensão da realidade do Sul, marcada por um novo capitalismo baseado na insegurança e precariedade socioeconómica. Portanto, observando este caso de estudo, ficamos perante não só a possibilidade de delinear cenas musicais decoloniais, como similarmente de fazer assomar a superação do género colonial.
Downloads
Não há dados estatísticos.
Referências
ALCÂNTARA, João André Silva. As (Des)Construções do Macho Nordestino em Videoclipes: um estudo das performances de Daniel Peixoto e Johnny Hooker. Pós-Graduação em Comunicação. Universidade Federal de Pernambuco, 2017.
BENNETT, Andy. Conceptualising the relationship between youth, music and DIY careers: A critical overview. Cultural Sociology, vol.12, no.2, pp.140-155, 2018.
BENNETT, Andy & PETERSON, Richard. Music Scenes: Local, Translocal, and Virtual. UK: Routledge, 2004.
BERGER, Peter & LUCKMANN, Thomas. The Social Construction of Reality: A Treatise in the Sociology of Knowledge. Anchor Books, 1996.
BHAMBRA, Gurminder. Postcolonial and decolonial dialogues. Postcolonial Studies, vol.17, no.2, pp.115-121, 2014.
CRESSWELL, Tim. Place: a Short Introduction. Oxford: Blackwell Publishing, 2004.
DERRIDA, Jacques. La différance in Marges de la Philosophie. Paris: Les Éditions de Minuit, 2003.
FUAD-LUKE, Alastair. Design Activism's Teleological Freedoms as a Means to Transform Our Habitus. In FUAD-Luke, Alastair; HIRSCHER, Anja-Lisa & MOEBUS, Katharina (Eds). Agents of Alternatives – Re-designing Our Realities. Berlin: Paperback, 2015, pp. 280-295.
GOLDMAN, Vivien. Revenge of the She-Punks: A Feminist Music History from Poly Styrene to Pussy Riot. Austin: University of Texas Press, 2019.
GROSFOGUEL, Ramón. A Decolonial Approach to Political-Economy: Tansmodernity, Border Thinking and Global coloniality. Kult, pp.10-38, 2009.
GUERRA, Paula. So close yet so far: DIY cultures in Portugal and Brazil. Cultural Trends, vol.30, no.2, pp.122-138, 2021.
GUERRA, Paula. Nothing is forever: um ensaio sobre as artes urbanas de Miguel Januário±MaisMenos±. Horizontes Antropológicos, vol. 28, no.55, pp.19-49, 2019.
GUERRA, Paula. Gender is Dead, Pink is 4Ever: Gender, Differences and Popular Cultures. Keep It Simple, Make It Fast. Porto: Universidade do Porto, 2018a.
GUERRA, Paula. Raw Power: Punk, DIY and Underground Cultures as Spaces of Resistance in Contemporary Portugal. Cultural Sociology, vol. 12, no.2, pp.241-259, 2018b.
GUERRA, Paula; HOEFEL, Maria da Graça; SEVERO, Denise Osório & SOUSA, Sofia. Tu é Machista. Música, ativismo estético-político e (re)configuração social e política nos tempos presentes. Revista NAVA, vol. 6, no.1-2, pp.267-297, 2021.
GUERRA, Paula; BITTENCOURT, Luiza & GELAIN, Gabriela. Punk Fairytale: Popular Music, Media, and the (Re)Production of Gender. In Gender and Media: Women's Places. Bingley: Emerald Publishing Limited, pp.49-68, 2018.
GUERRA, Paula & STRAW, Will. I wanna be your punk: O universo de possíveis do punk, do D.I.Y. e das culturas underground. Cadernos de Arte e Antropologia, vol.6, no.1, pp.5–16, 2017.
HAENFLER, Ross. Rethinking subcultural resistance: Core values of the straight edge movement. Journal of Contemporary Ethnography, vol. 33, no.4, pp.406-436, 2004.
HIRSCHER, Anja-Lisa; MAZZARELLA, Francesco & FUAD-LUKE, Alastair. Socializing Value Creation Through Practices of Making Clothing Differently: A Case Study of a Makershop With Diverse Locals. Fashion Practice. The Journal of Design, Creative Process & the Fashion Industry, vol.11, no.1, pp. 53-80, 2019.
HOLLANDA, Heloísa Buarque. Pensamento Feminista Hoje: Perspectivas Decoloniais. Rio de Janeiro: Bazar do Tempo, 2020.
JÚNIOR, Francisco de Arruda & HOLANDA, Janete Abreu. Discursos materializados em canções de NairaAzevedo: relações de poder e resistência. Revista Heterotópica, vol. 2, no.2, pp. 51-67, 2020.
KILOMBA, Grada. Decolonizing knowledge. lecture announcement, Akademie der Künste der Welt, accessed October 2 (2016).
KORPE, Tilia. Artivism in Tunis: Music and Art as Tools of Creative Resistance and the Cultural Re: Mixing of a Revolution. Diss. Malmö Högskola, 2013.
LUGONES, María. Heterosexualism and the colonial/modern gender system. Hypatia, vol. 22, no.1, pp. 186-209, 2007.
MCROBBIE, Angela. The Aftermath of Feminism: Gender, Culture and Social Change. Londres: Sage, 2009.
MENESES, Maria Paula & SANTOS, Boaventura de Sousa. Epistemologias do Sul. Lisboa: Almedina, 2018.
O'BRIEN, Lucy. The woman punk made me. In SABIN, Roger (ed.). Punk rock: So what? The cultural legacy of punk. New York: Routledge, 1999.
OLIVEIRA, Cláudia & GUERRA, Paula. Procurando Diva no Sul Global: feminismo, arte e política. Chamada Aberta, vol. 42, pp. 750-808, 2021.
ORLANDI, Eni Puccinelli. Análise de Discurso e Interpretação. In ORLANDI, Eni Puccinelli (Ed.). Discurso e Texto: formulação e circulação dos sentidos. São Paulo: Pontes, pp.19-29. 2005.
OXFORD, Sarah & SPAAIJ, Ramón. Gender Relations and Sport for Development in Colombia: A Decolonial Feminist Analysis. Leisure Sciences, vol. 41, no.1-2, pp. 54-71, 2019.
PAIS, José Machado. Jóvenes y creatividad: Entre futuros sombrios y tempos de conquista. NED Ediciones, 2020.
PAIS, José Machado. Fados do fado: enredos, cronotopos e trânsitos culturais. Etnográfica, vol. 21, no.1, pp. 219-235, 2018.
PIANO, Doreen. Resisting Subjects: DIY Feminism and the Politics of Style in Subcultural Production. In MUGGLETON, David & WEINZIERL, Rupert (Eds.). The Post-Subcultures Reader. Oxford: Reino Unido, pp. 253-265, 2003.
PIOVESAN, Flávia. Direitos Humanos e o Direito Constitucional Internacional. São Paulo: Editora Saraiva, 2011.
PRICE, Janet & SHILDRICK, Margrit. Feminist Theory and the Body: A Reader. New York: Routledge, 1999.
QUIJANO, Anibal & ENNIS, Michael. Coloniality of power, eurocentrism, and Latin America. Nepantla: Views from the South, 1, pp. 533-580, 2000.
REDDINGTON, Helen. She's at the Controls: Sound Engineering, Production and Gender Ventriloquism in the 21st Century. UK: Equinox, 2021.
REDDINGTON, Helen. The Lost women of Rock Music. Female Musicians of the Punk Era. UK: Equinox, 2012.
REDDINGTON, Helen. Lady' punks in bands: A subculturette?. In MUGGLETON, David & WEINZIERL, Ruper (Eds.). The post-subcultures reader. Oxford: Berg, pp. 239-251, 2003.
SCHECHNER, Richard. What is Performance Studies?. Rupkatha Journal on Interdisciplinary Studies in Humanities, Special Issue on Performance Studies, vol. 5, no.2, pp. 1–11, 2003.
SCOTT, John & MARSHALL, Gordon. A Dictionary of Sociology. Oxford: Oxford University Press, 1998.
SEGATO, Rita Laura. Território, soberania e crimes de segundo Estado: a escritura nos corpos das mulheres de Ciudad Juarez. Estudos feministas, vol. 13, no.2, pp. 265-285, 2005.
SHALTOUT, Hana. Egyptian feminist artivism post-2011: Bnt Al Masarwa as new turn?. Journal of the African Literature Association, pp. 1-23, 2021.
SILVA, Ricardo Duarte Gomes. Um olhar feminino na música sertaneja: aspetos do discurso e dos valores do Feminejo. Brazilian Journal of Development, vol. 7, no.2, pp. 18616-18628, 2021.
STRAUSS, Carolyn & FUAD-LUKE, Alastair. The Slow Design Principles: A new interrogative and reflexive tool for design research and practice. Changing the Change, pp. 1-14, 2008.
STRIFF, Erin. Bodies of Evidence: Feminist Performance Art. Critical Survey, vol. 9, no.1, pp. 1-18, 1997.
STRONG, Catherine & RAINE, Sarah. Towards Gender Equality in the Music Industry: Education, Practice and Strategies for Change. UK: Paperback, 2019.
STRONG, Catherine. Grunge, riot grrrl and the forgetting of women in popular culture. The Journal of Popular Culture, vol. 44, no.2, pp. 398–416, 2011.
THAYER, Millie. Transnational feminism: Reading Joan Scott in the Brazilian Sertão. Ethnography, vol. 2, no.2, pp. 243-271, 2001.
TURNER, Elizabeth. The Discourse of Protest, Resistance and Social Commentary in Reggae Music A Bakhtinian Analysis of Pacific Reggae. London: Routledge, 2021.
USSHER, Jane. Fantasies of Femininity: Reframing the Boundaries of Sex. New Brunswick, Nova Jérsei: Rutgers University Press, 1997.
VERSCHUUR, Christine & DESTREMAU, Blandine. Decolonial Feminism, Gender, and Development: History and Narratives of Southern Feminisms and Women's Movements. Revue Tiers Monde, vol. 209, no.1, pp. 7-18, 2012.
XIAO, Jian & QU, Shuwen. Everybody'd Donghu: Artistic resistance and the reclaiming of public space in China. Space and Culture, pp. 1-15, 2020.
WRAY, Tim. The Queer Gaze. Wissenschaftliche Zeitschrift der Bauhaus-Universität Weimar, 4, pp. 69-73, 2003.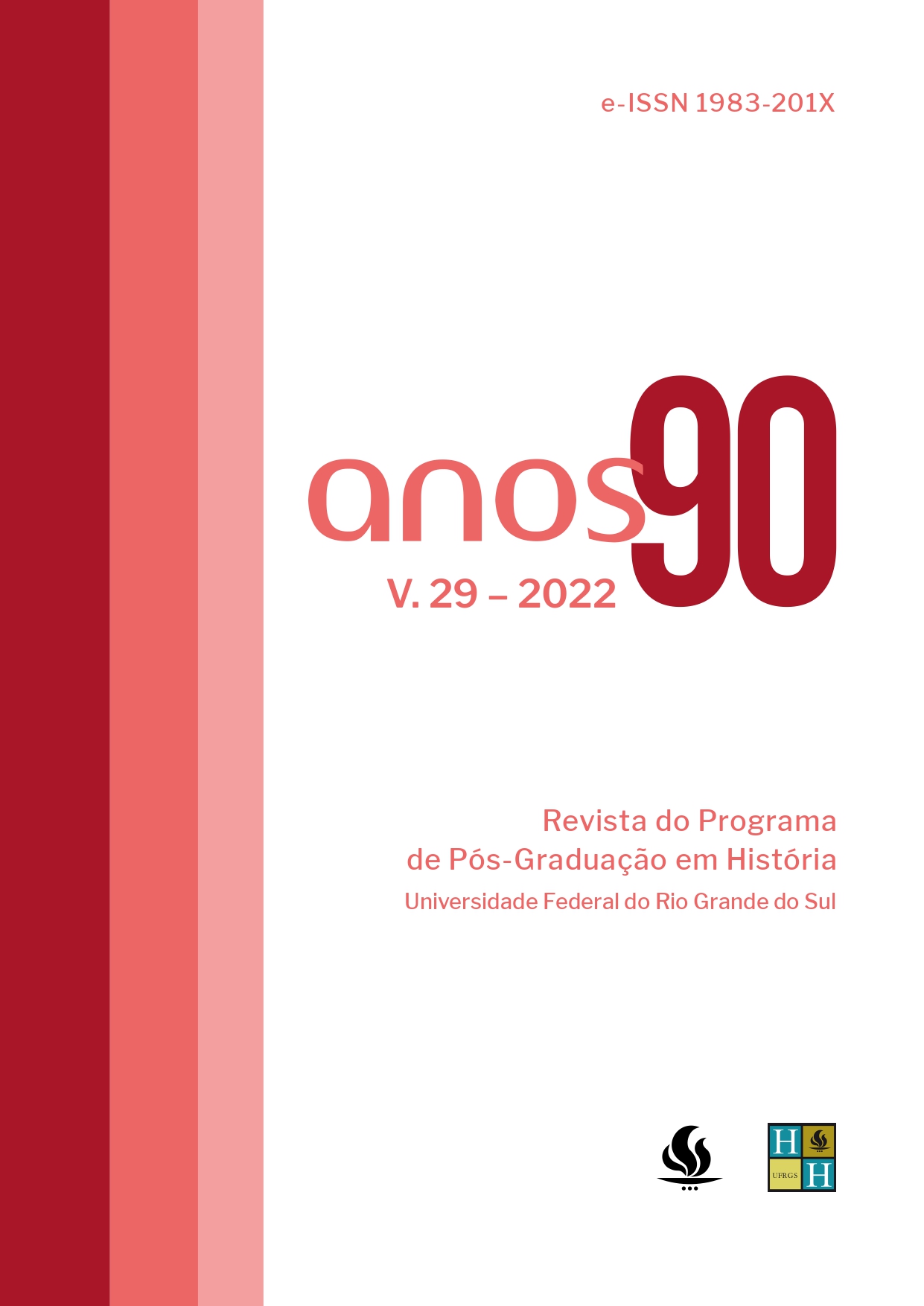 Downloads
Como Citar
Guerra, P. (2022). Sul, Sertão e Flores: uma propedêutica necessária para compreender as manifestações artísticas contemporâneas do Sul Global. Anos 90, 29, 1–15. https://doi.org/10.22456/1983-201X.120373
Seção
História, Artes e Juventude: o mundo na virada do século