Mucocutaneous Horn in Dog
Abstract
Background: Cutaneous horn is a circumscribed exophytic lesion composed of dense, compact keratin with hyperplastic epidermis, which is primarily orthokeratotic and may include foci of parakeratosis. The hyperkeratotic protuberance resembles a horn but lack bone. In humans, it is well-documented with a wide range of primary epidermal lesions identified. In dogs, the reports are rare and brief. The diagnosis is based on its appearance and excisional biopsy reveals the triggering lesion. The objective of the present work is to describe the clinical presentation, predictive benignancy finds, treatment and follow-up of a case of cutaneous horns that arose from anal mucocutaneous boundary in a dog.
Case: A 6-month-old male Pug presented two tumors in the anus noted in the early months of life. Complete blood count, serum chemistry profile, surgery, histopathological analysis and postoperative outcome were performed. Possible relapses were follow-up until 11 months after surgery. On physical examination, the dog was otherwise healthy. The two horn-like tumors were protruding from the mucocutaneous junction of the external anal sphincter in a sun-protected area. Both were higher than wide in base or, in other words, they had a high height-to-base ratio. During surgery, the masses were excised using an electronic scalpel and sent to histopathological analysis. The post-operative care consisted of cephalexin and meloxicam prescriptions. Also, it was recommended 0.9% NaCl solution wound flushing followed by topical chlorhexidine digluconate solution (1%) whenever dirt or defecation were noticed. The surgical wound healed after two weeks by second intention. Histopathology found well-delimited masses that covers the epidermis and dermis and displaces the cutaneous appendages towards the underlying musculature with an aggregate of lymphoplasmohistiocytic inflammatory infiltrate in the adjacent dermis. These finds and the presence of orthokeratotic hyperkeratosis and epidermis hyperplasia confirmed the clinical diagnosis of cutaneous horns. There were no signs of malignance. After surgery, no relapse occurred.
Discussion: To the best of the authors' knowledge, this is the first confirmed case of cutaneous horns in mucocutaneous junction. Furthermore, the tumors were found in a region with little exposure to sunlight which is unusual. The tumor's narrow bases and the absence of continuous and dense inflammatory infiltrate shown to be predictive of benignancy as occurs in human beings. During surgical planning, it was decided not to establish wide margins around the masses. The decision considered the morphological signs of benignancy of the tumors described for human beings as no surveys about prevalence of benignity or malignancy associated with cutaneous horns were found in dogs. In addition, a more extensive excision could promote anal sphincter dysfunction. There was no tumors recurrence suggesting that the primary underlying lesions have been healed and confirming that predictive benignancy morphological characteristics applied in human patients can be useful for small animals. Veterinary clinicians and surgeons must be in constant vigil of cutaneous horns uncommon presentations and report them to create a solid database that can be useful for prognosis and surgical planning. The morphological predictive factors can be applied to avoid unnecessary extensive surgical excisions that could lead to functional or cosmetic impairment.
Downloads
Download data is not yet available.
References
Falk E., Lange C.E., Jennings S. & Ferrer L. 2017. Two cutaneous horns associated with canine papillomavirus type 1 infection in a Pit Bull dog. Veterinary Dermatology. 28(4): 420-421.
Goldschmidt M.H. & Goldschmidt K.H. 2016. Epithelial and Melanocytic Tumors of the Skin. In: Meuten D.J. (Ed). Tumors in Domestic Animals. 5th edn. Ames: Wiley-Blackwell, pp.88-141.
Hermida Pérez J.A. & Bermejo Hernández A. 2013. Cutaneous horn, actinic keratosis and squamous cell carcinoma. Presentation of a clinical case. SEMERGEN - Medicina de Familia. 39(2): 113-116.
Jakubowska K., Kisielewski W., Kańczuga-Koda L., Koda M. & Famulski W. 2017. Diagnostic value of inflammatory cell infiltrates, tumor stroma percentage and disease-free survival in patients with colorectal cancer. Oncology Letters. 14(3): 3869-3877.
Kastanioudakis I., Skevas A., Assimakopoulos D. & Daneilidis B. 1998. Cutaneous horn of the auricle. Otolaryngology - Head And Neck Surgery. 118(5): 735.
Mantese S.A.O., Diogo P.M., Rocha A., Berbert A.L.C.V., Ferreira A.K.M. & Ferreira T.C. 2010. Cutaneous horn: a retrospective histopathological study of 222 cases. Anais Brasileiros de Dermatologia. 85(2): 157-163.
Mir M.A., Mahmud A.A., Mohd Y.M.C., Rehman S., Imran A.M.C. & Lalit M.B.M.C. 2016. Cutaneous Horn: A Devil Not Only in Appearance. Plastic Surgery Case Studies. 2(3): 51-52.
Rodaski S., Guérios S.D., Koppe A.B., Sincero P.C., Tranquilin M.V., Perroni M.A. & Nardi A.B. 2000. Experimental myoplasty of the external anal sphincter with autologous fascia Lata in dogs. Archives of Veterinary Science. 5: 49-54.
Sabando Carranza J.A. & Calvo Carrasco D. 2011. Cuerno cutáneo. Formación Médica Continuada en Atención Primaria. 18(10): 656-657.
Yu R.C.H., Pryce D.W., Macfarlane A.W. & Stewart T.W. 1991. A histopathological study of 643 cutaneous horns. British Journal of Dermatology. 124(5): 449-452.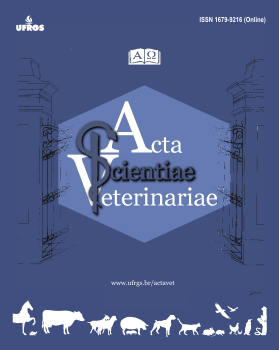 How to Cite
de Araújo, J. M., de Lima, S. C., & Rondon, E. S. (2020). Mucocutaneous Horn in Dog. Acta Scientiae Veterinariae, 48. https://doi.org/10.22456/1679-9216.98347
License
This journal provides open access to all of its content on the principle that making research freely available to the public supports a greater global exchange of knowledge. Such access is associated with increased readership and increased citation of an author's work. For more information on this approach, see the Public Knowledge Project and Directory of Open Access Journals.
We define open access journals as journals that use a funding model that does not charge readers or their institutions for access. From the BOAI definition of "open access" we take the right of users to "read, download, copy, distribute, print, search, or link to the full texts of these articles" as mandatory for a journal to be included in the directory.
La Red y Portal Iberoamericano de Revistas Científicas de Veterinaria de Libre Acceso reúne a las principales publicaciones científicas editadas en España, Portugal, Latino América y otros países del ámbito latino