Canine Mast Cell Tumour Lomustine's Sensitization by Tyrosine Kinase Inhibitors
Abstract
Background: Tyrosine kinase inhibitors (TKIs) may sensitize neoplasms to conventional antineoplastic agents, however such studies are scarse in the veterinary literature and there is no in vivo study about this subject. Although the literature recommend consensual about the use of masitinib for unresectable or metastatic MCTs, the potential of tumour sensitization to chemotherapeutic agents exerted by the drug is poorly explored in veterinary medicine. The objective of this paper was to report, for the first time, the sensitization of 2 canine mast cell tumours (MCTs) to lomustine, with the use of 2 tyrosine kinase inhibitors: masitinib and toceranib.
Cases: Two dogs were referred due tumour recurrence in the left pelvic limb (dog 1), and unilateral mass in the right nasal mucocutaneous region (dog 2). The first case was a 8-year-old female Pinscher, and the second case refers to a 8-year-old male mixed-breed dog. Fine needle aspiration of both lesions was performed, and the cytological analysis were compatible with high grade canine MCT. In the first case, it was started a chemotherapeutic treatment with intravenous vinblastine (2 mg/m²), associated with prednisolone (40 mg/m2, every 24 h for 7 days), followed by 25 mg/m2 every 24 h, for more 30 days, tramadol (4 mg/kg every 8 h, until new recommendations) and gabapentin (3 mg/kg every 12 h, until new recommendations). However, there was no objective response, and vinblastine was substituted by lomustine (60 mg/m2 every 21 days), however there was also no response after 2 doses. After masitinib importation, the same was started at 12.5 mg/kg orally every 24 h, but there was also no objective response. However, after new lomustine administration the lesion showed complete remission. The second dog initiated its treatment with toceranib, recently licensed in Brazil, at a dosage of 2.7 mg/kg every 48 h, and after 30 days, there was partial remission. However, the remaining lesion still deemed unresectable, and systemic chemotherapy with lomustine (50 mg/m2) was initiated along with continuous toceranib. After 3 weeks of the first chemotherapy complete remission was noted and a second dose was administered. Once the patient remained in complete clinical remission, only toceranib was maintained at the same dose. After 11 months using the toceranib, there was sign of disease recurrence and lomustine was re-initiated resulting in complete remission.
Discussion: The TKIs masitinib and toceranib might be considered the first-line therapy for unresectable and/or metastatic canine MCT, but also for those cases with confirmed internal tandem duplications in the exon 11 of the c-KIT protooncogene. Masitinib appears to be more selective than others TKI, such as toceranib, imatinib, dasatinib and sunitinib, because it causes weak inhibition of BCR/ABL (breakpoint cluster region-Abelson), Fms (macrophage colony-stimulating factor receptor), Flt-3 (FMS-like tyrosine kinase-3) and VEGFR (vascular endothelial growth factor receptor), which may
partially explains its increased safety and lower risk of cardiotoxicity. In the first case, the animal has been treated with lomustine associated to masitinib and showed a progression-free interval of 33 days, however, the response reported may have been lower, due previously exposition to chemotherapeutic agents, which might compromise the response to TKI. The second case, with the association of lomustine and toceranib, was followed up for 365 days, presenting only one recurrence in the final third of the follow-up, however, with subsequent new complete remission. Sensitization of canine MCT to lomustine with TKIs increases the therapeutic possibilities for this neoplasm, mainly in patients with advanced stage and high-grade tumours.
Keywords: dog, mast cell, chemotherapy, masitinib, toceranib.
Downloads
Download data is not yet available.
References
Arora A. & Scholar E.M. 2005. Role of tyrosine kinase inhibitors in cancer therapy. The Journal of Pharmacology and Experimental Therapeutics. 315(3): 971-979.
Camus M.S., Priest H.L., Koehler J.W., Driskell E.A., Rakich P.M., Ilha M.R. & Krimer P.M. 2016. Cytologic criteria for mast cell tumor grading in dogs with evaluation of clinical outcome. Veterinary Pathology. 53(6): 1117-1123.
Dobson J., Cohen S. & Gould S. 2004. Treatment of canine mast cell tumors with prednisolone and radiotherapy. Veterinary and Comparative Oncology. 2(3): 132-141.
Dubreuil P., Létard S., Ciufolini M.A., Gros L., Humbert M., Castéran N., Borge L., Hajem B., Lermet A., Sippl W., Voisset E., Arock M., Auclair C., Leventhal P.S., Mansfield C.D., Moussy A. & Hermine O. 2009. Masitinib (AB1010), a Potent and Selective Tyrosine Kinase Inhibitor Targeting KIT. PLoS One. 4(9): 1-12.
Hahn K.A., Oglive G., Rusk T., Devauchelle P., Leblanc A., Legendre A., Powers B., Leventhal P.S., Kinet J.P., Palmerini F., Dubreuil P., Moussy A. & Hermine O. 2008. Masitinib is a safe and effective for the treatment of canine mast cell tumors. Journal of Veterinary Internal Medicine. 22(6): 1301-1309.
Horta R.D.S., Giuliano A., Lavalle G.E., Costa M.P., Araujo R.B., Constantino-Casas F. & Dobson J.M. 2018. Clinical, histological, immunohistochemical and genetic factors associated with measurable response of high-risk canine mast cell tumours to tyrosine kinase inhibitors. Oncology Letters. 15(1): 129-136.
Horta R.S., Lavalle G.E., Costa P.M., Carneiro A.R., Paes P.R.O. & Araujo R.B. 2014. Utilização do mesilato de masitinibe no tratamento adjuvante do mastocitoma canino metastático. Acta ScientiaeVeterinariae. 42(Suppl 1): 38.7p.
Liang S.K., Keng L.T., Chang C.H., Wen Y.F., Lee M.R., Yang C.H., Wang J.Y., Ko J.C., Shih J.Y. & Yu C.H.
Treatment Options of First-Line Tyrosine Kinase Inhibitors and Subsequent Systemic Chemotherapy Agents for Advanced EGFR Mutant Lung Adenocarcinoma Patients: Implications from Taiwan Cancer Registry Cohort. Frontiers in Oncology. 10: 1-11.
London C.A., Malpas P.B., Wood-Follis S.L., Boucher J.F., Rusk A.W., Rosenberg M.P., Henry C.J., Mitchener K.L., Klein M.K., Hintermeister J.G., Bergman P.J., Couto G.C., Mauldin G.N. & Michels G.M. 2009. Multi--center, placebo-controlled, double-blind, randomized study of oral toceranib phosphate (SU11654), a receptor tirosine kinase inhibitor, for the treatment of dogs with recurrent (either local or distant) mast cell tumor following surgical excision. Clinical Cancer Research. 15(11): 3856-3865.
Olsen J.A., Thomson M., O´Connell K. & Wyatt K. 2018. Combination vinblastine, prednisolone and toceranib phosphate for treatment of grade II and III mast cell tumours in dogs. Veterinary Medicine and Science. 4(3): 1-15.
Paes P.R.O., Horta R.S., Luza L.C., Pierezan F., Costa M.P. & Lavalle G.E. 2022. Inclusion of fibroblasts and collagen fibrils in the cytologic grading of canine cutaneous mast cell tumors. Veterinary Clinical Pathology. 51(3): 339-348.
Robat C., London C., Bunting L., McCartan L., Stingle N., Selting K., Kurzman I. & Vail D.M. 2012. Safety evaluation of combination vimblastine and toceranib phosphate (Palladia ®) in dogs: a phase I dose- finding study. Veterinary and Comparative Oncology. 10(3): 174-183.
Thamm D.H., Rose B., Kow K., Humbert M., Mansfield C.D., Moussy A., Hermine O. & Dubreuil P. 2012. Masitinib as a chemosensitizer of canine tumor cell lines: A proof of concept study. Veterinary Journal. 191(1): 131-134.
Veterinary Cooperative Oncology Group. 2016. Common Terminology Criteria for Adverse Events (VCOG-CTCAE) following chemotherapy or biological antineoplastic therapy in dogs and cats v1.1. Veterinary and Comparative Oncology. 14: 417-446.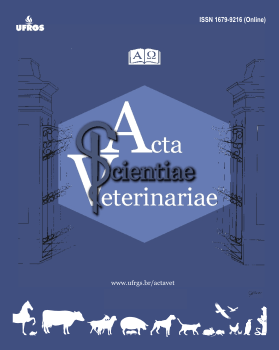 Additional Files
How to Cite
de Souza, L. M. de S., Lima Gorza, L., Rassele Merísio, A. C. ., de Sena, B. V. ., Almeida, I. O., Cunha Flecher, M., & dos Santos Horta, R. (2022). Canine Mast Cell Tumour Lomustine's Sensitization by Tyrosine Kinase Inhibitors. Acta Scientiae Veterinariae, 50. https://doi.org/10.22456/1679-9216.125648
License
Copyright (c) 2022 Larissa Marchetti de Souza de Souza, Leonardo Lima Gorza, Alice Correa Rassele Merísio, Bruna Voltolin de Sena, Isabella Oliveira Almeida, Mayra Cunha Flecher, Rodrigo dos Santos Horta
This work is licensed under a Creative Commons Attribution 4.0 International License.
This journal provides open access to all of its content on the principle that making research freely available to the public supports a greater global exchange of knowledge. Such access is associated with increased readership and increased citation of an author's work. For more information on this approach, see the Public Knowledge Project and Directory of Open Access Journals.
We define open access journals as journals that use a funding model that does not charge readers or their institutions for access. From the BOAI definition of "open access" we take the right of users to "read, download, copy, distribute, print, search, or link to the full texts of these articles" as mandatory for a journal to be included in the directory.
La Red y Portal Iberoamericano de Revistas Científicas de Veterinaria de Libre Acceso reúne a las principales publicaciones científicas editadas en España, Portugal, Latino América y otros países del ámbito latino