Malignant Alveolar Neoplasm in a 10-Month-Old French Bulldog
Abstract
Background: Malignant tumors are the main cause of death or euthanasia in animals. The oral cavity ranking fourth in number of occurrences. Epidemiological studies with dogs suggest that canine cancer kills 40-50% of individuals aged over 10 years. In view of the interest of academics and professionals in the healthcare of dogs and cats, this paper reports the case of a 10-month-old bitch, which, despite being a young animal, was affected alveolar rhabdomyosarcoma of abrupt evolution.
Case: A 10-month-old French Bulldog bitch, weighing 10 kg, was referred to a veterinary hospital in the city of Rio de Janeiro for care. It had a history of mouth bleeding, after chewing a solid mineral material, edema in the region of the right maxilla, and protusion of the gland of the third eyelid. As the clinical examination also revealed a fracture of the maxillary canine, anti-inflammatory and antibiotics were prescribed, to be administered by the owner once a day for 7 days. During the next clinical examination, carried out one week later, an edema was found in the right region of the mouth, which proved difficult to examine. As the patient had already eaten, an appointment was made for the following day for an intervention int he operating room, where the animal could be anesthetized for better observation of the effected region. Blood was collected for hemogram, urea, creatinine, alkaline phosphatase, ALT, and GGT, and an 8 h food fasting and a 4 h water fasting were recommended. On that date, once the dog had been taken to the operating room, was administered the pre anesthesia, in addition to anesthetic induction and manutention. Upon examining the oral cavity, several loose molars were found on the right side, in addition to a tumoral aspect of the gum; thus, it was decided to collect a small sample of the tumoral mass for histopathology. The surgical specimen was placed in a formalin solution and sent to the laboratory for histopathological processing and diagnosis. One week later, the tumor mass was larger and the edema in the right region of the mouth was much larger than on the day of the procedure. Thus, a computerized tomography was requested to further investigate the alterations that had occurred in such a short time. Due to the results of the histopathology and the CT, an immunohistochemical test was suggested which determined the cell profile and morphology and confirmed the diagnosis of alveolar rhabdomyosarcoma according to clinical suspicion. The animal remained in the veterinary hospital for a further 48 h, during which the clinical condition worsened, with the animal suffering heavy bleeding. As the patient was no longer capable of oral intake of food or water, the decision was made with the consent of the owners to induce a painless death to alleviate the suffering of the animal. However, the owners did not authorize a necropsy.
Discussion: Veterinary physicians should be conscious of the treatment of serious illnesses that will not result in a benefit for the patient. They should know when to stop the treatment to not cause further pain and suffering to the animals and their owners. Many of the interventions which aim to treat severe malignant neoplasia will not promote an improvement in quality of life or significantly extend the patient's survival, and do not justify the suffering they entail. A painless death remains the best alternative in such cases.
Keywords: cancer, malignant neoplasm, alveolar rhabdomyosarcoma, oral cavity.
Downloads
Download data is not yet available.
References
Abdulai A.E., Nuamah I.K. & Gyasi R. 2012. Head and neck tumours in Ghanaian children. A 20 year review. International Journal of Oral and Maxillofacial Surgery. 41(11): 1378-1382.
Albert R.E., Benjamin S.A. & Rakesh S. 1994. Life span and cancer mortality in the beagle dog and humans. Mechanisms of Ageing Development. 74(3): 149-159.
Bonnett B.N., Egenvall A., Hedhammar A. & Olson P. 2005. Mortality in over 350,000 insured Swedish dogs from 1995–2000: I. Breed- gender-, age- and cause-specific rates. Acta Veterinaria Scandinavica. 46(3): 105-120.
Cotran R.S., Kumar V. & Collins T. 2000. Neoplasia. In: Patologia Estrutural e Funcional. 6.ed. Rio de Janeiro: Guanabara Koogan., pp.233-241.
Dias F.G.G., Cintra S.G., Calazans A.T., Jorge L.F., Pereira L.F., Dias L.G.G.G., Olivio M.B. & Magalhães G.M. 2018. Laryngeal Rhabdomyosarcoma in a dog: case report. Arquivo Brasileiro de Medicina Veterinária e Zootecnia. 70(5): 1423-1426.
Felizzola C.R., Stopiglia A.J., Araújo V.C. & Araújo N.S. 2002. Evaluation of a modified hemimandibulectomy for treatment of oral neoplasms in dogs. Journal of Veterinary dentistry. 19(3): 127-135.
Ferro D.G., Lopes F.M., Venturini M.A.F.A., Correa H.L. & Gioso M.A. 2003. Prevalência de neoplasias da cavidade oral de cães atendidos no Centro Odontológico Veterinário-ODONTOVET® entre 1994 e 2003. Brazilian Journal of Veterinary Research and Animal Science. 40(suppl.): 210-211.
Illanes O.G. 2002. Juvenile parameningeal rhabdomyosarcoma in a dog causing unilateral denervation atrophy of masticatory muscles. Journal of Comparative Pathology. 126(4): 303-307.
Murakami M., Sakai H., Iwatani N., Asakura A., Hoshino Y., Mori T., Yanai T., Maruo K. & Masegi T. 2009. Cytologic, histologic, and immunohistochemical features of maxillofacial alveolar rhabdomyosarcoma in a juvenile dog. Veterinary Clinical Pathology. 39(1): 113-118.
Ohba S., Matsumoto F., Fujimaki M., Ito S., Yokoyama J. & Ikeda K. 2011. Embryonal rhabdomyosarcoma of head and neck in an adult. Auris Nasus Larynx. 39(3): 326-328.
Souza R.P., Pagotto S.R., Paes Jr. A.J.O., Soares A.H. & Rapoport A. 2003. Diagnóstico por imagem da cavidade oral. Radiologia Brasileira. 36(3): 169-172.
Vascellari M., Baioni E., Ru G., Carminato A. & Mutinelli F. 2009. Animal tumour registry of two provinces in northern Italy: incidence of spontaneous tumours in dogs and cats. BMC Veterinary Research. 13(5): 39.
Yamate J., Murai F., Izawa, T. Akiyoshi H., Shimizu J., Ohashi F. & Kuwamura M. 2011. A rhabdomyosarcoma arising in the larynx of a dog. Journal of Toxicologic Pathology. 24(3): 179-182.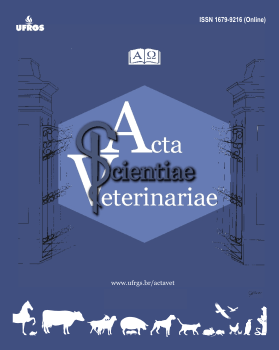 Additional Files
How to Cite
Ferreira, M. L., Oliveira Neto, P. de A., Rousso Filho, R. ., de Carvalho, B. G., Silva, P. C., da Costa, V. D. R., Alves da Silva, M. V., & Filho, F. A. (2022). Malignant Alveolar Neoplasm in a 10-Month-Old French Bulldog. Acta Scientiae Veterinariae, 50. https://doi.org/10.22456/1679-9216.120837
License
Copyright (c) 2022 Manoel Luiz Ferreira, Plínio de Araújo Oliveira-Neto, Raul Rousso Filho, Bruna Guedes de Carvalho, Maryana Lopes Diniz Luiz, Valéria Duarte Reis da Costa, Marcus Vinícius Alves-Silva, Fernando Alzamora Filho
This work is licensed under a Creative Commons Attribution 4.0 International License.
This journal provides open access to all of its content on the principle that making research freely available to the public supports a greater global exchange of knowledge. Such access is associated with increased readership and increased citation of an author's work. For more information on this approach, see the Public Knowledge Project and Directory of Open Access Journals.
We define open access journals as journals that use a funding model that does not charge readers or their institutions for access. From the BOAI definition of "open access" we take the right of users to "read, download, copy, distribute, print, search, or link to the full texts of these articles" as mandatory for a journal to be included in the directory.
La Red y Portal Iberoamericano de Revistas Científicas de Veterinaria de Libre Acceso reúne a las principales publicaciones científicas editadas en España, Portugal, Latino América y otros países del ámbito latino