Antimicrobial Photodinamic Therapy Combined with Laser Photobiomodulation in the Treatment of Skin Wounds in a Dog (Canis lupus familiaris)
Abstract
Background: Laser photobiomodulation has been used in the treatment of various injuries and diseases. This promotes modulation of the inflammatory process, edema reduction and devitalized tissue regeneration. The advantages of Antimicrobial photodynamic therapy are its easy application and the absence of side effects. Other advantages are the cost of the therapy, minimal damage to animal tissue, the broad spectrum of action, and efficiency against strains resistant to antimicrobials. The aim of this study was to report the clinical and their resolution in a female dog with a traumatic, infected wound treated with laser phototherapy as an alternative therapy method.
Case: A 3-year-old bitch Border Collie, weighing 18 kg, from the municipality of Ilhéus, Bahia, Brazil, waspresented for examination with a history of traumatic laceration of the left thoracic member. On the anamnesis, it was reported that the patient presented with laceration of the left thoracic member. The wound was cleaned and an antibiotic [30 mg/kg of 12/12 h] and anti-inflammatory [0.1 mg/kg every 24 h were prescribed, both for 5 days]. Twenty-four h after the surgical procedure, there was dehiscence of the sutures, with daily topical therapy based on zinc oxide for secondary intention healing. Upon physical examination, the wound was found to be contaminated with swollen and erythematous edges, an ulcerated area with devitalized tissue, serous exudate, and 8.8 cm2 of wounded area. Given the macroscopic characteristics of the lesion, phototherapy was associated with conventional therapy until complete healing of the wound, with three weekly applications at 48 h intervals. Initially, the wound was cleaned with saline solution at 0.9% and a single treatment with aPDT was scheduled due to the high degree of contamination. The dosimetry parameters of irradiation were calculated according to the wounded area with a diode laser of 0.1W of power, continuous emission, spot area of 0.028 cm2, and energy of 9 J per application point. A gauze imbibed with 1 mL of methylene blue aqueous solution (300 μM), which was the photosensitizer was applied to the lesion, with a pre-irradiation time of 5 min, after which it was irradiated with red laser (RL) (λ = 660nm) for 90 s per point, using the sweeping technique. The edge of the lesion was irradiated with infrared laser (IRL) (λ = 808 nm), total energy of 5 J, using the technique of specific points and 1 J of energy/point. After aPDT, low-intensity laser therapy (LILT) sessions were set up with RL and IRL, with energies of 0.5 J/point and 1 J/point, respectively. The wound was cleaned daily, protected with a bandage, and clinically evaluated until complete regression.
Discussion: In the present case, methylene blue was used as a photosensitizer, but it is noteworthy that, apparently, each microorganism responds differently to photosensitizers. Thus, the therapy becomes specific for each application, for example: the type of photosensitizer, its concentration, pre-irradiation time, type of light used in photosensitization, wavelength, energy, power, mode delivery of light. Thus, for the best result, the specific protocol in each application should be used  Low-intensity laser therapy is an easily executed technique with effective results. The use of PDT associated with photobiomodulation therapy enabled rapid healing of the cutaneous wound, in addition to an improvement in clinical signs and pain caused by the lesion. The technique proved to be an efficient alternative in the treatment of wounds, whether used in isolation or associated with conventional therapy. 
Keywords: methylene blue, healing, wound, photobiomodulation, low-level laser.
Título: Terapia fotodinâmica antimicrobiana combinada com a fotobiomodulação a laser no tratamento de ferida cutânea em cão (Canis lupus familiaris).
Downloads
Download data is not yet available.
References
Abreu Villela P., Souza N.C., Baia JD, Gioso M.A., Aranha A.C.C. & de Freitas PM. 2017. Antimicrobial photodynamic therapy (aPDT) and photobiomodulation (PBM - 660nm) in a dog with chronic gingivostomatitis. Photodiagnosis and Photodynamic Therapy. 34 (20): 273-275.
Ahad A., Lamba A.K., Faraz F., Tandon S., Chawla K. & Yadav N. 2016. Effect of Antimicrobial Photodynamic Therapy as an Adjunct to Nonsurgical Treatment of Deep Periodontal Pockets: A Clinical Study. Journal Lasers Medicine Science. 7(4): 220-226.
Andrade F.S.S.D., Clark R.M.O. & Ferreira M.L. 2014. Effects of low-level laser therapy on wound healing. Revista do Colégio Brasileiro de Cirurgiões. 41(2):129-133.
Bagnato V.S., Kurachi C., Blanco K.C. & Inada N.M. 2017. Antimicrobial Photodynamic Therapy. In: Hamblin MR, Sousa MVP. & Agrawal T. (Eds). Handbook of Low-Level Laser Therapy. Singapore: Pan Stanford Publishing, pp.273-283.
Balsa I.M. & Culp WTN. 2015. Wound Care. The Veterinary clinics of North America. Small animal Practice. 45(5): 1049-1065.
Baltzer A.W.A., Stosch D., Seidel F. & Ostapczuk M.S. 2017. Low-Level-Laser therapie: A narrative literature review on the efficacy in the treatment of rheumatic orthopaedic conditions. Zeitschrift fur Rheumatologie. 76(9):806-812.
Giuliani F., Martinelli M., Cocchi A., Arbia D., Fantetti L. & Roncucci G. 2010. In vitro resistance selection studies of RLP068/Cl, a new Zn(II) phthalocyanine suitable for antimicrobial photodynamic therapy. Antimicrobial agentes and chemotherapy. 54(2):637-42.
Gomes J.P.F.S., Ramos R.R., Frias D.F.R., Marques V.B., Kozusnt-Andreani D.I. & Fernades A.U. 2016. Evidences of photodynamic therapy effect on foot rot disorders in dairy cows in the Municipality of Fernandópolis, São Paulo, Brazil. Brazilian Journal of Veterinary Medicine. 38(3): 257-264.
Kaviani A., Djavid G.E., Ataie-Fashtami L., Fateh M., Geodis M., Salami M., Zand N., Kashef N. & Larijani B. 2011. A Randomized Clinical Trial on the Effect of Low-Level Laser Therapy on Chronic Diabetic Foot Wound Healing: A Preliminary Report. Photomedicine and laser Surgery. 29(2):109-114.
Langella L.G., Casalechi H.L., Tomazoni S.S., Johnson D.S., Albertini R., Pallotta R.C., Marcos R.L., de Carvalho P.T.C. & Leal-Junior E.C.P. 2018. Photobiomodulation therapy (PBMT) on acute pain and inflammation in patients who underwent total hip arthroplasty-a randomized, triple-blind, placebo-controlled clinical trial. Lasers Medicine Science. 33(9):1933-1940.
Rocha Júnior A.M., Oliveira R.G., Farias R.E., Andrade L.C.F. & Aerestrup F.M. 2006. Modulation of fibroblast proliferation and inflammatory response by low-intensity laser therapy in tissue repair process. Anais Brasileiros de Dermatologia. 81(2):150-156.
Sellera F.P., Gargano R.G., Libera A.M.M.P.D., Benesi F.J., Azevedo M.R, de Sá L.R.M., Ribeiro M.S., da Silva Baptista M. & Pogliani F.C. 2016. Antimicrobial photodynamic therapy for caseous lymphadenitis abscesses in sheep: Report of ten cases. Photodiagnosis and photodynamic therapy. 13:120-122.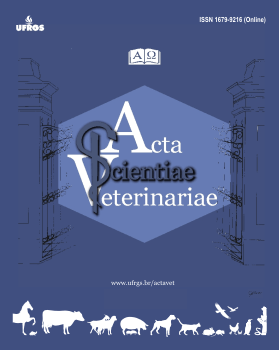 How to Cite
Filho, F. A., Ferreira, M. L., da Silva, M. V. A., Silva Barbosa, A. C. M., Carvalho, B. G., Vasconcellos, M., Eulálio, J. M. R., & Manso, J. E. F. (2021). Antimicrobial Photodinamic Therapy Combined with Laser Photobiomodulation in the Treatment of Skin Wounds in a Dog (Canis lupus familiaris). Acta Scientiae Veterinariae, 49. https://doi.org/10.22456/1679-9216.116169
License
This journal provides open access to all of its content on the principle that making research freely available to the public supports a greater global exchange of knowledge. Such access is associated with increased readership and increased citation of an author's work. For more information on this approach, see the Public Knowledge Project and Directory of Open Access Journals.
We define open access journals as journals that use a funding model that does not charge readers or their institutions for access. From the BOAI definition of "open access" we take the right of users to "read, download, copy, distribute, print, search, or link to the full texts of these articles" as mandatory for a journal to be included in the directory.
La Red y Portal Iberoamericano de Revistas Científicas de Veterinaria de Libre Acceso reúne a las principales publicaciones científicas editadas en España, Portugal, Latino América y otros países del ámbito latino