Peritoneopericardial Diaphragmatic Hernia in a Persian Cat
Abstract
Background: Peritoneopericardial diaphragmatic hernia is a congenital defect characterized by an anomalous communication between the abdominal cavity and pericardial sac, which can lead to displacement of the abdominal viscera into the thoracic cavity. The occurrence in felines is higher among long-haired breeds, mainly the Persian breed, possibly based onan autosomal recessive inheritance. The diagnosis of PPDH is performed by means of chest radiography with or without contrast, in association with other imaging tests such as ultrasonography and echocardiography. Our objective in this study was to report the occurrence and macroscopic changes in a case of peritoneopericardial diaphragmatic hernia in a Persian feline. 
Case: A 9-year-old male Persian cat weighing 3.4 kg was referred to the HPET-Private Veterinary Clinic, Salvador, Bahia, with an history of weight loss and chronic intermittent vomiting during the preceding 6 months, with lateral decubitus and breathing difficulties. Ultrasonography revealed findings suggestive of an infiltrative process in the stomach and duodenum, enlarged gastric lymph nodes, and some nodular images indicating slight displacement of the liver. Chest radiography revealed a cardiac silhouette with markedly enlarged dimensions associated with a dorsal deviation of the terminal trachea, and echocardiography revealed a small amount of pericardial effusion. The patient showed initial clinical improvement after blood transfusion; however, after 2 days, he exhibited significant clinical worsening and was therefore euthanized with the owner's consent. Post mortem evaluation revealed partial herniation of the liver and gallbladder into the chest cavity through a diaphragmatic hernia ring. The heart was partially surrounded by the left medial lobe of the liver, which was displaced into the pericardial sac. Herniated hepatic lobes had an irregular capsular surface with evident lobulation and tension lipidosis. In the abdominal cavity, the remainder of the liver (right lateral and medial lobes) was observed to be slightly enlarged, with an irregular surface, diffusely reddish with intense evidence of the lobular pattern and white and firm multifocal areas (fibrosis). In the duodenum, close to the pylorus, there was a nodule measuring 2.8 x 2.5 x 1.0 cm, with a whitish and ulcerated surface. When cut, it was soft and exhibited a homogeneous, whitish compact surface.Histopathological examinationshowed marked proliferation of fibrous connective tissue, which for the most part separated the lobes by septa and surrounded the portal space (fibrosis), a marked diffuse chronic inflammatory infiltrate composed of lymphocytes and plasma cells. In addition, marked bile duct hyperplasia and multifocal areas of fatty degeneration (steatosis).
Discussion: The diagnosis was based on the association of clinical and pathological findings. Considering the age and clinical signs presented by the patient in this report, as well as the presence of few radiographic signs that were indicative of PPDH, the first differential diagnosis thought was pericardial neoplasia. Peritoneopericardial diaphragmatic hernia in felines is always of congenital origin and may occur asymptomatically depending on the number and involvement of herniated viscera. In this case, the patient's diagnosis of peritoneopericardial hernia was a necropsy finding; the fact that in agreement with previous reports of high rates of incidental diagnoses reinforces the importance of performing necropsy for confirmation or diagnosis of unexpected pathologies. In the present case, peritoneopericardial diaphragmatic hernia in isolation may not have led to severe anemia that culminated in the patient's death. The anatomopathological findings were compatible with biliary cirrhosis and multifocal liver fibrosis, accompanied by the presence of anemia and consequent hypovolemia. 
Keywords: congenital diaphragmatic hernia, congenital abnormalities, cats. 
Título: Hérnia Diafragmática Peritoneopericárdica em um Felino da Raça Persa

Descritores: hérnia diafragmática congênita, anomalias congênitas, felinos. 
Downloads
Download data is not yet available.
References
Allison R. 2012. Avaliação Laboratorial da Função Hepática. In: Thrall M.A., Weiser, G., Allison R. & Campbell T.W. (Eds). Veterinary Hematology and Clinical Chemistry. 2nd edn. Ames: John Wiley & Sons, pp.853-903.
Banza C. & Gottfried S.D. 2010. Peritoneopericardial Diaphragmatic Hernia: A Retrospective Study of 31 Cats and Eight Dogs. Journal of the American Animal Hospital Association. 46(6): 398-404.
Brallet E., Ruiz M., Irubetagoyena I. & Séguéla J. 2013. Un cas de hernie diaphragmatique péritonéo-péricardique chez un chien. Pratique Médicale et Chirurgicale de l'Animal de Compagnie. 48(4): 129-135.
Bralow R. 2010. Treating Male Persian Cat for Peritoneopericardial Hernia. Veterinary Times. 40(4): 6-8.
Burns C.G., Bergh M.S. & Mcloughlin M.A. 2013. Surgical and nonsurgical treatment of peritoneopericardial diaphragmatic hernia in dogs and cats: 58 cases (1999-2008). Journal of the American Veterinary Medical Association. 242(5): 643-650.
Choi R., Hyunwook K. & Yoon J. 2008. Diaphragmatic deformity in a cat mimicking a cardiac mass. Korean Journal of Veterinary Research. 48(2): 209-213.
Gabriel Filho S.J., Magalhães G.M., Conforti V.A., Santilli J. & Calazans S.G. 2015. Biphasic pericardial and pleural mesothelioma in a cat: A case report. Veterinarni Medicina. 60(2): 105-108.
Harvey J.W. 2008. Iron metabolism and its disorders. In: Kaneko J.J., Harvey J.W. & Bruss M.L. (Eds). Clinical Biochemistry of Domestic Animals. 6th edn. Burlington: Elsevier Academic Press, pp.259-285.
Hicks K.A. & Britton A.P. 2013. A fatal case of complicated congenital peritoneopericardial diaphragmatic hernia in a Holstein calf. The Canadian Veterinary Journal. 54(7): 687-689.
Hodgkiss-Geere H.M., Palermo V., Liuti T., Philbey A.W. & Marquesa. 2015. Pericardial cyst in a 2-year-old Maine Coon cat following peritoneopericardial diaphragmatic hernia repair. Journal of Feline Medicine and Surgery. 17(4): 381-386.
Less R., Bright J. & Orton E. 2000. Intrapericardial cyst causing cardiac tamponade in a cat. Journal of the American Animal Hospital Association. 36(2): 115-119.
Liptakj M., Bissett S.A., Allan G.S., Zaki S. & Malik R. 2002. Hepatic cysts incarcerated in a peritoneopericardial diaphragmatic hernia. Journal of Feline Medicine and Surgery. 4(2): 123-125.
Margolis C., Pipan M.Z., DemchurJ., Or M., Henthorn P. & Casal M.L. 2018. Congenital peritoneopericardial diaphragmatic hernia in a family of Persian cats. Journal of Feline Medicine and Surgery Open Report. 4(2): 2055116918804305.
Naigamwalla D.Z., Webb J.A. & Giger U. 2012. Iron deficiency anemia. The Canadian Veterinary Journal. 53(3): 250.
Neiger R. 1996. Peritoneopericardial diaphragmatic hernia in cats. Compendium on Continuing Education for the Practicing Veterinarian. 18(5): 189-194.
Nikiphorou X., Chioti R., Patsikasm M.N. & Papazoglou L. 2016. Peritoneopericardial diaphragmatic hernia in the dog and cat. Journal of the Hellenic Veterinary Medical Society. 67(3): 189-194.
Reimer S.B., Kyles A.E., Filipowics D.E. & Gregory C.R. 2005. Long-term outcome of cats treated conservatively or surgically for peritoneopericardial diaphragmatic hernia: 66 cases (1987-2002). Journal of the American Veterinary Medical Association. 224(5): 728-732.
Statz G.D., Moore K.E. & Murtaugh R.J. 2007. Surgical repair of a peritoneopericardial diaphragmatic hernia in a pregnant dog: Case Report. Journal of Veterinary Emergency and Critical Care. 17(1): 77-85.
Tasker S. 2012. Diagnostic approach to anaemia in cats. In Practice. 34(7): 370-381.
Wickramasinghe V.P., Silva M.V.C. & Lamabadusuriyas S.P. 2009. Herniation of a hamartomatous growth of the liver in an infant masquerading as a cardiac tumour. Ceylon Medical Journal. 51(2): 67-68.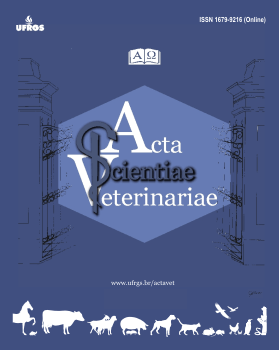 How to Cite
Becerra Takei, D. D., de Sousa, M. C., Andrade de Moura, A. N., Pina de Carvalho, V. de M., Néto Souza, A. C. da S., Peixoto, T. da C., Mauro, C. B., & Leal, P. V. (2021). Peritoneopericardial Diaphragmatic Hernia in a Persian Cat. Acta Scientiae Veterinariae, 49. https://doi.org/10.22456/1679-9216.114061
License
This journal provides open access to all of its content on the principle that making research freely available to the public supports a greater global exchange of knowledge. Such access is associated with increased readership and increased citation of an author's work. For more information on this approach, see the Public Knowledge Project and Directory of Open Access Journals.
We define open access journals as journals that use a funding model that does not charge readers or their institutions for access. From the BOAI definition of "open access" we take the right of users to "read, download, copy, distribute, print, search, or link to the full texts of these articles" as mandatory for a journal to be included in the directory.
La Red y Portal Iberoamericano de Revistas Científicas de Veterinaria de Libre Acceso reúne a las principales publicaciones científicas editadas en España, Portugal, Latino América y otros países del ámbito latino