Eosinophilic Folliculitis in a Dog
Abstract
Background: Canine eosinophilic folliculitis is a dermatological disease of acute onset with development of erosive to ulcerative papular lesions, especially on the nasal bridge, that may cause severe skin abnormalities leading to discomfort and pain to the patient. The aim of this report was to characterize a case of a canine eosinophilic folliculitis with papular, ulcerative and crusting dermatitis on the nasal bridge, papules on eyelid and pinna, with confirmed diagnosis based on aspiration cytology, history and response to immunosuppressive therapy with glucocorticoid.
Case: A 1-year-old intact Daschund was attended showing an acute onset (over 4 h) of generalized urticarial reaction and nonpruriginous lesion at the muzzle with mild serosanguineous exudate, which persisted for 96 h when the dog was evaluated. It was observed a papular and ulcerative dermatitis with serosanguineous exudate and hematic crusts at nasal bridge, papules measuring 2 mm in diameter in the medial and lateral canthus of the left eyelid, ulcerative papule with hematic crust in the border of left ear pinna, multifocal papules on the skin, dyskeratosis and generalized hair loss. The patient was anesthetized for blood sampling (CBC and serum biochemistry), lesions fine-needle aspiration, scraping and imprint for cytological examination, bacterial culture and nasal turbinates radiography. Fragments for histopathological evaluation were also collected. Erythrogram and platelet evaluation were unremarkable. Leukogram revealed leukocytosis (neutrophilia, lymphocytosis, monocytosis and eosinophilia). Serum biochemistry revealed hyperalbuminemia and discrete hyperproteinemia; values of alanine aminotransferase, creatinine and globulins were within normal range. In cytological examination, intense cellularity was observed with predominance of eosinophils (60%), neutrophils (35%), macrophages performing cytophagocytosis (5%) and degenerated cells. There was no bacterial growth within 48 h after incubation of nasal bridge lesion swab. There were no abnormalities identified at radiographic evaluation of nasal turbinates. As the patient was already with antibiotic therapy and steroidal anti-inflammatory, it was opted to maintain it, since interruption between the day of examination and laboratory results could cause more prejudice than benefit, corticosteroid dose, however, was readjusted (prednisone 2 mg/kg/per os/every 24h). After 1 week of treatment the owner reported significant improvement of clinical signs without any further complaint.
Discussion: Typically, type I hypersensitivity reactions such as insect bites do not exceed clinical signs of erythema, local edema and pruritus, with spontaneous remission of clinical signs within few hours after exposure to the antigen. Eosinophilic folliculitis, however, may cause more severe clinical alterations, such as pain, apathy and hyporexia. Nasal bridge is the predominant site described to be affected in cases of eosinophilic folliculitis, being auricular pinna, thorax and limbs considered atypical presentations which can delay proper diagnosis, since in endemic regions for diseases such as visceral leishmaniasis, infectious etiology may be listed first. Differential diagnosis also includes superficial pyoderma, juvenile cellulitis, pemphigus foliaceus and pharmacodermia. The case described in this report emphasize the importance of an accurate diagnosis as well as an early and adequate treatment in order to promote satisfactory response. Also, highlights inadequate use of antimicrobials as a direct consequence of lack of laboratorial investigation.
Keywords: skin, eosinophilia, furunculosis, dermatitis, insects.
Downloads
Download data is not yet available.
References
Abbas A.K., Lichtman A.H. & Pillai S. 2012. Respostas Imunes Dependentes de IgE e Doenças Alérgicas. In: Imunologia celular e molecular. 7.ed. Rio de Janeiro: Elsevier, pp.425-444.
Balda A.C., Ikeda M.O., Larsson-Junior C.E., Michalany N.S. & Larsson C.E. 2008. Pênfigo foliáceo canino: estudo retrospectivo de 43 casos clínicos e terapia (2000-2005). Pesquisa Veterinária Brasileira. 28: 387-392.
Bloom P.B. 2006. Canine and Feline Eosinophilic Skin Diseases. Veterinary Clinics: Small Animal Practice. 36: 141-160.
Curtis C.F., Bond R., Blunden A.S., Thomson D.G., Mcneil P.E. & Whitbread T.W. 1995. Canine eosinophilic folliculitis and furunculosis in three cases. Journal of Small Animal Practice. 36: 119-123.
Gortel K. 2013. Recognizing Pyoderma: More Difficult than it May Seem. Veterinary Clinics of North America: Small Animal Practice. 43:1-18.
Gross T.L., Ihrke P.J., Walder E.J. & Affolter V.K. 2005. Skin Diseases of the Dog and Cat: Clinical and Histopathological Diagnosis. 2nd edn. Oxford: Blackwell Publishing, pp.405-533.
Pereira A.V., Gremião I.D.F., Silva D.A., Machado A.C.S. & Pereira S.A. 2012. Furunculose eosinofílica canina. Acta Scientiae Veterinariae. 40: 1023, 5p.
Salzo P.S. 2016. Hipersensibilidade a insetos e aracnídeos. In: Tratado de Medicina Externa: Dermatologia Veterinária. São Caetano do Sul: Interbook Editorial Ltda., pp.544-545.
Scott D.W. & Miller W.H. 2007. Juvenile cellulitis in dogs: a retrospective study of 18 cases (1976-2005). The Japanese Journal of Veterinary Dermatology. 13: 71-79.
Soyer C. 2006. Furonculose éosinophilique chez un golden retriever. Le Point Vétérinaire. 269: 60-63.
Van-Poucke S. 2000. What is your diagnosis – canine eosinophilic furunculosis. Journal of Small Animal Practice. 41: 485-524.
Voie K.L., Campbell K.L. & Lavergne S.N. 2012. Drug Hipersensitivity Reactions Targeting the Skin in Dogs and Cats. Journal of Veterinary Internal Medicine. 26: 863-874.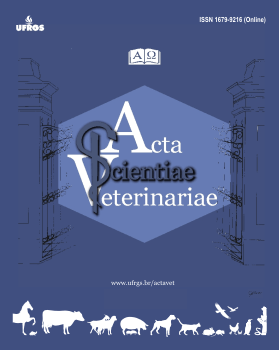 How to Cite
Eguchi, G. U., de Souza, A. I., Babo-Terra, V. J., Machado, L. H. de A., & Palumbo, M. I. P. (2021). Eosinophilic Folliculitis in a Dog. Acta Scientiae Veterinariae, 49. https://doi.org/10.22456/1679-9216.112975
License
This journal provides open access to all of its content on the principle that making research freely available to the public supports a greater global exchange of knowledge. Such access is associated with increased readership and increased citation of an author's work. For more information on this approach, see the Public Knowledge Project and Directory of Open Access Journals.
We define open access journals as journals that use a funding model that does not charge readers or their institutions for access. From the BOAI definition of "open access" we take the right of users to "read, download, copy, distribute, print, search, or link to the full texts of these articles" as mandatory for a journal to be included in the directory.
La Red y Portal Iberoamericano de Revistas Científicas de Veterinaria de Libre Acceso reúne a las principales publicaciones científicas editadas en España, Portugal, Latino América y otros países del ámbito latino