Feline Eosinophilic Keratoconjunctivitis: Nonsteroidal vs Corticosteroid Topical Treatment
Abstract
Background: Feline eosinophilic keratoconjunctivitis is a proliferative eye lesion of chronic aspect with usually unilateral presentation that may initiate as a superficial vascularization that evolves to a proliferative, granular, irregular lesion of whitish-pink aspect. With its association with an immune-mediated response, nonsteroidal anti-inflammatories do not appear to be efficient, although few studies describe its use. This case report describes a case of a feline eosinophilic keratoconjunctivitis with its clinical evolution since the use of nonsteroidal topical anti-inflammatory drug in an undiagnosed patient and the transition to a topical corticosteroid and cure after 14 days since diagnosis.
Case: An 8-year-old female cat was attended at the Veterinary Hospital of the Dom Bosco Catholic University (UCDB), with main complaint being an eye injury with at least 36 days of evolution andunresponsive to treatment (topical tobramycin 0.3% every 12 h / ketorolac trometamol 0.5%/ every 12 h and ophthalmic lubricant/every 4 h). Since the patient had free access to the street, the owners suspected of trauma-induced lesion. At physical examination, it was observed a proliferative lesion at the peri-limbal superotemporal quadrant of the right cornea with approximately 0.4 cm diameter, with color varying of pale to pink, with irregular surface and low vascularity, the adjacent conjunctiva was also affected with similar multiple nodular lesions (0.1 cm). Fluorescein test was negative as well as FIV/FeLV immunochromatography testing. Feline herpesvirus investigation was not possible. The patient was anesthetized and a lesion specimen was acquired with a cotton swab scraping and a fine needle aspiration. Cytology showed predominance of eosinophils and mast cells, with rare corneal epithelial cells, with smear background containing mast cell granules and free eosinophils. Presumptive diagnosis was eosinophilic keratoconjunctivits. After 14 days of topical corticosteroid (prednisolone acetate 1% every 8 h) the patient showed complete remission of the lesions with no relapse in 48 days.
Discussion: Misdiagnosis and consequently mistreatment seems a greater prejudice than the risks associated with sample collection of keratoconjunctival proliferative lesions. Due to the lack of cytobrush or cotton swab, apparently, the reported patient was not submitted to ophthalmic cytology due to reluctance of the staff regarding fine needle aspiration of the cornea lesion. Despite a greater risk of iatrogenic trauma with needle aspiration, with eye anatomy well defined, level size and movement amplitude respected, it is unlikely that severe complications could occur. In this case, the undiagnosed patient was submitted to unnecessary 15 days of topical antibiotic and nonsteroidal anti-inflammatory, and no improvement of the clinical signs was observed. Despite non-recommended, few clinical trials as well as case descriptions are available comparing nonsteroidal and corticosteroid treatment of the disease. Once with diagnosis and beginning of topical prednisolone acetate 1% exclusively, the patient showed continuous improvement until complete remission of clinical signs after 14 days. This report reinforces the recommendation of corticosteroid therapy for feline eosinophilic keratoconjunctivitis and the absence of efficacy of nonsteroidal drugs. It also highlights the importance of diagnosis before any medical treatment is considered.
Downloads
Download data is not yet available.
References
Ahn J., Jeong M., Kim S., Park Y., Kim T., Ahn J., Lee S., Lee C. & Seo K. 2010. A Case of Feline Proliferative Eosinophilic Keratitis Treated by Topical Cyclosporine and Corticosteroids. Journal of Veterinary Clinics. 27(6): 751-754.
Cortes M., D'Angelo G., Bonini S., Scipioni M., Lamagna A., Sgrulletta R. & Bonini S. 2002. Preservative Free Diclofenac Sodium 0.1% for Vernal Keratoconjunctivitis. Investigative Ophthamology & Visual Science. 43(13): 2229.
Day M.J. 2008. Immunomodulatory therapy. In: Maddison J.E., Page S.W. & Church D.B. (Eds). Small Animal Clinical Pharmacology. London: Saunders, pp.270-286.
Dean E. & Meunier V. 2013. Feline eosinophilic keratoconjunctivitis: a retrospective study of 45 cases (56 eyes). Journal of Feline Medicine and Surgery. 15(8): 661-666.
González-Medina S. 2018. Equine eosinophilic keratitis: An emergent ocular condition? Equine Veterinary Education. 31(11): 609-616.
Henriksen M.L. & Lim C.C. 2020. Collection of Ophtalmic Cytology Specimens. In: Sharkey L.C., Radin M.J. & Seelig D. (Eds). Veterinary Cytology. Hoboken: John Wiley & Sons, pp.184-187.
Peleteiro M.C., Marcos R., Santos M., Correia J., Pissarra H. & Carvalho T. 2011. Atlas de Citologia Veterinária. Lisboa: Lidel, 308p.
Pereira F.Q., Faganello C.S., Bercht B.S., Lacerda L.A. & Pigatto J.A.T. 2009. Feline eosinophilic keratitis. Acta Scientiae Veterinariae. 37(4): 393-396.
Sharma A., Gupta R., Ram J. & Gupta A. 1997. Topical ketorolac 0.5% solution for the treatment of vernal keratoconjunctivitis. Indian Journal of Ophthalmology. 45(3): 177-180.
Spiess A.K., Sapienza J.S. & Mayordomo A. 2009. Treatment of proliferative feline eosinophilic keratitis with topical 1.5% cyclosporine: 35 cases. Veterinary Ophthalmology. 12(2): 132-137.
Stiles J. & Coster M. 2016. Use of an ophthalmic formulation of megestrol acetate for the treatment of eosinophilic keratitis in cats. Veterinary Ophthalmology. 19(Suppl 1): 86-90.
Venancio S.A.S., Vieira A.B., Alencar N.X. & Soares A.M.B. 2012. Avaliação da técnica de esfoliação com escova citológica para coleta de células conjuntivais em gatos sadios: comparação entre a face palpebral da membrana nictitante e a conjuntiva palpebral. Pesquisa Veterinária Brasileira. 32(11): 1199-1204.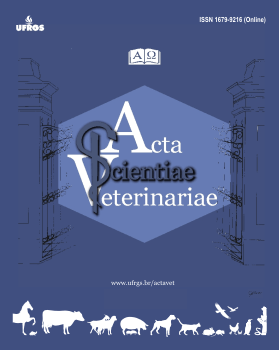 How to Cite
Rodrigues, G. C. G., Coelho, A. M. T. P., Souza, J. P. B., Araújo, J. M., Silva, M. V. F., Silva, P. M. P., & Eguchi, G. U. (2021). Feline Eosinophilic Keratoconjunctivitis: Nonsteroidal vs Corticosteroid Topical Treatment. Acta Scientiae Veterinariae, 49. https://doi.org/10.22456/1679-9216.107032
License
This journal provides open access to all of its content on the principle that making research freely available to the public supports a greater global exchange of knowledge. Such access is associated with increased readership and increased citation of an author's work. For more information on this approach, see the Public Knowledge Project and Directory of Open Access Journals.
We define open access journals as journals that use a funding model that does not charge readers or their institutions for access. From the BOAI definition of "open access" we take the right of users to "read, download, copy, distribute, print, search, or link to the full texts of these articles" as mandatory for a journal to be included in the directory.
La Red y Portal Iberoamericano de Revistas Científicas de Veterinaria de Libre Acceso reúne a las principales publicaciones científicas editadas en España, Portugal, Latino América y otros países del ámbito latino