Hernioplasty with Laparoscopy Mesh Application in Equine with Incisional Hernia
Abstract
Background: Incisional hernia in the midline can be a consequence of abdominal surgeries, which incidence is around 5.7-18%. Surgical indication occurs in cases of large hernias, and the most common techniques used involve the closing of the musculature in a primary way, with sutures, and the implantation of a mesh on the abdominal wall. Laparoscopic hernioplasty emerged as a less invasive option, showing superiority when compared with open surgical techniques in human medicine, however there are few reports describing this technique in equines. So, the aim of this paper is to report a case of hernioplasty, using laparoscopic mesh, in a horse with midline incisional hernia.
Case: A 13-year-old castrated male Brasileiro de Hipismo horse, weighing 415 kg, practitioner of classic equestrian, presented an incisional hernia after 14 days from an exploratory laparotomy surgery realized to treat colic syndrome. After 6 months, the patient was referred to a Veterinary Medicine Teaching Hospital for the correction of the defect in the abdominal wall. During palpation, the animal did not present local pain or other sign of inflammation, and the hernia measured approximately 20 cm in diameter. The animal was submitted to general anesthesia and placed in dorsal decubitus for the hernioplasty surgical procedure. An incision was made in cranial region of the midline, close to the xiphoid to introduce a single port; the abdomen was inflated with CO2 gas (12 mmHg) and the operating table was tilted in order to displace the organs cranially, facilitating the laparoscopic procedure. The abdomen was inspected and the presence of a single adherence could be observed, which was disrupted with endoscopic forceps. The mesh was introduced through the single port incision and anchored to the musculature, using polypropylene 2 following the marking points previously performed on the implant, covering the defect in the abdominal musculature. In the postoperative period, analgesia was instituted with non-steroidal anti-inflammatory drugs, antibiotic therapy with intravenous benzylpenicillin potassium+gentamicin sulfate, and daily dressings. The animal showed pain responsive to the instituted analgesia in the first 24-72 h after surgery. The discharge was established after 18 days of hospitalization with the recommendation of daily dressings and use of compressive bandage until the complete healing of the wound. Postoperative complications resulting from the laparoscopic hernioplasty technique was not observed in this case.The hernia reduction was satisfactory, with a good aesthetic result after five months, when the animal resumed its athletic activities.
Discussion: Laparoscopy hernioplasty is poorly described in equine medicine, and there are no reports of this procedure performed in Brazil, however, it is widely used in human medicine with results superior to open hernioplasty techniques. In the present case and in others reported in the literature, the laparoscopic technique proved to be effective in reducing incisional hernias in horses. The animals had good regression of the hernia sac and the aesthetic result was satisfactory, with few post-surgical complications. In studies in which the open hernioplasty technique was used, there was a higher occurrence of complications, in addition to more intense pain resulting from the procedure and later return to athletic activity, demonstrating that the minimally invasive technique by video surgery can be advantageous.
Downloads
Download data is not yet available.
References
Abdel-Lah O., García-Moreno F.J., Gutiérrez-Romero J.R. & Calderón F. 2005. Experiencia Inicial em La Reparación de Hérnias Incisionales/ventrales por Laparoscopia en una Unidad de Cirugía Mayor Ambulatoria y de Corta Estancia (UCMA-CE). Cirugía Española. 77(3): 153-158.
Caron J.P. & Mehler S.J. 2009. Laparoscopic Mesh Incisional Hernioplasty in five Horses. Veterinary Surgery. 38(3): 318-325.
Dukti S. & White N. 2008. Surgical Complications of Colic. Surgery. Veterinary Clinics of North America: Equine Practice. 24(3): 515-534.
Elce Y.A., Kraus B.M. & Orsini J.A. 2005. Mesh Hernioplasty for Repair of Incisional Hernias of the Ventral Body Wall in Large Horses. Equine Veterinary Education. 17(5): 252-256.
Freeman D.E. 2005. Management of Ventral Incisional Hernias in Large Horses: a Surgical Challenge. Equine Veterinary Education. 17(5): 247-251.
Gandini M., Giusto G., Caramello V., Comino F. & Rosso A. 2017. Single-port Laparoscopic Incisional Hernia Repair in a Horse. Equine Veterinary Education. 29(7): 362-366.
Gibson K.T., Curtis C.R., Turner A.S., McIlwraith C.W., Aanes W.A. & Stashak T.S. 1989. Incisional Hernias in the Horse Incidence and Predisposing Factors. Veterinary Surgery. 18(5): 360-366.
Kelmer G. 2009. Update on Recent Advances in Equine abdominal Surgery. Veterinary Clinics: Equine Practice. 25(2): 271-282.
Kumar V., Gangwar A.K., Mathew D.D., Ahamad R.A., Saxena A.C. & Kumar N. 2013. Acellular Dermal Matrix for Surgical Repair of Ventral Hernia in Horses. Journal of Equine Veterinary Science. 33(4): 238-243.
Leme P.L.S. & Turatti R. C. 2010. Tratamento Operatório das Hérnias Incisionais com Videocirurgia, a Morbidade e a Mortalidade são Aceitáveis? Revista da Associação Médica Brasileira. 56(2): 131-132.
Olmi S., Scaini A., Cesana G.C., Erba L. & Croce E. 2007. Laparoscopic Versus Open Incisional Hernia Repair. Surgical Endoscopy. 21(4): 555-559.
Park A., Birch D.W. & Lovrics P. 1998. Laparoscopic and Open Incisional Hernia Repair: a Comparison Study. Surgery. 124(4): 816-822.
Podolsky E.R. & Curcillo P.G. 2010. Single Port Access (SPA) Surgery a 24-month Experience. Journal of Gastrointestinal Surgery. 14(5): 759-767.
Rastegarpour A., Cheung M., Vardhan M., Ibrahim M.M., Butler C.E. & Levinson H. 2016. Surgical Mesh for Ventral Incisional Hernia Repairs: Understanding Mesh Design. Plastic Surgery. 24(1): 41-50.
Rijkenhuizen A.B.M. 2005. Laparoscopic Repair of a Traumatic Ventral Abdominal Hernia Using a Mesh. Equine Veterinary Education. 17(5): 243-251.
Rudmik L.R., Schieman C., Dixon E. & Debru E. 2006. Laparoscopic Incisional Hernia Repair: a Review of the Literature. Hernia. 10(2): 110-119.
Whitfield-Cargile C.M., Rakestraw P.C., Hardy J., Cohen N.D. & Davis B.E. 2011. Comparison of Primary Closure of Incisional Hernias in Horses With and Without the Use of Prosthetic Mesh Support. Equine Veterinary Journal. 43(s39): 69-75.
Yavuz N., Ipek T., As A., Kapan M., Eyuboglu E. & Erguney S. 2005. Laparoscopic Repair of Ventral and Incisional Hernias: our Experience in 150 patients. Journal of Laparoendoscopic & Advanced Surgical Techniques. 15(6): 601-605.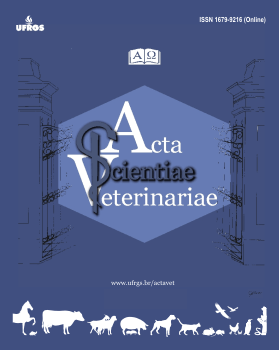 How to Cite
Gomes, A. R. C., Rosa, B. M. A., Lorga, A. D., Janiszewski, J. do R., Strugava, L., Schade, J., Moreno, J. C. D., & Dornbusch, P. T. (2021). Hernioplasty with Laparoscopy Mesh Application in Equine with Incisional Hernia. Acta Scientiae Veterinariae, 49. https://doi.org/10.22456/1679-9216.104372
License
This journal provides open access to all of its content on the principle that making research freely available to the public supports a greater global exchange of knowledge. Such access is associated with increased readership and increased citation of an author's work. For more information on this approach, see the Public Knowledge Project and Directory of Open Access Journals.
We define open access journals as journals that use a funding model that does not charge readers or their institutions for access. From the BOAI definition of "open access" we take the right of users to "read, download, copy, distribute, print, search, or link to the full texts of these articles" as mandatory for a journal to be included in the directory.
La Red y Portal Iberoamericano de Revistas Científicas de Veterinaria de Libre Acceso reúne a las principales publicaciones científicas editadas en España, Portugal, Latino América y otros países del ámbito latino