Pectus Excavatum and Pectus Carinatum in dogs
Abstract
Background: Deformities of the anterior thoracic wall are called pectus: pectus excavatum and pectus carinatum. Pectus excavatum is characterised by dorsal deviation of the caudal region of the sternum while pectus carinatum consists of protrusion of the sternum and/or adjacent cartilage. Both defects may remain symptom-free, but respiratory and cardiac abnormalities have been reported. Another deformity observed in dogs is the swimming dog syndrome, which consists of the lateral opening of the thoracic and pelvic limbs, associated with the pedalling movement. These disorders are frequently reported in medical practice, are considered rare among canines. This report aims to describe a case of pectus excavatum associated with the swimming dog syndrome (Case 1) and another case of pectus carinatum (Case 2).
Case: In Case 1, an approximately 45-day-old male American Pitbull canine had difficulty standing. Physical examination revealed hyperextension of the thoracic and pelvic limb joints and flattening of the thorax. After radiographic examination, pectus excavatum and the swimming dog syndrome were confirmed. The conservative treatment with splinting and hydrotherapy was chosen. At the 3-month follow-up, slight improvement in the limbs and irregular and unsatisfactory growth of the thorax leading to episodes of dyspnoea were observed. In Case 2, a female Pug, approximately 2 months old, had a thorax deformity. Physical examination revealed thorax protrusion, confirmed on radiography as pectus carinatum. Conservative therapy was provided using compressive bandage. One month later, the tutor reported improvement in the condition and absence of respiratory changes.
Discussion: Pectus deformities has low incidence, and cases to pectus carinatum, there is a sexual predisposition, that is, males are more predisposed, differing from Case 2, a female dog. In the cases of pectus excavatum, no genetic alteration was directly related to its occurrence, although familial occurrence is reported in humans, as in Case 1, in which the patient was the only one of this litter to present this deformity. Though the possibility is lower, the acquired aetiology has been described in other cases. In pectus carinatum, there is the possibility of an acquired aetiology, which corroborates Case 2, considering that the canine had no history of inbreeding, nor family history. However, it is important consider racial predisposition, where there is an increasing number of cases of pectus carinatum in brachycephalic canines. Respiratory symptoms are frequently reported in cases of pectus excavatum, which the evolution of the condition occurred in Case 1, that can be explained by the displacement of organs or the restriction to ventilation. Humans have shown that pectus excavatum reduces static lung function. Case 2 showed no clinical signs, despite this presented dextrocardia, which in the future may confer cardiac dysfunctions. The diagnosis for pectus is considered simple. Performed only by radiography, it can be complemented by echocardiography. In both cases, conservative treatment was the choice. However, in Case 1 there was no success due to the degree of patient involvement, unlike Case 2, which had a better development of the thoracic wall, ensuring better quality of life for the patient. Thus, it is possible to conclude that some differences were found in these two reported cases when compared to others described in the literature.  The radiographic diagnosis is confirmatory, and the therapy must be adequate to the degree of thoracic wall deformity. In addition, the prognosis is more reserved for pectus excavatum than pectus carinatum.
Downloads
Download data is not yet available.
References
Coelho M.S. & Guimarães P.S. F. 2007. Pectus carinatum. Jornal Brasileiro de Pneumologia. 33(4): 463-474.
Gifford A.T. & Flanders F.A. 2010. External splinting for treatment of pectus excavatum in a dog with right ventricular outflow obstruction. Journal of Veterinary Cardiology. (12): 53-57.
Haje S.A. & Haje, D.P. 2009. Orthopedic approach to pectus deformities: 32 years of studies. Revista Brasileira de Ortopedia. 44(3): 191-198.
Hassan E.A., Hassan M.H. & Torad F.A. 2016. Correlation between clinical severity and type and degree of pectus excavatum in twelve brachycephalic dogs. The Journal of Veterinary Medical Science. 80(5): 766-771.
Kelly-Junior R.E., Obermeyer R.J. & Nuss D. 2016. Diminished pulmonary function in pectus excavatum: from denying the problem to finding the mechanism. Annals of Cardiothoracic Surgery. 5(5):466-475.
Kim S.A., Na K.J., Cho J.K. & Shin N.S. 2013. Home-care treatment of swimmer syndrome in a miniature schnauzer dog. The Canadian Veterinary Journal. 54(9): 869-872.
Komsta R., Osinski Z., Debiak P., Twardowski P. & Lisiak B. 2019. Prevalence of pectus excavatum (PE), pectus carinatum (PC), tracheal hypoplasia, thoracic spine deformities and lateral heart displacement in thoracic radiographs of screw-tailed brachycephalic dogs. Plos One. 14(10): 1-14.
Kurosawa T.A., Ruth J.D., Steurer J., Austin B. & Heng H.G. 2011. Imaging Diagnosis – Acquired pectus excavatum secondary to laryngeal paralysis in a dog. Veterinary Radiology & Ultrasound. 53(3): 329-332.
Martins D.B., Rietjens L.H. & Petrochi, D. 2014. Pectus carinatum em um cão. Acta Scientiae Veterinariae. 42(1): 1-4.
Rahal S.C., Morishin-Filho M.M., Hatschbach E., Machado V.M.V., Aptekmann K.P. & Corrêa T.P. 2008. Pectus excavatum in two littermate dogs. The Canadian Veterinary Journal. 49(9): 880-884.
Robicsek F. & Watts L.T. 2010. Pectus Carinatum. Thoracic Surgery Clinics. 20(2): 563-574.
Sanches M.P., Carvalho S.M.R., Costa C.C., Abreu D.M., Nascimento D.M., Jesus W. J., Pessoa G.T. & Araújo J.R. 2019. Pectus carinatum in a cat. Acta Scientiae Veterinariae. 47(438): 1-4.
Singh M. Parrah J.D., Moulvi B.A., Athar H., Kalim M.O. & Dedmari F.H. 2013. A review on Pectus excavatum in canines: A congenital anomaly. Iranian Journal of Veterinary Sugery. 8(1):59-63.
Souza D.B., Andrade-Junior P.S.C., Marino C.M.A., Costa F.S. & Abílio E.J. 2009. Pectus carinatum in a dog. Arquivo Brasileiro de Medicina Veterinária e Zootecnia. 61(1): 276-279.
Sparrow D.B., Faqeih E.A., Sallout B., Alswaid A., Ababneh F., Al-Sayed M., Rukban H., Eyaid W.M., Kageyama R., Ellard S., Turnpenny P.D. & Dunwoodie S.L. 2013. Mutation of HES7 in a large extended family with spondylocostal dysostosis and dextrocardia with situs inversus. American Journal of Medical Gentics. 161(19): 2244-2249.
Verhoeven G., De-Rooster H., Risselada M., Wiemer P., Scheire L. & Bree H. V. 2006. Swimmer syndrome in a Devon rex kitten and na english bulldog puppy. Journal of small animal practice. 47(10): 615-619.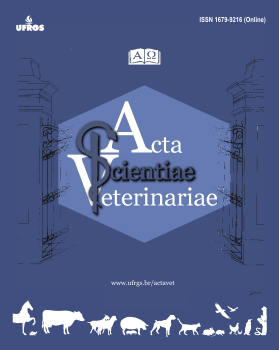 How to Cite
Souza, C. L., Baia, G. O., Rezende, B. C., Jaworski, L. T. de B. N., Prass, D., Néspoli, P. E. B., de Almeida, A. do B. P. F., & Sousa, V. R. F. (2020). Pectus Excavatum and Pectus Carinatum in dogs. Acta Scientiae Veterinariae, 48. https://doi.org/10.22456/1679-9216.104167
License
This journal provides open access to all of its content on the principle that making research freely available to the public supports a greater global exchange of knowledge. Such access is associated with increased readership and increased citation of an author's work. For more information on this approach, see the Public Knowledge Project and Directory of Open Access Journals.
We define open access journals as journals that use a funding model that does not charge readers or their institutions for access. From the BOAI definition of "open access" we take the right of users to "read, download, copy, distribute, print, search, or link to the full texts of these articles" as mandatory for a journal to be included in the directory.
La Red y Portal Iberoamericano de Revistas Científicas de Veterinaria de Libre Acceso reúne a las principales publicaciones científicas editadas en España, Portugal, Latino América y otros países del ámbito latino