Anal Atresia and Structural Malformations of the Perineum and Anus in a Mare
Abstract
Background: Anal atresia is a congenital defect and is related to the flaw of an opening in the membrane that separates the endoderm of the posterior intestine from the ectodermic anal membrane. This anomaly can cause debilitating disease, death, or abnormal development of the animal. Clinical presentation of urethrorectal fistula in domestic animals differs between males and females, as in the former there is passage of the urine through the anus, whereas in females there is elimination of the feces through the vulva. The absence of description of this disease in horses stimulated describing a case of surgical resolution of anal atresia, rectal bulb agenesis, and pneumovagina of an adult mare.
Case: Mare with a history of defecating through the vagina. In the anamnesis, it was determined that the owner noticed the problem after observing the animal during a walk. Clinical examination verified absence of the anus with stool evacuation through the vagina, pneumovagina, and signs of cystitis, as the animal frequently urinated small volumes. Complementary laboratory tests of blood and urine were carried out for the diagnosis of cystitis, serum biochemistry, hemogram, and urinalysis being evaluated. The operation was scheduled for eight days after clinical tests and sodium ceftiofur was prescribed, at a dose of 4.4 mg/kg, administered intramuscularly for seven days. On the date chosen for surgical intervention, the animal was fasted for the previous 12 h; procedures began with the containment of the animal in a stock, followed by pre-anesthesia with detomidine, at a dose of 20 µg/kg, administered intravenously in solution at 1%. Anesthesia was a low peridural with 2% lidocaine at a total dose of 15 mL, to be able to work in the quadruped position. After containment of the tail and taking antiseptic and aseptic care, sutures were made in the skin and vaginal mucous, as it exhibited a solution of continuity. In the mucous, suture consisted of separate simple stitches made with perforation needle and 2-0 polyglactin 910 suture, while in the skin Wolff stitches were applied using a blade needle and 2-0 nylon suture. Then, a circular incision was made in the skin in the anus region to remove local skin; this revealed the rectum which, being it far from the required location, was pulled to the new opening. The rectum was fixed to the skin by suture: four simple stiches, with a perforation needle and zero nylon suture, to serve as repairs, followed by simple stitches between the repairs, with the same type of suture. Regarding the pneumovagina, reconstruction of the perineum and application of modified Calisck surgical technique were performed to correct the vulva defect. In the post-operative phase, 4.4 mg/kg of sodium ceftiofur was administered intramuscularly for seven days, and Flunixin Meglumine, at a dose of 1.1 mg/ml for every 50 kg of body weight, was administered intravenously for four days. Furthermore, rectal enemas (3 L of warm aqueous solution associated with glycerin) were administered every eight hours for 14 consecutive days, and the wound was cleaned with 2% chlorhexidine degerming solution. The skin sutures were removed after 15 days and the animal was discharged.
Discussion: Alteration of the digestive tract in horses presents nuances in genetic dependence, embryology, and congenital defects, among others. Regarding the possibility of surgical correction, it is necessary to observe the characteristics of the lesion, the handling to which the animal is subjected, care of the surgical wound, and physical conditions where surgical procedures are carried out. The results obtained with this intervention and pre-, trans-, and post-operative care were effective in reestablishing the patient.
Downloads
Download data is not yet available.
References
Brinsko S.P., Blanchard T.L. Varner D.D., Schumacher J. & Love C.C. 2012. Manual of Equine Reproduction. 3rd edn. Maryland Heights: Mosby Elsevier, 336p.
Brown C.C., Baker D.C. & Barker I.K. 2007. Alimentary system. In: Maxie G. (Ed). Jubb, Kennedy & Palmer's Pathology of Domestic Animals. Vol. 2. 5th edn. St. Louis: Saunders Ltd., pp.3-296.
Carinhanha L., Mota J.V.S., Carvalho S.L.S., Santos K.P.S.V., Nantes J.H. & Ferreira H.N. 2014. Diagnóstico e tratamento de cistite em equino quarto de milha: relato de caso. Ciência Veterinária nos Trópicos. 17(3): 46.
Carvalho Y.N.T., Branco M.A.C., Mota L.H.C.M., Evangelista L.S.M., Silva S.V., Feitosa Júnior S.V.F. 2012. Atresia anal associada à fístula reto-vaginal em bezerra: Uma revisão. Revista Pubvet. 6(33): 1460-1465.
Embertson R.M. 2008. Selected urogenital surgery concerns and complications. Veterinary Clinics of North America: Equine Practice. 24(3): 643-661.
Goulden B., Bergman M.M. & Wyburn R.S. 1973. Canine urethra-rectal fistulae. Journal of Small Animal Practice. 14(3): 143-150.
Leipold H.W., Huston A. & Dennis S.M. 1983. Bovine congenital defects. Advances in Veterinary Science and Comparative Medicine. 27: 197-271.
Lindroth K.M., Johansen A., Baverud V., Dicksved J., Lindberg J.E. & Müller C.E. 2020. Differential defecation of solid and liquid phases in horses- a descriptive survey. Animals. 10(1): 76.
Loynachan A.T., Jackson C.B. & Harrison L.R. 2006. Complete diphallia, imperforate ani (type 2 atresia ani), and an accessory scrotum in a 5-day-old calf. Journal of Veterinary Diagnostic Investigation. 18(4): 408-12.
Marcolongo-Pereira C., Schild A.L., Soares M.P., Vargas-Junior S.F. & Riet-Correa F. 2010. Defeitos congênitos diagnosticados em ruminantes na Região Sul do Rio Grande do Sul. Pesquisa Veterinária Brasileira. 30(10): 816-826.
Maghrebi H., Ksantini R., Makni A., Slama H., Jrad M., Daghfous A., Rebai W., Fteriche F., Chebbi F., Jouini M., Montassar K. & Safta Z.B. 2016. Anal imperforation in adults: diagnostic difficulties and therapeutic options. La Tunisie Medicale. 94(11): 691.
Newcombe J.R. 2011. Why are mares with pneumovagina susceptible to bacterial endometritis? A personal opinion. Journal of Equine Veterinary Science. 31(4): 174-179.
Osuna D.J., Stone E.A. & Metcalft M.R. 1989. A urethrorectal fistula with concurrent urolithiasis in a dog. Journal of the American Animal Hospital Association. 25(1): 35-39.
Rocha T.G., Teixeira L.G., Seppa G.S., França T.N. & Brito M.F. 2007. Fistulae and other congenital anomalies of the urinary and digestive tract in a colt. Ciência Rural. 37(5): 1488-1491.
Reed S.M. & Bayly W.M. 2009. Medicina Interna Equina. Rio de Janeiro: Editora Guanabara Koogan, 938p.
Sisson S. & Grossman J.D. 1986. Aparelho genital feminino. In: Anatomia dos Animais Domésticos. 5.ed. Rio de Janeiro: Editora Guanabara Koogan, pp.586-595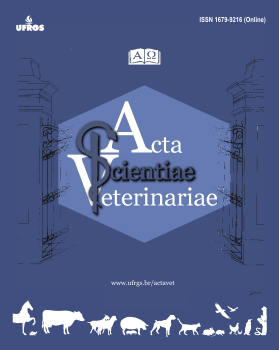 How to Cite
Ferreira, M. L., Filho, F. A., Silva, M. V. A. da, Silva, P. C., Eulálio, J. M. R., Manso, J. E. F., Silva, C. V. F. da, & Schanaider, A. (2020). Anal Atresia and Structural Malformations of the Perineum and Anus in a Mare. Acta Scientiae Veterinariae, 48. https://doi.org/10.22456/1679-9216.102549
License
This journal provides open access to all of its content on the principle that making research freely available to the public supports a greater global exchange of knowledge. Such access is associated with increased readership and increased citation of an author's work. For more information on this approach, see the Public Knowledge Project and Directory of Open Access Journals.
We define open access journals as journals that use a funding model that does not charge readers or their institutions for access. From the BOAI definition of "open access" we take the right of users to "read, download, copy, distribute, print, search, or link to the full texts of these articles" as mandatory for a journal to be included in the directory.
La Red y Portal Iberoamericano de Revistas Científicas de Veterinaria de Libre Acceso reúne a las principales publicaciones científicas editadas en España, Portugal, Latino América y otros países del ámbito latino