Neoplasia Ablation in the Equine Oral Cavity Vestibule
Abstract
Background: Oral squamous cell carcinoma is responsible for more than 90% of head and neck neoplasms in humans. Multiple factors are associated with the development of squamous cell carcinomas in humans and animals, such as prolonged exposure to ultraviolet light, lack of pigment in the epidermis, or sparse hair coverage. In horses, oral forms are rare and represent 7% of cases, but sarcoids are the main type of oral neoplasia. In the present case, due to the location and anatomical dimensions of the oral vestibule, it was necessary to adapt it to the natural tumor excision, a fact that aimed to describe this report.
Case: One Arabian 2- year-old male horse, treated at the Veterinary Hospital of the Santa Cruz State University (UESC), with signs of severe mouth bleeding and halitosis. Clinical inspection of the face showed elevation in the masseter region and left mandible branch. Clinical examination of the oral cavity revealed soft tissue tumor extending from tooth 308 (PM-1, lower left) to 311 (M-3, lower left) and on the buccal surface of the left mandible branch. Radiographic examination revealed no invasion of bone tissue by the tumor. Biopsy material was collected. The histopathological report was of neoplastic cell proliferation, frequent mitoses, binucleate cells and extensive ulceration area associated with neutrophilic inflammatory infiltrate, indicative of squamous cell carcinoma. The animal was referred to the Surgical Sector who, after evaluation of the animal, opted for the ablation of the neoplasia. Pre-anesthesia performed with intravenous detomidine 30 µg/kg, anesthesia with regional mandibular nerve block with 20 mL of 2% lidocaine and maintenance with continuous infusion of detoxid 0.5 µg/kg/ min. Contention for the operative act in the quadrupedal position. The opening of the oral cavity through the Holborn ratchet opener. The beginning of the surgery was with the scalpel, which allowed the removal of approximately one third of the tumor. Due to the great difficulty of fully accessing the area, due to the location of the tumor in the vestibule of the mouth, as well as the presence of fibrosis and calcification, it was necessary to adapt a 15 cm lambotte rugina to allow manipulation and perfect access to the entire mass. tumor for its complete ablation. The synthesis was not performed due to the anatomy and extension of the bed where the tumor was located, which similarly favored drainage. The surgical specimen was treated and fixed in 10% formaldehyde and sent to the Pathology Department for histopathological diagnosis. Immediate postoperative medication consisted of intravenous tranexamic acid administration 5 mg/kg; flunixin megluminate 2.2 mg/kg intramuscularly for three days; intravenous metronidazole 15 mg/kg for ten days and a diet of easily digestible pasture.
Discussion: Exeresis of surrounding lymph nodes is indicated, associated with treatment of electrochemotherapy, as oncologists have obtained excellent prognosis and survival of dogs and cats with oral neoplasms. This therapeutic modality may allow the treatment of cancers in horses, since the electric pulse increases the cytotoxicity of chemotherapeutic drugs. Tumors of the oral cavity of horses, due to the signs and symptoms manifested, must be diagnosed and treated urgently, clinically and surgically, due to the evolutionary characteristics of these diseases.
Downloads
Download data is not yet available.
References
Araripe M.G.A., Castelo Branco D.S.C.M. & Pinheiro D.C.S.N. 2013. Alterações anatomopatológicas na cavidade oral equina. Acta Veterinaria. Brasilica. 7 (3): 184-192
Aquino R.C.A., Lima M.L.L.T., Menezes C.R.C.X. & Rodrigues M. 2015. Epidemiologic aspects of mortality from oral cancer: understanding the risks to enable the early detection of changes in communication. Revista CEFAC. 17(4): 1254-1261.
Ministério da Saúde. Secretaria de Atenção à Saúde. Instituto Nacional de Câncer.2004. TNM: Classificação de Tumores Malignos. 6.ed. Rio de Janeiro: INCA, pp.24-28.
Dias F.G.G., Dias L.G.G.G., Pereira L.F., Cabrini T.M. & Rocha J.R. 2013. Neoplasias orais nos animais de companhia: revisão de literatura. Revista Científica Eletrônica de Medicina Veterinária. 20(1): 1-9.
Gardner D.G. 1996. Spontaneous squamous cell carcinomas of the oral region in domestic animals: a review and consideration of their relevance to human research. Oral Diseases. 2(2): 148-154.
Goldschmidt M.H. & Hendrick M.J. 2002. Tumors of the Skin and Soft Tissues. In: Meuten D.J. (Ed). Tumors in Domestic Animals. 4th edn. Ames: Iowa State Press, pp. 45-118.
Lourenço S.Q.C., Schueler A.F., Camisasca D.R., Lindenblatt R.C. & Bernardo V.G. 2007. Classificação histopatológicas para o carcinoma de células escamosas da cavidade oral: revisão de sistemas propostos. Revista Brasileira de Cancerologia. 53(3): 325-333.
Martins D. B., Rossato C. K., Abrão N. B. & Luz M. 2019. Cytological aspects of equine oral fibrosarcoma. Acta Scientiae Veterinariae. 47(Suppl1):385.
Monteiro S., Lemberger K. & Gangl M. 2009. Mandibular squamous cell carcinoma in a young horse. Equine Veterinary Education. 21(8): 406-410.
Parise Junior O., Telló M. & Oliveira L. 2008. Efeito anti-tumoral do campo elétrico potencializando quimioterápicos: estudos no modelo animal. Revista Brasileira de Cirurgia da Cabeça Pescoço. 37(2): 76-81.
Ramos A.T., Souza A.B., Norte D.M., Ferreira J.L.M. & Fernandes C.G. 2008. Tumors in farm animals: comparative aspects. Ciência. Rural. 38(1): 148-154.
Silveira L.M.G., Cunha F.M., Brunner C.H.M. & Xavier J.G. 2016. Utilização de eletroquimioterapia para carcinoma de células escamosas tegumentar em felino. Pesquisa Veterinária Brasileira. 36(4): 297-302.
Silveira L.M.G., Brunner C.H.M., Cunha F.M., Futema F., Calderaro F.F. & Kozlowski D. 2010. Utilização de eletroquimioterapia em neoplasias de origem epitelial ou mesenquimal localizadas em pele ou mucosas de cães. Brazilian Journal of Veterinary Research and Animal Science. 47(1): 55-66.
Subramaniam N., Balasubramanian D., Kumar N., Murth S., Vijayan S.N., Nambiar, A., Vidhyadharan S., Thankappan K. & Iyer S. 2019. Lymph node staging systems in oral squamous cell carcinoma: a comparative analysis. Oral Oncology. 26(97): 92-98.
Vasconcelos M.G., Mafra R.P., Vasconcelos R.G., Medeiros A.M.C. & Queiroz L.M.G. 2014. Squamous cell carcinoma of the tongue: clinical and morphological analysis of 57 cases and correlation with prognosis. Jornal Brasileiro de Patologia e Medicina Laboratorial. 50(5): 359-363.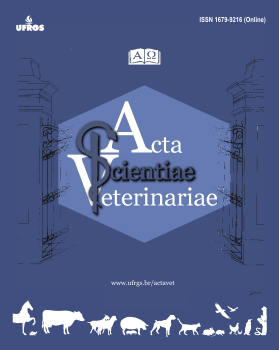 How to Cite
Ferreira, M. L., Alzamora Filho, F., Gracie Mery, R. B., de Santana Santos, J. S., de Sousa Barros, J. R., Machado, M. C., Alves da Silva, M. V., & Cesar Silva, P. (2020). Neoplasia Ablation in the Equine Oral Cavity Vestibule. Acta Scientiae Veterinariae, 48. https://doi.org/10.22456/1679-9216.100521
License
This journal provides open access to all of its content on the principle that making research freely available to the public supports a greater global exchange of knowledge. Such access is associated with increased readership and increased citation of an author's work. For more information on this approach, see the Public Knowledge Project and Directory of Open Access Journals.
We define open access journals as journals that use a funding model that does not charge readers or their institutions for access. From the BOAI definition of "open access" we take the right of users to "read, download, copy, distribute, print, search, or link to the full texts of these articles" as mandatory for a journal to be included in the directory.
La Red y Portal Iberoamericano de Revistas Científicas de Veterinaria de Libre Acceso reúne a las principales publicaciones científicas editadas en España, Portugal, Latino América y otros países del ámbito latino